Walkway And Entryway Resurface And Repair
This church's entrance gets a new facelift in Oklahoma.  It is quite common to see a dated and old concrete slab or walkway.  You might not even notice the condition of the concrete if it a standard grey unfinished slab.  The weather and moisture plays a big role in the wear and tear of concrete.
This Church decided it was time to clean up it's property and decided to start with the concrete.
Stamped Concrete Deck Around Pool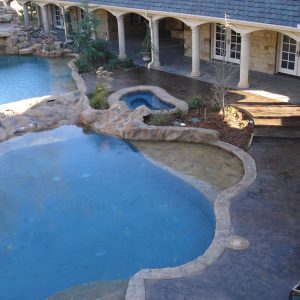 Pool decks are more than a place to get in an out of a pool. They are the main visual element surrounding the outdoor space and can act as a patio surface to entertain, set up a grill or even design a complete outdoor kitchen and living area.
If a concrete slab is in your plans, why not use it as the finished pool deck surface? Stamped concrete allows you to use the concrete as a structural element while providing a designer and custom surface to match your design and decorative style needs.