DIY Concrete Coatings – What You Need to Know About Moisture Control
As you may already know, concrete is one of the most versatile and durable solutions for residential, commercial, and industrial flooring. Concrete surfaces can be finished with a variety of different coatings to enhance the durability and appearance of the flooring, but some concrete coatings are better than others. In fact, some coatings trap moisture, which can lead to problems and reduced longevity.
Why Is Moisture Control Important?
The main reason you need to be concerned about moisture control for your concrete coatings is that it can affect the ability of the coating to bond to the concrete. Problems with moisture may not be apparent immediately, but months or years down the line, you may end up dealing with coating failure. It is not actually the moisture content of the concrete that causes the problem, however; it is the degree of moisture flow (referred to as moisture vapor transmission) through the slab that causes problems with adhesion.
In order to determine the degree of moisture vapor transmission through a concrete slab, you can conduct a variety of tests. The Plastic Sheet Test involves sealing a square of clear plastic sheeting to the concrete with tape and waiting 16 hours – if there is any condensation on the underside of the plastic, the slab is too wet. A Calcium Chloride Test is another option – this test involves placing a small dish of calcium chloride under a clear plastic cover. After placing the dish, you wait for 72 hours and compare the weight of the dish before and after to determine the degree of moisture flow through the slab.
Recommended DIY Concrete Coatings
Epoxy coatings are one of the most popular finishes for DIY concrete surfaces, because they come in a variety of finishes and they are fairly easy to install. The downside of epoxy coatings is that they tend to trap the water vapor released by the concrete, which leads to dampness and reduced longevity for the slab. If you really want to avoid problems with moisture, your best bet is to go with a moisture vapor control system. This type of DIY concrete coating is specifically designed to reduce the passage of moisture and water vapor through the concrete slab, and it works by diffusing and condensing the moisture vapor emission as it travels through the slab.
If you are having new concrete flooring installed in your home or business, be sure your contractor chooses a high-quality concrete coating with a moisture vapor control system. Moon Decorative offers a variety of concrete coatings, including water-based acrylics and other products that offer excellent moisture control.
Decorative Concrete – An Evolution in Design
There was a time when the only building materials available to contractors and DIY-ers were natural products, like stone and wood. With modern technological developments, however, there is now an endless array of options for residential, commercial, and industrial applications. One of the most popular recent developments is decorative concrete.
What Is Decorative Concrete?
Decorative concrete is just what it sounds like – a type of concrete that can be customized with a variety of textures and colors to enhance its decorative appeal. This type of concrete can be used for a variety of applications, including flooring, walkways, pool decks, driveways, patios, and more. Not only is decorative concrete highly flexible and versatile, but it is customizable with a variety of patterns, colors, and textures as well. Simply put, decorative concrete can be used to achieve the effect of nearly any other building material, but it is much easier to use.
The Benefits of Decorative Concrete
While old-school building materials, like natural stone and wood, offer aesthetic appeal, they are not always the most practical option. If you are looking for the right material to use for commercial or industrial flooring, for example, natural stone or wood may not offer the durability you need to withstand heavy foot traffic. Decorative concrete materials can help you achieve the look of these premium building materials while going above and beyond the norm in terms of durability. Not only can you use decorative concrete to achieve a custom look, but adding the right coating can enhance the durability and the safety of the surface as well.
If you are considering decorative concrete for your home or business, do yourself a favor and purchase your materials from a reputable supplier, like Moon Decorative. Not only do we offer a wide variety of decorative concrete products, but we also offer training courses for contractors and DIY-ers.
Design Options for a Decorative Cement Walkway
The walkway outside your home or business does more than just give people a safe path to tread – it also has an impact on the aesthetic appeal of your property. The way your property looks can affect the way people feel about your home or business, so it is important to choose your design and your materials carefully. To maximize the aesthetic appeal of your property while retaining durability and flexibility, consider a decorative cement walkway.
Decorative Cement Walkway Options
When using decorative cement, you have a nearly endless array of options. You can customize your cement walkway with a variety of materials to achieve the look of premium building materials, if you like. You can also add color and texture to your walkway by using concrete stamps and stains. After your walkway has been installed, you can then finish it with a variety of coatings to preserve the cement, to enhance its appearance, and to make it safer.
One of the most popular options for a decorative cement walkway is stamped concrete. This is simply a layer of concrete that has been imprinted or embossed with a specific texture or pattern. Stamped concrete can be used to achieve the effect of premium building materials, like natural stone, wood, or tile, without the hassle the installation of these building materials typically involves. Concrete dyes and stains are popular options for decorative cement walkways – these, too, can be customized to achieve the effect of myriad different building materials. Once you've installed your decorative cement walkway, you then need to finish it with a clear or colored coating to maintain durability and add nonslip safety.
Whether you are laying your decorative cement walkway yourself or hiring a cement contractor, be sure to get your materials from a reputable source. Moon Decorative offers a wide variety of decorative concrete products, including the latest stamps and stains – we also offer training courses for the DIY homeowner or business owner.
Update Your Kitchen this Holiday Season with Concrete Countertop Resurfacing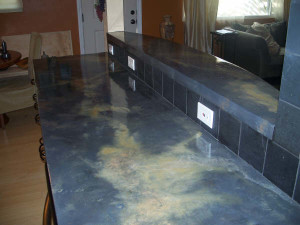 The New Year is a great opportunity for new beginnings, and it can also be the perfect time to make updates to your kitchen. One of the best ways to update your kitchen this holiday season is with concrete countertop resurfacing.
Options for Countertop Resurfacing
Once you make the decision to resurface your kitchen countertops, you may think that the hard part is over. However, you still have to decide what kind of material you want to use in resurfacing your countertops. Popular materials include self-sticking laminate, paint, or tiles, and all of these materials can be applied to common countertop materials, like Formica. If you really want to update your countertops and add durability as well as aesthetic appeal, you should consider concrete countertop resurfacing. Concrete countertops can be customized with an endless array of textures, patterns, and colors, so you can precisely match your countertops to the décor scheme in your kitchen.
Tips for Concrete Countertop Resurfacing
Before having your concrete countertops resurfaced, the original surface needs to be prepared. Sanding is the most common way of preparing a countertop for resurfacing, because it removes any existing coatings and makes sure that the surface is ideally prepared for the new surface to adhere properly. Once the surface is prepared, all that is left is to pour the new concrete countertop mix and then stamp or stain it according to your preference. Once the surface has cured, you then have the option to apply a coating for enhanced durability.
The key to success with concrete countertop resurfacing is to choose a high-quality product. Moon Decorative offers a wide variety of concrete resurfacing products, including high-performance concrete mixes, which are ideal for countertop resurfacing. These mixes can be used to create a rock-hard surface rated to 7,000 psi or greater, and it cures more quickly than typical concrete. These mixes are incredibly strong – even though they are only poured to a thickness of 1 to 2 inches – and they include a blend of cement, limestone, and aggregates to ensure unbeatable durability and minimal shrinkage.
Before you hire a contractor to resurface your kitchen countertops (or before you decide to do it yourself), make sure you choose a high-quality product. The concrete countertop mixes offered by Moon Decorative are specifically designed for concrete countertop resurfacing applications, engineered to improve flow, increase strength, and minimize cracking and shrinkage. What more could you ask for?