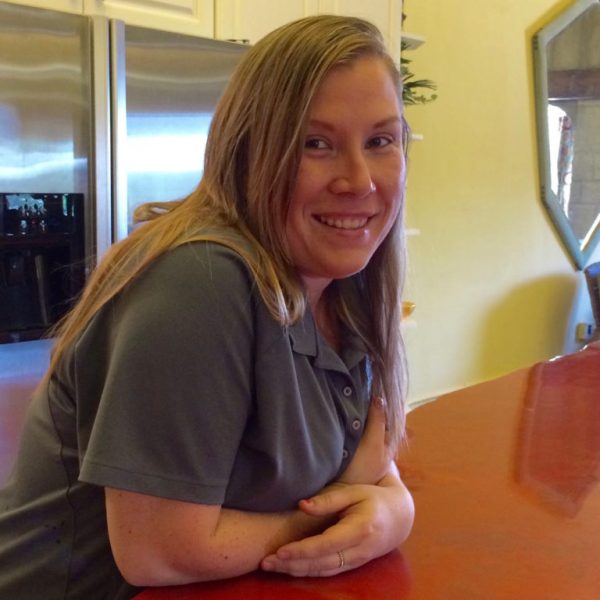 Well, she isn't exactly new and is probably a pretty familiar face if you have been to Moon Decorative lately. Jessica has been here for 2.5 years learning the ropes and now, we consider her very well versed in the world of decorative concrete. Maybe you have had the opportunity to speak with Jessica on the phone. She quickly gains the customers trust by knowing our product line well and really listening to customers. Her favorite thing about working here at Moon Decorative is helping customers. And we are super happy about this! Her technical skills and customer service skills are good. She can walk you through a process or help you figure out how to fix something. Plus she is fast on the computer and can process an order like a champ. If we ever have any employee challenges, she always seems to be the one to win. She obviously loves a challenge and this is why she makes such a good Technical Advisor.
Jessica works full time, but enjoys her time off with family and friends. She has two adorable grade school children, one boy and one girl. She rarely watches TV, but somehow manages to know quite a bit about The Voice. Evenings are consumed with school, for she is studying to be an Engineer at Rose State College. We asked Jessica if she won a million dollars what would she do? Her answer, "buy a new home and car, and take care of her family." We then asked if "Moon Decorative family" fell under her definition of "family" and she said "yes, of course." What's not to love about Jessica?
A Quick Guide To Avoiding This Acid Stain Mistake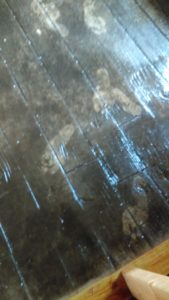 Don't let Acid Stain Shame happen to your job, there is no fixing…its tear out, overlay, grind or live with it.
What NOT to Do
How to avoid? Never allow your foot to touch the concrete after applying Surf Prep. The oil from your feet will stop the acid stain from taking thus acting as a contaminate.
Another scenario to avoid is walking on the concrete in your bare feet before you apply acid stain. It will block the acid stain from penetrating and reacting with the concrete.
What to DO
The solution: Always wear booties or spiked shoes.
Coloring Concrete: Integral Color or Topical?

 In the spirit of the Summer Olympic Games 2016 we explore our own competition between coloring concrete methods
Integral Color, through and through…
One of the most popular ways of coloring newly placed concrete is integral coloring admixtures. This gives you a consistent color throughout the entire concrete pour and is added in the truck before the concrete is poured at the jobsite. This type of color is a rich and long lasting, fade-resistant color often used with stamped concrete acting as a backdrop for contrasting accents or antiquing colors, such as pigmented release agents and stains or dyes. This layering of color is what gives the stamped concrete the look of variegated, multi-toned appearance of natural stone. Even if surface abrasion occurs, Intergral color will not wear away.
Topical Colors, more options!
Topical colors are considered acid stain's, water-borne stain's and dye's. All of these are applied to the surface of the concrete. This allows you to take an existing concrete slab and your coloring concrete project a variety of looks.
Acid Stain:
Another hugely popular coloring method is acid stain because of its unique decorative effects for a reasonable cost. Staining is a chemical reaction with the concrete and does penetrate lightly, but not fully like an Integral color will do. Acid Stains are a permeate color, there is no going back. The colors are long lasting, and durable and when properly applied they will not fade, chip or peel away.
Water-borne stain:
Water-borne stain can be applied as light or dark as you would like. They are non-reactive and fill the pores of the concrete surface to produce a colored film or coating, ranging from translucent to opaque depending on the product. Since no chemical reaction occurs, the color is more consistent. Water-borne stains are low in VOS's and safer to apply because they are free of solvents and acids.
Dyes:
Dye's are applied on the surface of the concrete and rely on your sealer to bond them to the concrete, thus they are nonreactive. Dyes are much smaller in particle size than chemical stains which allows for easier penetration and color saturation while leaving less residues on the surface. Because of this, there is virtually no residue; minimal cleanup is required, greatly speeding the application process. Dye's penetrate very fast, leaving little room for error during application.
Not all colors and products are designed for all areas please research and find out what is best for your coloring concrete project.
Contractor Rewards Program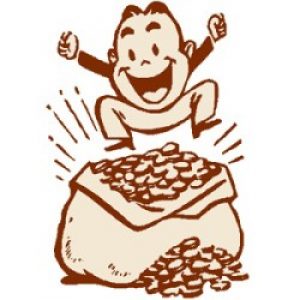 When contractors regularly shop at Moon Decorative, we notice and we reward! Each month, we tally up the spending of all contractors and the first of each month, we issue out the credits earned based upon levels of spending. You really don't have to do anything, other than be loyal and keep Moon Decorative at the top of your buying list.  To learn more about the Contractor Rewards program and the different levels, click here.
The following contractors received rewards in the month of July:
Mike's Creative Concrete
AR Construction
Sealwize of Oklahoma
Anderson's Decorative Concrete
Eagles Construction
Rosario Lopez Construction
Superior Pavers
Alex's Construction Company
Creative Concrete Construction
Seabreeze Pool's, Inc
Malocchio Productions
Steven Kellam
6 Mile Line Winery, Inc
Olveras Concrete, Inc
Percell Construction, Inc
The following contractors received rewards in the month of August:
Bomanite of Oklahoma
Mike's Creative Concrete
Summit Business Systems
Sealwize of Oklahoma
Seabreeze Pool's, Inc
Rio's Concrete
Rudy Construction
R.C. Stemwall
Versai Development, Inc
Negrete Concrete
JK Concrete Specialties
Roberto Martinez Painting
J & J Pools, Inc
Advanced Concrete
JLS Concrete Designs
Congratulations! We appreciate your continued support.