Moon Decorative Hosts Training For Young Aspiring Concrete Artisans
Moon Decorative is thrilled to host vo-tech students from Moore-Norman and Metro Tech on Tuesday, October 4th for a full-day hands-on class where students will learn to prep, pour and stamp concrete!
They will play an active role in:
Preparing a 9×9 foot area for concrete delivery by setting forms and reinforcement.
Using a slump tool to determine concrete wetness.
Screeding and leveling concrete once it comes out of the truck.
Broadcasting color hardener once the concrete has been finished. (Students will learn that the color hardener gives integrity to the concrete that wouldn't be there with additional color.)
Stamping concrete using a release agent.
Spraying on Cure-n-Seal after the concrete hardens to complete the project.
This class is aimed at teaching students how to take a concrete project from beginning to end—preparation, concrete truck delivery, testing the moisture of the concrete, finishing the concrete and adding the decorative color and stamping element.
It is our goal that students have a multidimensional experience with other students from vo-techs in the Oklahoma City area. The teachers providing instruction are experts in the field and intend to invest in the students to potentially inspire a love and passion for decorative concrete that develops further. We're thankful for their vo-tech instructors, Mark Estell of Moore-Norman and Glenn Sanders of Metro Tech, as they also pursue this vision.
Moon Decorative is looking forward to hosting this young group of aspiring leaders in concrete and we can't wait to see what the future holds for them.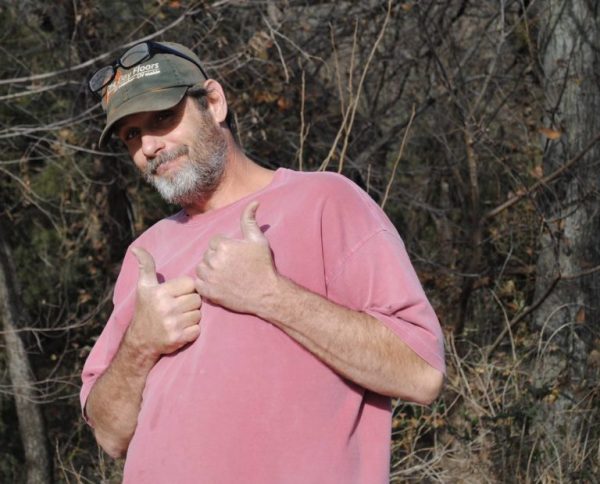 Have you seen that guy who is never stopping, running like a whirlwind, and seems to have boundless energy? Well, that guy is Moon Decorative's Dave Handy.
Dave has been an integral part of Moon Decorative for 6 years. He started out in the warehouse, pulling orders, loading them up into vehicles, and keeping the warehouse clean and orderly. Today he still does that; however, his skills and abilities have morphed into a top-rate technician.
One of the most helpful guys you have ever met, Dave will take the time to respond to everyone's questions. He's always patient, taking the time to find out about customers' needs or learning about what they desire. He's often seen walking customers around the property showing folks their options, answering questions about how things are done and explaining the pros and cons of different products. He seems to bend over backward helping customers and other staff members.
Dave is an essential part of our training team as well. Dave comes from a background of flatwork, but he has learned the ropes of decorative concrete on the job. He now acts as a trainer for classes. To further his knowledge and abilities, Dave is currently studying for the Concrete Flatwork Finisher and Technician; better known in the industry as an ACI Certificate and plans on taking this test in the fall.
From time to time, staff members get into some lively discussions about OU football, and Dave will happily engage with facts and figures that will blow your mind. In the late fall, Dave closely follows Thunder basketball, staying up late, never missing a game, and always having an opinion on who will win.
Whether you need technical assistance or football prediction assistance, Dave is your go-to man. But if you want that kind of help, you first need keep up with him as could be anywhere on the property keeping it looking like a million bucks. That's Dave Handy, our employee of the month.

Why do I need to use SS Cherry Wax?
It is a sacrificial coat that will protect your sealer from premature aging.
What does this product actually do?
It adds a thin layer of protection to your floor that also gives you a newly finished look. Makes your sealer look like it has recently been redone. The compliment you will get on your floor will far exceed the cost of the product.

Does SS Cherry Wax come in different gloss levels?
Yes, Gloss and Matte
What if I don't use the wax?
If you have an acrylic sealer on your concrete it could prematurely fail. If you are using a two-component sealer such as Poly Pro, or SS Water Based 60 Urethane, these products will tend to scratch. However, they can be easily freshened up with a coat of SS Cherry Wax. The benefit of regular user of SS Cherry Wax far exceeds the time and cost of replacing your sealer.
My floor is old and dull. How can I bring it back to life?
Sometimes it's a simple as cleaning and applying SS Cherry Wax. This is a great first step and where we would recommend starting. If this doesn't work, please contact us for further ideas and suggestions.
To find out more about this product, see this blog post and learn how to apply.
If your ready to buy, you can go here or stop by Moon Decorative, 121 NE 40th Street, OKC, OK.
Consequences to Cutting Corners
Contractors love to save money on the job while delivering a quality product and put a little extra in their pockets. We understand this because everyone likes to have a little extra padding in his or her account. But how is this achieved? What is the delicate balance one must accomplish? Is cutting corners the way to go?
Often, new contractors tend to think that by using a less-expensive material, money will be saved. But we have found the opposite is quite true.
When you find a less-expensive product such as a sealer or polymer, you must ask yourself several key questions.
What is the performance of this product?
How crucial is making sure this job does not fail?
Will it provide my customer a lasting product that they will be proud to recommend me to their friends and family?
Moon Decorative always recommends that the contractor stay within the recommended systems (i.e., don't go mixing products from different manufactures; risk of incapability issues is too great). Products within a system have undergone extensive testing and are designed for the specific application.
We regularly hear stories about contractors using inferior products to help their bottom line. And unfortunately, it costs the contractors in the long run. If you have to go back and fix problems or repair things, you might ask yourself, Did I do something to cause this? Did I use a product outside the recommended system? Keep in mind, being professional and courteous are helpful strategies to use in handling callbacks, but cheap products cost you time and money, often diminishing your professionalism in the eyes of your customer.
We are always happy to help answer questions about which products work best in different applications and look forward to any feedback you might have to offer. If we don't have a product to fit your job, we will be the first to say and be happy to point you in the right direction.
A very wise man once said, "You can do a job three times. But you only get paid once." Use the right quality materials and make it the best job the first time.