The coolest thing since sliced bread in the decorative concrete industry is Brickform's new StampApp. This reality app allows contractors to use their iPad or phone to show homeowners on the spot what different patterns and color combinations will look like on location!
With what seems to be an endless selection of colors to chose from as well as patterns, this app allows you to actually see what your selections look like with your home. Contractors can save favorites for homeowners, and help speed up the process of selection and homeowners can actually see what the vision looks like. We often hear from folks that coming to Moon Decorative is a little overwhelming with 30,000 square feet of ideas. Brickform's new StampApp actually let you see your exact color with your chosen pattern. We have already found it to be an invaluable tool.
The best thing about Brickform's new StampApp is that it's FREE to download and use. We would highly recommend you watch this video below:

Once you've installed the Brickform StampApp on your tablet or phone, you'll need to print or request a free image target to make the application work. But that's easy. Go here to do this. If you want to see it in action, stop in Moon Decorative and we will give you a demo.
A big "Thank You" to all who visited us at the OKC Home and Garden Show in January.  We hope you enjoyed it as much as we did! The beautiful Bennett Event Center was used for the first time since its construction and Moon Decorative's booth was in this building. What a wonderful new asset to the OKC Fairgrounds.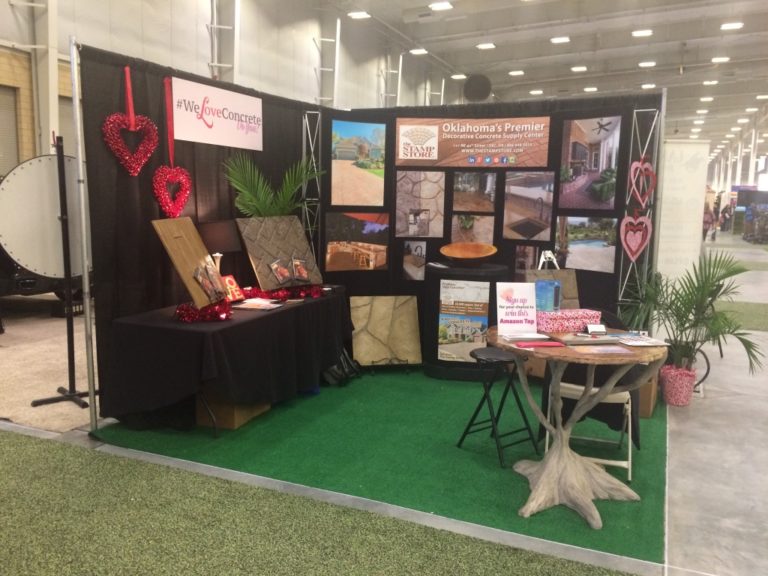 We had the opportunity to teach 7 accelerated how-to classes on DIY Acid Staining during the course of the show at "The Shed" located in the Centennial Building.  Much appreciation to our trainers:  Tim Frazier, Rick White and Dave Handy who all did a spectacular job relating to all of those who participated.  Our objective was to introduce home owners to the beauty and practicality of decorative concrete, and also translate their experience into confidence with their own creative concrete projects.
We were pleased that we had the ability to connect with so many over the course of the weekend who range from having interest in using decorative concrete in their existing & new houses as well as those who are starting their jobs tomorrow. We entered everyone who stopped by our OKC Home and Garden Show booth into a drawing for a Amazon Tap, and the lucky winner was  Kati Saleider of Guthrie, Oklahoma. Her exact words when we called, "I've never won ANYTHING! How cool!" We are happy as well.
Moon Decorative will be at the OKC Home + Outdoor Living Show on March 24-26th.  Be sure to come out – we'll be sure to dazzle you in preparation for spring!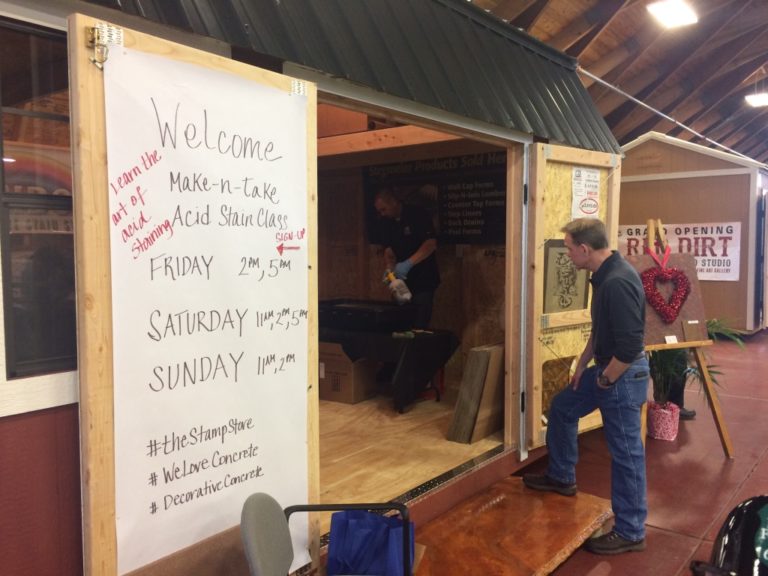 Employee of the Month: Christine Spretnjak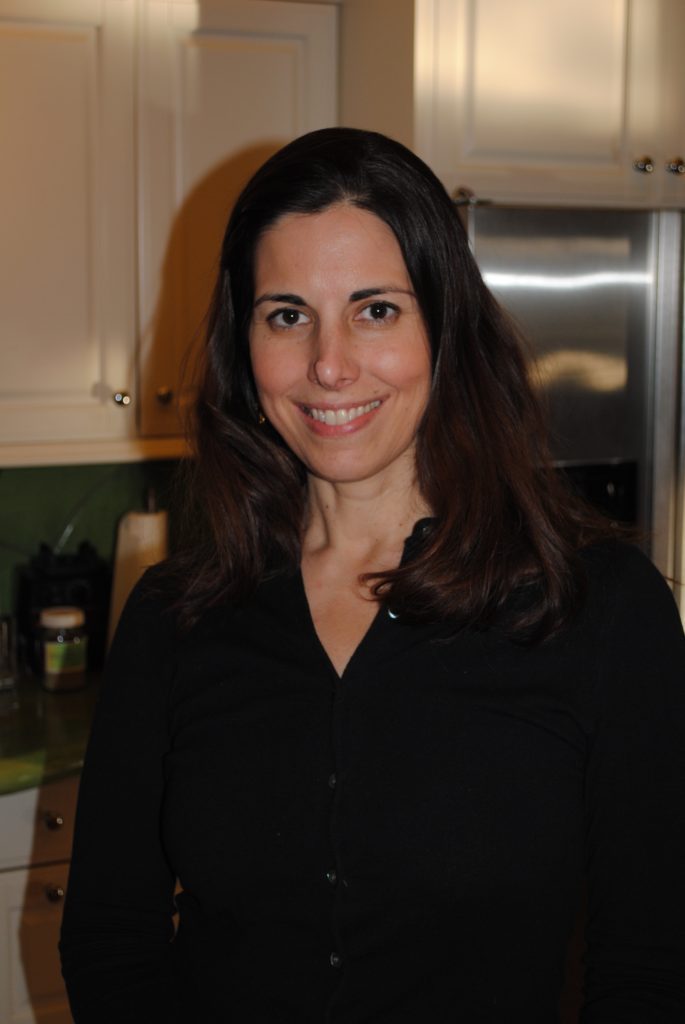 She kinda stays under the radar, but she's an intricate part of our team. Meet this months Employee of the Month, Christine Spretnjak, Director of Community Outreach. Over the past 3 years, Christine's roles have been morphing. She started out part time helping with some marketing and odds and ends. Since then, she has worked our way into our hearts and is no longer just working odds and ends.
Christine enjoys creating new things with many others including our current beloved contractors and potential contractors and distributors. She has been reaching out to them over the past 6 months exploring, discovering and striving to fulfill their needs. As a result of her research – listening and asking – Moon Decorative is now expanding its offerings to include rebar so that we can fulfill our ideal to become Oklahoma's Premier Decorative Concrete Supply Center! We would like to extend a convenience to all of our contractors so that they can receive all of their excellent products, services in one place at a competitive price.
This last fall, she coordinated and arranged an outreach class with OKC Vo-Tech schools bringing students here to learn about the field of decorative concrete. In the past she has set up AIA Lunch and Learns for CEU credits. She is also responsible for attending several industry organizations in the OKC area such as the Oklahoma Home Builders Association, Chamber of Commerce and the Oklahoma City Metropolitan Association of Realtors keeping the pulse on the activities that involve decorative concrete. Currently she is taking the reins on getting us involved at several local trade shows, which is pretty detailed and takes a lot of man-hours in planning, as well as execution.
In her spare time, Christine enjoys sleeping and well, dreaming. Can you believe that she's been studying nighttime dreams for over a decade? If you have a dream that you'd like to share, she's always game to give feedback!
Often people butcher the pronunciation of Christine's last name…. Spretnjak (think Spret-n-jack). And just so you know, its Croatian. Christine's family heritage might be Croatian, but her immediate family is in Chicago, however, she feels at home here in OKC. We are happy that she is part of Moon Decorative's family. Congrats to Christine, Employee of the month!
TROUBLE SHOOTING GUIDE to a Dull Finish
By Tim Frazier, Lead Trainer and Technician
DULL FINISH: The trait of not being glossy, i.e. low gloss, flat appearance.
Cause 1: RECOATING TOO FAST – The application of the second coat before the proper recoat time can diminish the gloss of the subsequent coat.
HOW TO AVOID THE PROBLEM – Be certain the preceding coat has sufficiently dried. Press your thumb nail into the coating, and if no mark is left then it is safe to recoat.
SOLUTION TO PROBLEM – Lightly roughen the coating and apply another top coat to restore the proper gloss to the surface.
Cause 2: POOR VENTILATION – If proper ventilation is not provided, then solvent may become trapped in the coating and affect gloss.
HOW TO AVOID THE PROBLEM – As soon as the product becomes tack free, provide exhaust ventilation to remove solvent vapors from the area of the coating.
SOLUTION TO PROBLEM – Lightly roughen the coating and apply another top coat to restore the proper gloss to the surface.
Never hesitate to give us a call if you are experiencing a dull finish problem. We want your jobs to turn out as planned and sometimes; you just need a little help and a good technician. 888-848-0059
Sealers And Coatings TROUBLE SHOOTING GUIDE to Air Bubbles
By Tim Frazier, Lead Trainer and Technician
AIR BUBBLES IN THE COATING: Air bubbles may appear in the coating as small defects or honey comb clusters. In nearly all cases, they are caused by air entrapment in the coating or applied film.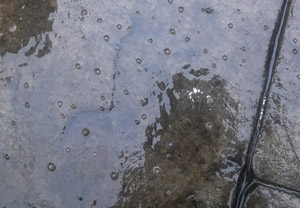 Cause 1: OUTGASSING – Air can escape from porous concrete and be trapped in the coating surface.
AVOIDING PROBLEM – Apply a suitable primer to seal off the air in the concrete. Usually a low solids high penetrating primer works best.
Cause 2: AIR MOVEMENT – Excessive air movement from vents, doors or other sources may cause flash drying and prevent air release.
AVOIDING PROBLEM – Avoid any condition that can generate air movement across the coating.
Cause 3: TEMPERATURE/HUMIDITY – Too hot or humid conditions can result in rapid drying and air entrapment.
AVOIDING PROBLEM – Wait until the temperature and humidity are within the ranges as needed to properly apply the material.
Cause 4: DIRECT SUNLIGHT – Floors exposed to direct sunlight can accelerate before sufficient air release has occurred, forming bubbles. Sunlight can cause your surface to heat up and have excessive out gassing.
AVOIDING PROBLEM – Close all doors where the sunlight could hit the floor, cover windows and coat the areas exposed to possible sunlight before the sunlight hits that area.
Cause 5: IMPROPER MIXING – Do not entrap air into the coating by using fast speed mixing equipment or improper mixing procedures.
AVOIDING PROBLEM – Use slow speed mixing equipment with a paddle type blade. If air is embodied or vortexed into the material, let stand until air is visibly released.
Cause 6: ROLLER COVERS – Too short or too long of a nap roller can cause air to be generated into the coating causing air bubbles.
AVOIDING PROBLEM – Use the appropriate length nap roller and apply without vigorous rolling. Use an air removal tool to remove air that is entrapped if necessary.
Cause 7: MOISTURE/HIGH HUMIDITY – Some sealers are sensitive to moisture in the concrete or excessively high humidity's, causing bubbles.
AVOIDING PROBLEM – Make certain that the concrete is properly dried and the humidity is at the recommended levels before applying the coating.
Never hesitate to give us a call if you are experiencing this problem. We want your jobs to turn out as planned and sometimes, you just need a little help and a good technician to give you a hand. 888-848-0059