Has your once beautiful patio, pool deck, or driveway lost its luster? 777 gaminator Homeowners can reseal—however, there are tips and tricks when it comes to resealing. gaminator bonusz kódok ingyen This half-day Homeowners Reseal Class will go over everything you need to know and give you the confidence to tackle this job. wildfortune kaszinó online Once it's done, your neighbors will want to hire you! Keep this a secret: attend the class and receive a 10% discount on any products purchased the day of the class. Call it a graduation gift.
Join us on May 11th 2018, 8:00 am to noon.
Cost: $25
RSVP:
[contact-form-7 id="24159″ title="RSVP Form"]
Contractors, Are You Interested In More Jobs And More Money?
Get On Our Contractor's List! tomar ivermectina por peso
Approximately 35 to 40 of Moon Decorative's "Recommended Contractor Referral Lists" are faxed or given to individuals' on a daily basis during our peak season. Contractors on our list get the calls. kde sehnat ivermectin Our list is about the EASIEST and BEST source of free advertising for your company – that money can't buy.
If you would want to be included on our Contractor's Referral List, please consider the following:
Contractor must provide proof of insurance
Contractor must provide 3 referral letters with pictures from satisfied customers.
To remain on the Contractor Referral List you must purchase every 30 days and be current on your account. ivermectina para caes preo
Do you think you might like to be listed?
Great, we'd love to have you. Just bring your proof of insurance, pictures and referral letters to Dana at Moon Decorative.
LET US HELP YOUR BUSINESS BE A SUCCESS.
Coloring Concrete: Integral Color or Topical?

 In the spirit of the Summer Olympic Games 2016 we explore our own competition between coloring concrete methods
Integral Color, through and through…
One of the most popular ways of coloring newly placed concrete is integral coloring admixtures. This gives you a consistent color throughout the entire concrete pour and is added in the truck before the concrete is poured at the jobsite. This type of color is a rich and long lasting, fade-resistant color often used with stamped concrete acting as a backdrop for contrasting accents or antiquing colors, such as pigmented release agents and stains or dyes. This layering of color is what gives the stamped concrete the look of variegated, multi-toned appearance of natural stone. Even if surface abrasion occurs, Intergral color will not wear away.
Topical Colors, more options!
Topical colors are considered acid stain's, water-borne stain's and dye's. All of these are applied to the surface of the concrete. This allows you to take an existing concrete slab and your coloring concrete project a variety of looks.
Acid Stain:
Another hugely popular coloring method is acid stain because of its unique decorative effects for a reasonable cost. Staining is a chemical reaction with the concrete and does penetrate lightly, but not fully like an Integral color will do. Acid Stains are a permeate color, there is no going back. The colors are long lasting, and durable and when properly applied they will not fade, chip or peel away.
Water-borne stain:
Water-borne stain can be applied as light or dark as you would like. They are non-reactive and fill the pores of the concrete surface to produce a colored film or coating, ranging from translucent to opaque depending on the product. Since no chemical reaction occurs, the color is more consistent. Water-borne stains are low in VOS's and safer to apply because they are free of solvents and acids.
Dyes:
Dye's are applied on the surface of the concrete and rely on your sealer to bond them to the concrete, thus they are nonreactive. Dyes are much smaller in particle size than chemical stains which allows for easier penetration and color saturation while leaving less residues on the surface. Because of this, there is virtually no residue; minimal cleanup is required, greatly speeding the application process. Dye's penetrate very fast, leaving little room for error during application.
Not all colors and products are designed for all areas please research and find out what is best for your coloring concrete project.
Natural Beauty in Concrete Countertops
The hand is where the mind meets the world. The hands are an extension of the mind, and what's created with them is a reflection of what's in it.
This concept is not foreign to Gale Johnson. I learned this during the tour of her home that both her and her husband, Charlie, built. She and Charlie have touched —physically touched—every inch of it. Charlie's wood-creations (furniture and artwork) and paintings—made with his own two hands—are everywhere.
Gale told me that all of the furniture has been recycled and repurposed; she doesn't buy anything new. The headboard in the master bedroom is two large doors salvaged from a catholic church, and the candle stands next to the bed, are legs from an antique piano that had been damaged.  The kitchen cabinetry isn't even new. As she shows me the February 2013 issue of Slice magazine where her home was featured, she tells me that her place is already different. She's always changing—changing the rooms, moving the furniture. She's improving and evolving, and what surrounds her is proof.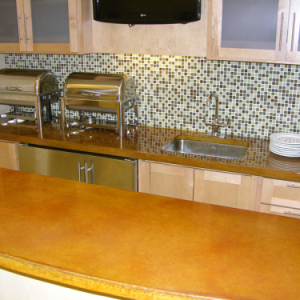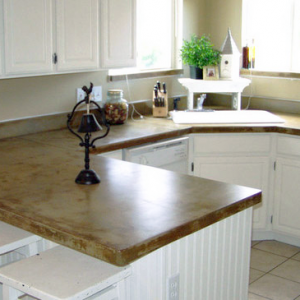 So I wasn't surprised at Gale's response when I asked why she chose a concrete countertop.  She said, "I wanted something unique, natural and created by an artisan. I wanted a piece of artwork, not something that's mass produced." She told me that when she contracted Tony Tyner of Custom Concrete Countertops to make this piece, she allowed him creative freedom and as a result he gave it special time, care and attention.
Tony has developed a way to give concrete a unique marble look. In this case, his mastery with color and the use of white and black rainbow stain give the veining in the concrete the appearance of jade. Tony appreciates the quality of the product he found in the SS Specialties brand, as well as the vast color palette that's available to him. His appreciation has no doubt reflected in the end product. Gale loves it. She loves it so much that she requested that Tony hand-make a bathroom sink.
SS Specialties product details:
enCOUNTER Professional Concrete Countertop Mix, Grey
SS Rainbow Water-Borne Stain, White and Black
LesCoat
enPOXY
Tony Tyner chose the cast-in-place method of pouring concrete meaning that he created the form to hold the concrete on the existing cabinetry and poured it in place. He choose Grey enCOUNTER Professional Concrete Countertop Mix, and used both the SS Rainbow Water-Based Stain in Black and White to create the marble appearance for color distribution. LesCoat was used specifically in the areas with finer lines. The entire countertop is sealed with enPOXY for protection and shine.
We think you will agree, its beautiful!
Protecting and Maintaining Stamped Concrete
What many people love about decorative concrete is its versatility and durability. Perhaps even more important than these benefits, however, is the fact that decorative concrete can also be very easy to maintain – even for stamped concrete.
Tips for Maintaining Stamped Concrete
Concrete stamping is a popular application for both residential and commercial use. In the home, stamped concrete can be used outdoors to create attractive walkways or outdoor patios – it can also be used indoors to create one-of-a-kind flooring solutions and countertops. For commercial applications, concrete stamping can be applied to walkways, driveways, and other surfaces for a custom look. Concrete stamping can be applied in a way that mimics the effect of premium building materials, like flagstone, brick, and limestone, without all of the hassle these building materials usually require.
With the proper techniques and products, installing stamped concrete is fairly straightforward – a thin layer of concrete is applied to the prepared surface, and then a concrete mold is used  to emboss or imprint the curing surface with the desired pattern to create texture. Stamped concrete is no more difficult to maintain than any other kind of decorative concrete. القمار الإلكتروني All you have to do is apply some kind of protective sealer to the surface after it has cured. You can choose from a variety of epoxy, polyurethane, or acrylic sealers, either clear or colored, to help protect your concrete stamping from abrasion, impact, chemical spills, and foot traffic.
Once the surface has been coated, all you have to do to maintain it is mop the surface as part of your regular cleaning routine. For outdoor stamped concrete, pressure washing or scrubbing with a mild detergent should be enough to clean the surface. If your stamped concrete surface starts to dull over time, adding a new coat of sealer will usually be enough to restore it. افتتاح اليورو 2024 For an added layer of protection against wear and tear, you can also consider applying a layer of floor wax or floor polish.
They key to success with any concrete stamping project is to start with high-quality materials – that is where Moon Decorative comes in. At Moon Decorative, we have been selling and installing industry-leading decorative concrete products for more than two decades, including concrete stamps and sealers. العاب كوتشينة لشخصين Call today to see what kind of deal we can make for you or to request a free quote. What more could you ask for?