Meet Dave Handy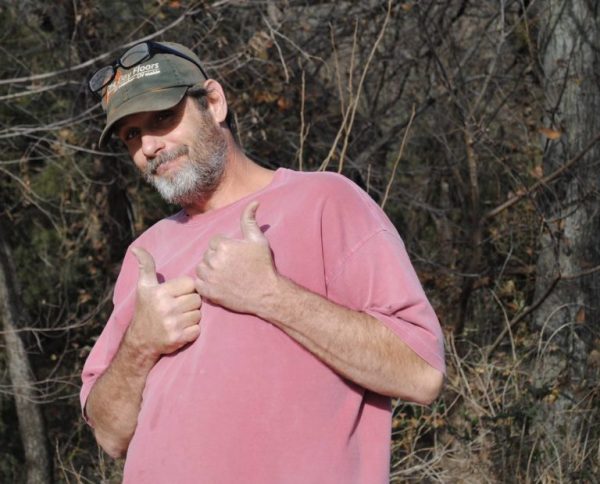 Have you seen that guy who is never stopping, running like a whirlwind, and seems to have boundless energy? Well, that guy is Moon Decorative's Dave Handy. Dave has been an integral part of Moon Decorative for 6 years. He started out in the warehouse, pulling orders, loading them up into vehicles, and keeping the warehouse clean and orderly. Today he still does that; however, his skills and abilities have morphed into a top-rate technician. One of the most helpful guys you have ever met, Dave will take the time to respond to everyone's questions. He's always patient, taking the time to find out about customers' needs or learning about what they desire. He's often seen walking customers around the property showing folks their options, answering questions about how things are done and explaining the pros and cons of different products. He seems to bend over backward helping customers and other staff members. Dave is an essential part of our training team as well. Dave comes from a background of flatwork, but he has learned the ropes of decorative concrete on the job. He now acts as a trainer for classes. To further his knowledge and abilities, Dave is currently studying for the Concrete Flatwork Finisher and Technician; better known in the industry as an ACI Certificate and plans on taking this test in the fall. From time to time, staff members get into some lively discussions about OU football, and Dave will happily engage with facts and figures that will blow your mind. In the late fall, Dave closely follows Thunder basketball, staying up late, never missing a game, and always having an opinion on who will win. Whether you need technical assistance or football prediction assistance, Dave is your go-to man. But if you want that kind of help, you first need keep up with him as could be anywhere on the property keeping it looking like a million bucks. That's Dave Handy, our employee of the month.
Q & A: SS Cherry Wax

Why do I need to use SS Cherry Wax?
It is a sacrificial coat that will protect your sealer from premature aging.
What does this product actually do?
It adds a thin layer of protection to your floor that also gives you a newly finished look. Makes your sealer look like it has recently been redone. The compliment you will get on your floor will far exceed the cost of the product.
Does SS Cherry Wax come in different gloss levels?
Yes, Gloss and Matte
What if I don't use the wax?
If you have an acrylic sealer on your concrete it could prematurely fail. If you are using a two-component sealer such as Poly Pro, or SS Water Based 60 Urethane, these products will tend to scratch. However, they can be easily freshened up with a coat of SS Cherry Wax. The benefit of regular user of SS Cherry Wax far exceeds the time and cost of replacing your sealer.
My floor is old and dull. How can I bring it back to life?
Sometimes it's a simple as cleaning and applying SS Cherry Wax. This is a great first step and where we would recommend starting. If this doesn't work, please contact us for further ideas and suggestions. To find out more about this product, see this 
blog post
 and learn how to apply. If your ready to buy, you can go 
here
 or stop by Moon Decorative, 121 NE 40th Street, OKC, OK.
Consequences to Cutting Corners
Contractors love to save money on the job while delivering a quality product and put a little extra in their pockets. We understand this because everyone likes to have a little extra padding in his or her account. But how is this achieved? What is the delicate balance one must accomplish? Is cutting corners the way to go? Often, new contractors tend to think that by using a less-expensive material, money will be saved. But we have found the opposite is quite true. When you find a less-expensive product such as a sealer or polymer, you must ask yourself several key questions.
What is the performance of this product?
How crucial is making sure this job does not fail?
Will it provide my customer a lasting product that they will be proud to recommend me to their friends and family?
Moon Decorative always recommends that the contractor stay within the recommended systems (i.e., don't go mixing products from different manufactures; risk of incapability issues is too great). Products within a system have undergone extensive testing and are designed for the specific application. We regularly hear stories about contractors using inferior products to help their bottom line. And unfortunately, it costs the contractors in the long run. If you have to go back and fix problems or repair things, you might ask yourself, Did I do something to cause this? Did I use a product outside the recommended system? Keep in mind, being professional and courteous are helpful strategies to use in handling callbacks, but cheap products cost you time and money, often diminishing your professionalism in the eyes of your customer. We are always happy to help answer questions about which products work best in different applications and look forward to any feedback you might have to offer. If we don't have a product to fit your job, we will be the first to say and be happy to point you in the right direction. A very wise man once said, 
"You can do a job three times. But you only get paid once."
 Use the right quality materials and make it the best job the first time.
Meet Jessica Richardson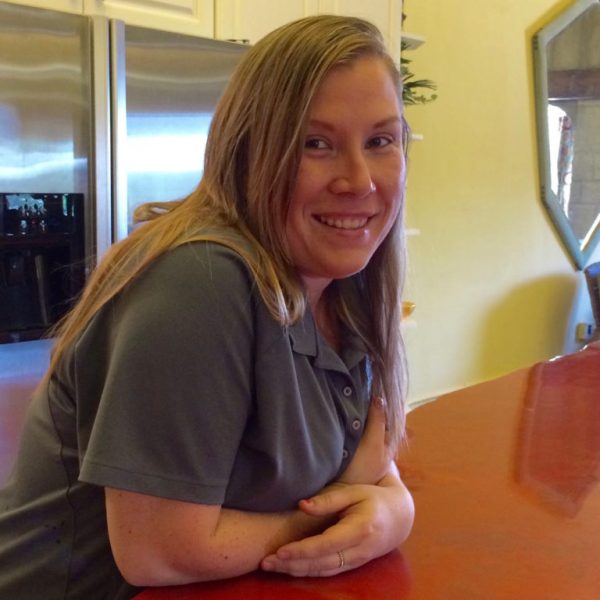 Well, she isn't exactly new and is probably a pretty familiar face if you have been to Moon Decorative lately. Jessica has been here for 2.5 years learning the ropes and now, we consider her very well versed in the world of decorative concrete. Maybe you have had the opportunity to speak with Jessica on the phone. She quickly gains the customers trust by knowing our product line well and really listening to customers. Her favorite thing about working here at Moon Decorative is helping customers. And we are super happy about this! Her technical skills and customer service skills are good. She can walk you through a process or help you figure out how to fix something. Plus she is fast on the computer and can process an order like a champ. If we ever have any employee challenges, she always seems to be the one to win. She obviously loves a challenge and this is why she makes such a good Technical Advisor. Jessica works full time, but enjoys her time off with family and friends. She has two adorable grade school children, one boy and one girl. She rarely watches TV, but somehow manages to know quite a bit about The Voice. Evenings are consumed with school, for she is studying to be an Engineer at Rose State College. We asked Jessica if she won a million dollars what would she do? Her answer, "buy a new home and car, and take care of her family." We then asked if "Moon Decorative family" fell under her definition of "family" and she said "yes, of course." What's not to love about Jessica?
A Quick Guide To Avoiding This Acid Stain Mistake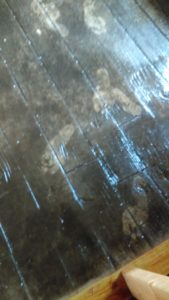 Don't let Acid Stain Shame happen to your job, there is no fixing…its tear out, overlay, grind or live with it.
What NOT to Do
How to avoid? Never allow your foot to touch the concrete after applying Surf Prep. The oil from your feet will stop the acid stain from taking thus acting as a contaminate. Another scenario to avoid is walking on the concrete in your bare feet before you apply acid stain. It will block the acid stain from penetrating and reacting with the concrete.
What to DO
The solution: Always wear booties or 
spiked shoes
.
Coloring Concrete: Integral Color or Topical?

 In the spirit of the Summer Olympic Games 2016 we explore our own competition between coloring concrete methods
Integral Color, through and through…
One of the most popular ways of coloring newly placed concrete is integral coloring admixtures. This gives you a consistent color throughout the entire concrete pour and is added in the truck before the concrete is poured at the jobsite. This type of color is a rich and long lasting, fade-resistant color often used with stamped concrete acting as a backdrop for contrasting accents or antiquing colors, such as pigmented release agents and stains or dyes. This layering of color is what gives the stamped concrete the look of variegated, multi-toned appearance of natural stone. Even if surface abrasion occurs, Intergral color will not wear away.
Topical Colors, more options!
Topical colors are considered acid stain's, water-borne stain's and dye's. All of these are applied to the surface of the concrete. This allows you to take an existing concrete slab and your coloring concrete project a variety of looks.
Acid Stain:
Another hugely popular coloring method is acid stain because of its unique decorative effects for a reasonable cost. Staining is a chemical reaction with the concrete and does penetrate lightly, but not fully like an Integral color will do. Acid Stains are a permeate color, there is no going back. The colors are long lasting, and durable and when properly applied they will not fade, chip or peel away.
Water-borne stain:
Water-borne stain can be applied as light or dark as you would like. They are non-reactive and fill the pores of the concrete surface to produce a colored film or coating, ranging from translucent to opaque depending on the product. Since no chemical reaction occurs, the color is more consistent. Water-borne stains are low in VOS's and safer to apply because they are free of solvents and acids.
Dyes:
Dye's are applied on the surface of the concrete and rely on your sealer to bond them to the concrete, thus they are nonreactive. Dyes are much smaller in particle size than chemical stains which allows for easier penetration and color saturation while leaving less residues on the surface. Because of this, there is virtually no residue; minimal cleanup is required, greatly speeding the application process. Dye's penetrate very fast, leaving little room for error during application.
Not all colors and products are designed for all areas please research and find out what is best for your coloring concrete project.
Contractor Rewards Program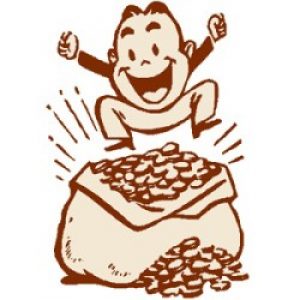 When contractors regularly shop at Moon Decorative, we notice 
and
 we reward! Each month, we tally up the spending of all contractors and the first of each month, we issue out the credits earned based upon levels of spending. You really don't have to do anything, other than be loyal and keep Moon Decorative at the top of your buying list.  To learn more about the Contractor Rewards program and the different levels, 
click here.
The following contractors received rewards in the month of July:
Mike's Creative Concrete AR Construction Sealwize of Oklahoma Anderson's Decorative Concrete Eagles Construction Rosario Lopez Construction Superior Pavers Alex's Construction Company Creative Concrete Construction Seabreeze Pool's, Inc Malocchio Productions Steven Kellam 6 Mile Line Winery, Inc Olveras Concrete, Inc Percell Construction, Inc
The following contractors received rewards in the month of August:
Bomanite of Oklahoma Mike's Creative Concrete Summit Business Systems Sealwize of Oklahoma Seabreeze Pool's, Inc Rio's Concrete Rudy Construction R.C. Stemwall Versai Development, Inc Negrete Concrete JK Concrete Specialties Roberto Martinez Painting J & J Pools, Inc Advanced Concrete JLS Concrete Designs Congratulations! We appreciate your continued support.
Introducing The New Kids On The Block
You might have noticed a few new faces here in Moon Decorative recently and we wanted to officially introduce everyone.
Cameron Dunn, General Manager:
Cameron joins us from Moon Chemical Products as our General Manager taking Coyne's place who is now enjoying retirement. This 2009 University of Oklahoma Poly Sci major went onto Oklahoma Baptist University where he received his MBA specializing in Supply Chain Management in 2011. That same year, he joined Moon Chemical to run the guar manufacturing facility (we have no idea what guar is either). But, after discovering what a whiz-bang of a firecracker he was, they quickly expanded his role. Cameron's keen business sense and willingness to learn and take on new challenges makes him the perfect candidate for being General Manager of Moon Decorative. While he is fairly new to the concrete industry, he does have a good background in understanding chemicals, which after all, the art of decorative concrete is very "sciencey."
Cameron was born in Michigan, raised in Paris, Texas but is a full Okie now and the entire staff has vowed not to hold his Texas background against him. He enjoys spending time with his lovely wife Danielle, golfing, and being outdoors.
Rick White, Director of Business Development:
A familiar face and blast from the past, Mr. Rick White is back. With 23 years of industry experience, Rick is a world of knowledge. He has over 6 years in field technical work traveling extensively from New Mexico to Virginia. Rick is very familiar with SS Specialties products, knows how they work, and what they can do for the customer. He loves to solve problems with decorative concrete (and we all know…there are 
never 
problems!) and is exceptional with customer service. His biggest challenge in this new position will be reaching out to our contractors, learning about their needs and making sure Moon Decorative is meeting those needs. However, he is up for the task! Rick has been married to his wife, Connie for 37 years and has two adult children, both married. He lies in bed at night dreaming of grandchildren. In his waking hours, he loves to piddle in his shop with woodworking projects (of which he makes some beautiful things).
Showdown: Acrylic Sealer's vs. Siloxane/Silane Repellents
In the right corner, Acrylic Sealers
By far, the most popular decorative concrete sealers are the Acrylic sealers, which come in both water-based and solvent-based. Moon Decorative's number #1 selling sealer is 
SS Specialties Supreme 2500 High Gloss
, which is a solvent-based acrylic. However, we carry both water-based (SS Specialties 
EpoSeal 20
 and 
38
) and solvent-based (
SS Specialties Supreme 2500 High Gloss
, 
Supreme 2500 Medium Gloss
, 
Supreme 2500 Plus Medium Gloss
 and 
Supreme 3000 High Gloss
). All of these sealers can be used both for interior or exterior decorative concrete. Acrylics are considered film formers, ie…they will leave a film on the top of your surface. For this reason sometimes these are not desired in wet areas, such as swimming pool decks or sidewalks because they do not give you good slip resistance. Unless of course, you add a slip resistance product such as 
SS Get-A-Grip
, or one of our 
SS Seal-Grips
. The life expectancy of an acrylic sealer will depend on UV exposure and chemical exposure. Under normal conditions on an exterior setting, you should get 1 to 3 years life. With an interior job, with proper maintenance, you should be able to get a life expectancy of up to 10 years. SS Cherry Wax is the preferred maintenance wax to prolong the sealer life. If you want to know more about 
Cherry Wax
, we would recommend reading this article, "
How to put the Shine on your Concrete Floors.
"
In the left corner, Repellents
Siloxane/Silane Repellents are considered penetrating sealer's. Unlike the acrylic sealer, they do not leave a film on the surface and are both water-based and solvent-based. When you have a wet surface these Repellents such as 
SS Specialties Repel Guard SB-20
, 
SS Repel Block WB-75
and 
SS Repel Guard 40 
perform very well. They leave the profile of the concrete thus helping with slip resistant. Of course this greatly depends on the profile of your concrete as well. A tightly troweled sidewalk will more than likely always remain slick. All of SS Specialties Repellents are not recommended for driveways because of the hot tire pick up, leaving homeowners disappointed. This repellent is better for foot traffic. One of the best qualities is the life expectancy of this product, which is 5 to 7 years before resealing will be necessary. (Note: you cannot put an acrylic over this product until it has been ground off.) If you have a porch that is covered or say a gardening or utilities room, SS Repellents are perfect choices.
Winner: Your choice!
Both sealer types are winners. The key is picking the 
right
 one for the job and knowing what their strengths are. Still having a hard time understanding which sealers to use? Don't hesitate to bounce off ideas and gather information from our staff by calling Moon Decorative at 888-848-0059. We are here to help and more than likely, we have an SS Specialties product that will be perfect for your next project.
Using a Concrete Sealer Sprayer
For many people, the most important benefit of decorative concrete is its versatility – concrete can be customized to look like premium building materials or to match any existing décor scheme. It is also important to remember, however, that concrete is also a great option for the DIY homeowner because thanks to help from Moon Decorative, certain systems can be fairly simple to install.
Using a Sprayer to Seal Decorative Concrete
Whether you are going with stamped concrete or colored concrete, in most cases a thin layer of concrete is all that is needed to start. Once the new surface has been poured and cured, you can then treat the concrete according to your preferences with stamps, stains, dyes, or aggregates. Once your concrete surface has dried and cured, there is one more step that you shouldn't neglect – sealing. Adding a layer of sealer over your decorative concrete surface will help to lock in color and protect the material against wear-and-tear. All you need to apply a layer of sealer is a concrete sealer sprayer.
Concrete sealer sprayers
 come in several different forms. One option is a low-pressure high-volume (LPHV) sprayer. This sprayer allows for controlled application rates and is the easiest to use. Low-pressure or pump-up sprayers can be used for solvent-based sealers as long as the solids content is under 35%. In most cases, using a concrete sealer sprayer is fairly straightforward – you simply pump the handle to increase pressure within the device and then hold down the trigger to spray. It is as easy as that. At Moon Decorative, we offer a variety of sprayers from such brands as Toolcrete and 
Chapin
, as well as sealers and any other materials you may need for your project. Call today for a review of our services or to request a free quote.