Natural Beauty in Concrete Countertops
The hand is where the mind meets the world. The hands are an extension of the mind, and what's created with them is a reflection of what's in it. This concept is not foreign to Gale Johnson. I learned this during the tour of her home that both her and her husband, Charlie, built. She and Charlie have touched —physically touched—every inch of it. Charlie's wood-creations (furniture and artwork) and paintings—made with his own two hands—are everywhere. Gale told me that all of the furniture has been recycled and repurposed; she doesn't buy anything new. The headboard in the master bedroom is two large doors salvaged from a catholic church, and the candle stands next to the bed, are legs from an antique piano that had been damaged.  The kitchen cabinetry isn't even new. As she shows me the February 2013 issue of Slice magazine where her home was featured, she tells me that her place is already different. She's always changing—changing the rooms, moving the furniture. She's improving and evolving, and what surrounds her is proof.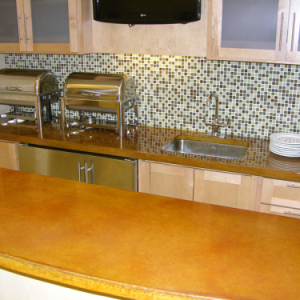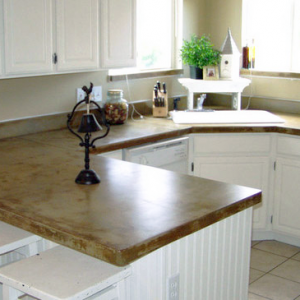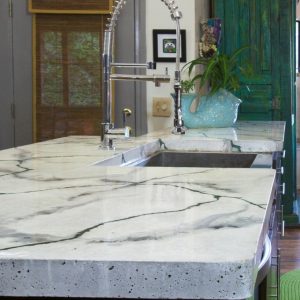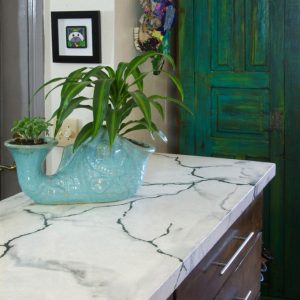 So I wasn't surprised at Gale's response when I asked why she chose a concrete countertop.  She said, "I wanted something unique, natural and created by an artisan. I wanted a piece of artwork, not something that's mass produced." She told me that when she contracted Tony Tyner of 
Custom Concrete Countertops
 to make this piece, she allowed him creative freedom and as a result he gave it special time, care and attention. Tony has developed a way to give concrete a unique marble look. In this case, his mastery with color and the use of white and black rainbow stain give the veining in the concrete the appearance of jade. Tony appreciates the quality of the product he found in the SS Specialties brand, as well as the vast color palette that's available to him. His appreciation has no doubt reflected in the end product. Gale loves it. She loves it so much that she requested that Tony hand-make a bathroom sink. SS Specialties product details:
enCOUNTER Professional Concrete Countertop Mix, Grey
SS Rainbow Water-Borne Stain, White and Black
LesCoat
enPOXY
Tony Tyner chose the cast-in-place method of pouring concrete meaning that he created the form to hold the concrete on the existing cabinetry and poured it in place. He choose Grey enCOUNTER Professional Concrete Countertop Mix, and used both the SS Rainbow Water-Based Stain in Black and White to create the marble appearance for color distribution. LesCoat was used specifically in the areas with finer lines. The entire countertop is sealed with enPOXY for protection and shine. We think you will agree, its beautiful!
How to Dress Up a Patio or Pool deck
Pool decks and patios can receive a fresh look, and a second life with SS Specialties products. SS Spray Base and SS Stamp Mix can change a dull faded surface to a Forest Floor, Ocean floor or maybe a London Street; the possibilities are limited only by ones' imagination. With SS Specialties coloring and staining products SS Dye-namic Acetone Dye, Sedona Acid Stain and SS Rainbow offers the ability to match or complement any design with unlimited selection of color shades and hues. SS Spray/Base and Stamp Mix is a proprietary blend of Portland cement and graded aggregates used to produce decorative treatments to any properly prepared substrate, like the pool deck or patio. All loose concrete will need to be removed from the old slab/surface and any old or deteriorated sealer needs to be removed. If there are cracks, those should be filled with SS Crackfill and in some cases stitched with cold steel plates, or by using concrete staples.  When the slab/surface has been cleaned, cracks repaired, and all debris removed, you will have a properly prepared surface. Whenever possible, we at Moon Decorative believe in renovation, reuse, and repurposing of existing concrete which saves time, money and the planet.  With SS Specialties products, and the support of  Moon Decorative technical staff, you have the confidence to complete a successful renovation.
Is Your Driveway and Walkway Contributing To Your Homes Curb Appeal Or Hindering It?
If the answer is 'contributing' to curb appeal, then you probably already rock it with decorative concrete and you should know that #WeLoveConcrete. But if the answer is 'hindering', then know that decorative concrete is a great way to fix those issues. Maybe your driveway is cracked and uneven and even (gasp) just gray. Have you priced tear out and replacement? Yikes, it's expensive and it sure seems like a waste in the landfills. An alternative is an overlay. This thin layer of new concrete is a great way to have a new pallet to work with. Now, you can't just skim a new layer of concrete over the old messed up slab…you do need to do some repairs and even prepare the substrate properly. Skipping this critical step will be the cause of an overlay delamination and failure. There are a variety of overlays to choose from for your driveway and walkways to increase your curb appeal and add value to your home:
Microtoppings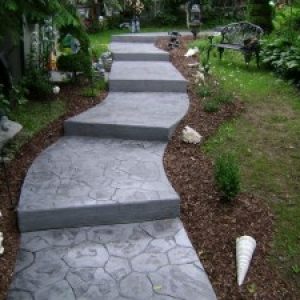 The cement-based microtoppings such as 
SS Spray Base
 can be used outdoors to provide a clean canvas for decorative treatments, such as 
Sedona Acid Stains
, 
dyes
 and 
stenciled patterns
. Iron oxide pigments can be added which provide a range of colors, while others can be custom tinted by mixing in the desired amount of liquid coloring agent. Interesting color variations can be achieved by applying layers of different hues.
Spray Knock-down Toppings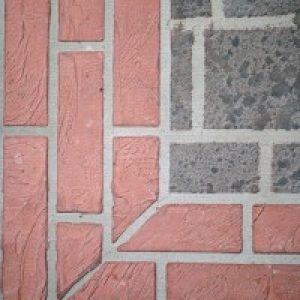 Versatile and easy to apply, spray-knock down concrete systems offer a wide array of finish options all of which add tremendous curb appeal. Usually they are sprayed evenly onto concrete with a 
hopper gun
, but they can also be applied as a splatter coat to create a textured, slip-resistant surface or "knocked down" with a trowel to create a smoother finish. They are very similar to microtoppings in that they are thin, but differ in that they usually contain more sand and provide a rougher, grittier finish.
Stamped Concrete Overlays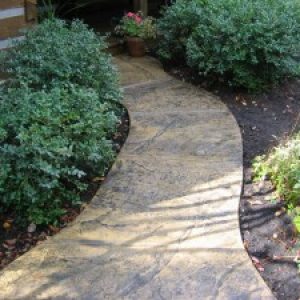 A stamped overlay offers all the aesthetic benefits of conventional stamped concrete but is applied over existing concrete. Stamped concrete overlays allow you to duplicate the beauty and texture of natural stone, brick, slate, wood, and other materials without having to replace your concrete.
Need ideas? Need Help?
You can see from the different systems that you can do A LOT to improve your outdoor curb appeal. We really encourage you to stop by Moon Decorative and take a look at our 30,000 square feet of all types of decorative concrete. Our knowledgeable staff can help sort out the details and answer your questions. We even have a helpful list of contractors that can come out and do the actual work. Often times, they even have great ideas and suggestions as well.
How To Put The Shine On Your Concrete Floors
Is your concrete floor looking dull and dingy? Needing a little shiny pick-me-up?
SS Cherry Wax may be exactly what you need.
SS Cherry Wax
 acts as a sacrificial coating to protect the longevity of your sealer. Plus it gives a great shine, thus looking like you just got a brand new floor!
How to apply?
Talk about easy….start with a clean floor. ie, no dirt, or grime. In other words, sweep your floor (maybe even mop it with water), start with a clean palate. Remember the ole' Mop & Glo? Good, because all you do is pour out about a plate sized portion on the floor, get your mop and start spreading. Easy! It dries in about 30 to 45 minutes or less and leaves a beautiful shine. One key you need to keep in mind is to use the right kind of mop….needs to be a 
lambs wool applicator
 or a synthetic mop head. Don't use cotton, it will just absorb all the Cherry Wax and be wasteful. For larger commercial jobs, Cherry Wax can be applied with a high speed burnisher.
How long will it last?
High traffic areas, (kids, dogs, and dirt) will need more frequent applications than those areas that only grandma scoots around in her slippers. When do you know its time to reapply? When you would like to make it look new again….it's time!
Environmentally friendly SS Cherry Wax is non-flammable, non-combustible, non-corrosive and completely non-hazardous! It's great smelling cherry scent is very pleasing to the nose. It contains only environmentally safe materials, and provides quality high sheen and resistance to abrasion and scuffing. Don't like the shine? Don't worry just get the matte finish.
Need some?
You can pick up a gallon bottle off the shelf at Moon Decorative. Or you can 
order on line
. We'd encourage you to come in to see our store, meet our knowledgeable staff and look around. With over 30,000 square feet of ideas and enough decorative concrete delight, you will be inspired to think beyond gray boring concrete.
Taking Your Project to the Next Level with Specialty Concrete Products
Whether you are a licensed contractor or a DIY homeowner, specialty concrete products are the key to making your next project a success. Decorative concrete is one of the most versatile and customizable building materials out there so there is sure to be a product that is suited to your particular project. To learn more about specialty concrete products, contact Moon Decorative.
Using Specialty Concrete Products
Specialty concrete products come in a variety of forms, including everything from concrete stamps and stains to epoxy flooring and textured sealers. Because these products are so widely varied, you can find a product to suit any project you have in mind. Below you will find an overview of some of the top specialty concrete products:
Decorative Concrete Overlays – If you want to create new flooring or upgrade an existing floor, decorative concrete overlays are a great way to go. You can use these specialty concrete products to give your flooring the look and feel of premium materials without the hassle of installation.
Epoxy Floor Coatings – This type of coating is ideal for indoor flooring in residential applications as well as commercial and industrial applications. Epoxy floor coatings, such as SS Aliphatic 100% Epoxy, are highly durable, and they can be used to protect and seal your flooring against foot traffic, chemical spills, and normal wear-and-tear.
Concrete Stains and Dyes – These specialty concrete products are a great way to customize decorative concrete. Stains and dyes can be used to add color and pattern to your flooring.
Concrete Countertop Mix – Concrete can be used to make custom countertops as well as flooring. In fact, concrete countertop mixes are specially designed for use by contractors and DIY homeowners for custom counters.
Concrete Sealer – After you apply a specialty concrete product, you'll want to protect it with a concrete sealer. These come in a variety of forms, so choose the one that best suits your project.
Working with a Concrete Sealer Sprayer
Finishing your surface with a layer of concrete sealer is a must if you want your new surface to look great and to last a lifetime. Applying clear sealer is not necessarily a difficult task, but you do need a special concrete sealer sprayer, and there are some tips you should follow. When you are ready to buy a concrete sealer sprayer, be sure to make Moon Decorative  your first stop.
Tips for Using a Concrete Sealer Sprayer
After you've finished applying your new flooring or your preferred decorative concrete product, you may think that you are done. It is important to remember, however, that you still have one more step – sealing the surface to protect it against foot traffic and, for outdoor surfaces, the elements and various environmental pollutants. When you are ready to apply your sealer, follow these tips for using a concrete sealer sprayer:
Choose the right type of sprayer for the job. A hand pump sprayer is ideal for water-based sealers and for small surface areas. A low-pressure high-volume sprayer, such as the Chapin Acid Staining Sprayer, can be used with any sealer type, and it creates professional-looking finishes. Rollers can also be used to apply sealer, but a sprayer will do a better job.
Select the right type of sealer for the job – your main options are water-based sealer and solvent-based sealer. Some sealers are designed primarily for indoor use while others are good for outdoor applications. Different sealers also offer different finishes (like high-gloss versus matte), and some can be customized with aggregates to add texture.
When working with water-based sealers, apply the sealer in multiple thin coats – follow the directions on the sealer to determine how much time you need to give the sealer to dry between coats.
If you choose to use a solvent-based sealer, you should apply it using a sprayer and then follow up the spray with a back roll – this helps to ensure more consistent coverage. One simple way to do this is to dilute the first coat and apply it with a roller, then apply the second coat in the opposite direction.
You can spend hours, even days, installing beautiful decorative concrete overlay or new flooring. But it could all be for naught if you fail to protect the surface with the right sealer. When you are ready to apply the final touches to your surface, make sure to invest in a quality concrete sealer sprayer so you can get the job done right.
What You Need to Know to Get Started with Decorative Cement
If you are thinking about remodeling your home or simply upgrading your existing flooring, decorative cement is a great way to go. Decorative cement is a highly versatile option, and it can be customized with an unlimited array of options for color, pattern, design, and texture. If you are thinking about using decorative cement, take a moment to learn the basics.
Tips for Using Decorative Cement
The first thing you need to know about decorative concrete is that it comes in many forms, and it can be customized in any way you like by combining multiple products together. For example, you can use a decorative cement overlay to create a smooth surface and then treat it with a stain or dye to add color. You can also give your new flooring texture by adding some kind of aggregate, such as sand, to enhance the slip resistance of the surface. When using decorative cement products, you'll need to prepare your surface prior to the application. This may involve patching cracks, smoothing uneven areas, and grinding the surface to improve adhesion. When you are ready to apply your decorative concrete, it is a good idea to do all of it at once – this will help to ensure consistency in color and pattern. Once the cement has been laid, you can then customize it using your choice of stains, dyes, sealers, and topcoats. You are only limited by the confines of your own imagination, so don't be afraid to get creative! No matter what kind of project you have in mind, be sure to make Moon Decorative your first stop for decorative cement products. We are one of the nation's leading concrete dealers, so you can bet that you will find everything you need. Simply visit our website or call today for more information.
Must-Have Concrete Floor Supplies
The beauty of decorative concrete is that it is a highly versatile and customizable building material. Simply put, you can use concrete to create the look and feel of premium materials, and you can customize your flooring in an endless array of styles. If you are thinking about using decorative concrete for your next project, be sure to call Moon Decorative for all your concrete floor supplies.
Popular Concrete Floor Supplies
When it comes to applying new concrete flooring – or even if you are just upgrading an existing slab – you will need a few particular concrete floor supplies. You'll find an overview of popular concrete floor supplies below:
Concrete Stamps – If you want to give your concrete flooring the look of premium building materials (like natural stone, pavers, or brick), then you will need a stamp. Stamped concrete is applied by putting down a thin layer of concrete and then stamping it with the desired pattern.
Stains and Dyes – Concrete stains and dyes are a great way to add color to concrete flooring. Acid stains can give your concrete a mottled appearance in a variety of natural earth tones while dyes and water-based stains can be used to create an unlimited range of colors and patterns.
Concrete Sealer – After you do the work to install your new concrete flooring, you want to make sure that it will last for as long as possible. Concrete sealer is the key to increasing the durability and longevity of your flooring; plus, it can enhance the appearance with color or shine. There are a number of types of sealers, so choose the one that is best for your particular project.
Sealer Sprayer – In order to use the concrete sealer of your choice, you will need a concrete sealer sprayer. These sprayers come in a variety of forms, including hand pumps and low-pressure high-volume sprayers. Some sprayers are easier to use than others, and some offer greater consistency. At Moon Decorative, we offer sprayers from such brands as B&G, Chapin, and Toolcrete.
Rollers and Accessories – Another method for applying concrete sealer and various other projects is with a roller. If you plan to use SS Metallic epoxy or a concrete stain, you'll need a roller to make the application once you've chosen your product.
Whether you are installing new concrete flooring or upgrading you existing flooring, there are certain concrete floor supplies that you are definitely going to need. Fortunately, Moon Decorative is always on-call to provide for your needs. Simply give us a call or visit our website for more information.
Should You Choose Concrete Stamping or Staining?
Is concrete stamping or staining best for your upcoming project? Both stamping and staining present a number of benefits, but which option is best will depend on your specific needs and the look you wish to achieve. Concrete Stamping Concrete stamping offers an array of design options. In fact, with this decorative concrete option, it's possible to create virtually any look you might desire. You can even mimic the look of natural stone by using the correct stamping tools. Stamped concrete also offers the benefit of ease of installation. Installing stamped concrete is far less labor intensive than other options, including the installation of individual stones or pavers. All that is required to install stamped concrete is mixing the concrete, pouring it, and stamping it. While stamped concrete does offer many advantages, there are also drawbacks to consider. For instance, it is important to take care where and how stamped concrete is installed, as it may not hold up well to heavy loads if it is simply for a decorative function, and could be susceptible to cracking when placed under a heavy load like a dump truck full of a heavy weight load. Concrete Staining Concrete staining also presents a number of important benefits, including the fact that the acid can be added to existing concrete slabs. Adding acid stain, such as Sedona Acid Stain, to your existing concrete floors can help improve the look of your floor and if sealed correctly can make it more stain resistant as well as easier to maintain. All that is required to maintain a stained concrete floor is a simple wash with some soapy water. There are some disadvantages to stained concrete to take into consideration. Among those drawbacks is the fact that there are not as many design options available with stained concrete as with other options, including stamped concrete. The choice of whether stained or stamped concrete is the right choice for your design needs is highly personal. Understanding the advantages and disadvantages of both can help you make a more informed decision.
Moai has arrived at Moon Decorative's Concrete Art Garden
Easter Island covers roughly 64 square miles in the South Pacific Ocean, and is located some 2,300 miles from Chile's west coast and 2,500 miles east of Tahiti. Known as Rapa Nui to its earliest inhabitants, the island was christened Paaseiland, or Easter Island, by Dutch explorers in honor of the day of their arrival in 1722. It was annexed by Chile in the late 19th century and now maintains an economy based largely on tourism. Easter Island's most dramatic claim to fame is an array of almost 900 giant stone figures that date back many centuries. The statues reveal their creators to be master craftsmen and engineers, and are distinctive among other stone sculptures found in Polynesian cultures.
There has been much speculation about the exact purpose of the statues, the role they played in the ancient civilization of Easter Island and the way they may have been constructed and transported. However, we know exactly how the SS Moai's were constructed. Tim Frazier, Lead Trainer at Moon Decorative, started with a large piece of styrofoam and began cutting out the faces. After he got them like he wanted, he covered the figures with SS Concentrated Liquid Polymer and then SS Vertical Mix. The coloring was done with SS Vertical Color Dark Brown and Black.
These enormous stone busts–known as moai average 13 feet high, with a weight of 13 tons, were carved out of tuff (the light, porous rock formed by consolidated volcanic ash) and placed atop ceremonial stone platforms called ahus. It is still unknown precisely why these statues were constructed in such numbers and on such a scale, or how they were moved around the island.