Tips for Working with a Concrete Sealer Sprayer
When it comes to durability and versatility, no material is superior to concrete. Not only can concrete be stamped, stained, and dyed to create a variety of different looks, but it is easy to install compared to other premium building materials. If you choose to use concrete for your next flooring project, be sure to have a quality 
concrete sealer sprayer
 on hand.
Using a Concrete Sealer Sprayer
No matter what kind of concrete flooring you choose, it is a good idea to seal it after it has cured. Sealing your concrete flooring will help to lock in your color (if you choose to use any), and it will protect the surface against heavy foot traffic, abrasions, and stains – it will also protect outdoor surfaces against the elements. You can find a variety of concrete sealers online at Moon Decorative, and you can customize them to suit your individual project. Once you've chosen the right sealer for the job, then you need to get a sprayer. There are two types of concrete sealer sprayers that will work for most jobs – a pump-type airless sprayer and a high-volume low-pressure (HVLP) sprayer. Pump sprayers are inexpensive and easy to use, but they are only recommended for water-based materials. HVLP sprayers may be a little more expensive and take some time to set up, but they offer the most consistent application and can be used with both water-based and solvent sealers. No matter which type of sprayer you choose, be sure to prepare the surface properly and aim for consistent coverage. If you are looking for a high-quality concrete sealer, be sure to make Moon Decorative your first stop. We offer a wide range of concrete products, including sealers, stains and dyes, that can all be applied with a concrete sealer sprayer. Check out our online catalog, and don't be afraid to call us with any questions you may have.
Choosing the Right Concrete Stain for Your Project
Concrete flooring is incredibly versatile, and it is also one of the more durable flooring materials on the market. Although uncolored concrete has its place in some projects, if you really want your flooring to stand out, you should consider a concrete stain. Types of Concrete Stains The right combination of concrete stain and sealer can give your concrete flooring the look of premium building materials – it can also give your flooring a one-of-a-kind look that is different from anything you've ever seen before. Before you choose a concrete stain for your project, take a moment to learn about the different types: Water-Based Non-Reactive Stains – Water-based stains affect concrete in a similar way that stains affect wood – they penetrate deeply and deposit their color well. This type of concrete stain comes in an unlimited number of colors, and they do very well as highlight colors on surfaces that have been stained previously. Acid-Based Reactive Stains – This type of stain uses a combination of acid and metallic salts to permanently etch and deposit the color into the desired surface. Acid-based stains offer a greater depth of color and a one-of-a-kind appearance, but they are a little bit more difficult to apply. Concrete Dye Stains – Concrete dye stains consist of finely ground color particles that are dissolved in a liquid solution for application. There are a limited number of colors, but they can be combined into an unlimited number of blending options and can be applied in different ways to achieve different effects. No matter which type of concrete stain you choose, consider buying it from Moon Decorative which has nearly three decades of experience in the decorative concrete industry so you can count on our products to deliver the highest quality and value. Check out our product catalog online to pick out the perfect concrete stain for your project.
5 Reasons Why Concrete Contractors Choose Moon Decorative
If you are an experienced concrete contractor, then you have used your fair share of decorative concrete products. In choosing a concrete retailer, you want to know that you are getting good value as well as exceptional quality. That is exactly why you should choose Moon Decorative.
Why Shop at Moon Decorative ?
When it comes to decorative concrete products, there is no better name in the business than Moon Decorative. Below you will find an overview of the top five reasons concrete contractors choose us for their materials:
The Biggest Selection – At Moon Decorative, we have an extensive online catalog featuring more than 3,000 different products. We offer everything from concrete countertop materials and concrete flooring products to stamps, stains, dyes, and more. Simply put, if it has to do with concrete, then you can count on us to carry it!
The Highest Quality – Not only do we offer the largest variety of products, but you can rest easy knowing that every product in the catalog offers the highest quality. We stand behind every product we sell.
Ideas and How-to Guides – In addition to offering a wide selection of decorative concrete products, Moon Decorative also offers plenty of ideas and how-to guides for contractors to use as inspiration for their projects. Additionally, our website offers a variety of training videos and additional training materials to ensure that you know how to use each product to the best advantage.
Shopping Online – For many contractors, shopping for materials is the most time-consuming task. By offering a full catalog and online ordering, Moon Decorative takes the hassle out of shopping for materials so you can focus on the important things – design and installation.
Focus on Contractors – While many decorative concrete retailers try to market their products for both contractors and DIY homeowners, Moon Decorative has a special focus on meeting the needs of concrete contractors. The company itself is run by a concrete contractor with more than 35 years of experience, and we are dedicated to serving contractors with the highest-quality products, training, and service on the market.
No matter how large or small your next decorative concrete project may be, make Moon Decorative your first call. Not only do we offer the best decorative concrete products on the market, but we also offer extensive training materials to ensure that you know how to use our products properly. We are also always available for questions and concerns – why would you shop anywhere else?
The Most Popular Concrete Sealers
After you have done the hard work of pouring and customizing your concrete slab, all that is left is to seal it. Concrete sealers can be used on both standard and decorative concrete surfaces to add slip resistance and to provide protection against foot traffic, abrasions, spills, and weather (for outdoor surfaces).
Most Popular Types of Concrete Sealers
When it comes to concrete sealers, Moon Decorative offers the highest quality and the greatest variety. The most popular concrete sealers on the market include the following:

Solvent-Based Acrylic Sealers – This type of sealer is probably the most commonly used sealer because it is easy to apply and very forgiving. Solvent-based sealers like SS Supreme dry very quickly after application, and it is easy to reseal them if needed. SS Supreme comes in a high-gloss, non-yellowing sealer that offers excellent resistance to sun, rain, stains, freezing temperatures, and a variety of pollutants. It works on most concrete surfaces and is easy to apply.

Water-Based Acrylic Sealers – These sealers are very user-friendly, and they are very durable, though they do have a slightly longer dry time. SS EpoSeal 20 is a great option for water-based acrylic sealers, especially for indoor applications. This sealer offers a satin or low-gloss finish with enhanced water resistance and hot tire resistance.

Polyurethane Sealers – This type of sealer offers excellent abrasion and scratch resistance but does require precise measuring and application. SS Poly Pro is a special UV-resistant sealer with a high-gloss finish that can be used for indoor and outdoor applications. It can be used as a primer or as a top coat for water-based urethane sealers.

Epoxy Sealers – These sealers are often used as primers because they are very strong and durable. Epoxy sealers should be used with polyaspartic or polyurethane top coats to ensure maximum abrasion resistance. SS Water Base 40 Epoxy is a low-odor formula that can be used as a primer or top coat for interior applications. It cures quickly and offers reduced re-coat times as well.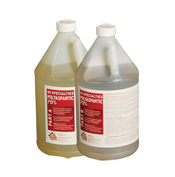 Polyaspartic Sealers
 – This type of sealer offers the most durability, adhesion, and abrasion resistance as well as excellent gloss retention. Polyaspartic sealers like SS Polyaspartic dry very quickly, and, though they are a little more expensive, they offer the best longevity and durability. No matter which concrete sealer you choose, be sure to get it from Moon Decorative. Not only does Moon Decorative offer the best products, but we also offer training videos to ensure that you apply the product correctly for the best effect.
A Buyer's Guide for Purchasing Concrete Floor Supplies Online
When you are ready to start your next home or business remodeling project, the first thing you need to think about is your materials. Not only do you need to decide what kind of materials to use, but you also need to think about where you are going to get them. For all of your concrete remodeling projects, consider buying your 
decorative concrete supplies online
.
Benefits of Buying Online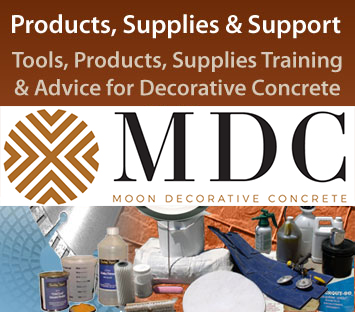 Whether you are a concrete contractor or a DIY home or business owner, you want to know that you are getting the best materials for the lowest price. You might be able to find some concrete floor supplies on sale at your local home improvement store, but you will have a vastly greater variety of commercial grade options to choose from online retailers like Moon Decorative. Moon Decorative is one of the leading retailers of quality, professional concrete products, including floor supplies. When you buy concrete floor supplies online, you get the whole package. Not only can you review your options quickly and efficiently, but you can contact the retailer with questions to help you pick the right product and plan your project. Every flooring project is different so you want to know that you have the support of an expert in the industry to answer your questions and to guide you along the way. Another benefit of purchasing floor supplies online from 
Moon Decorative
 is that you can also take advantage of training videos or hands-on training sessions to ensure that your project goes off without a hitch. No matter how big or small your project is, buying concrete floor supplies online is the way to go. Moon Decorative offers the biggest variety of concrete flooring products, and we will provide support and advice every step of the way.
Tips on Using Concrete Floor Supplies
If you are a DIY homeowner, you may one day find yourself installing a new concrete floor in your home. Depending on the system, specialty concrete flooring can be fairly easy material for homeowners to install, but it is also highly durable and easy to maintain, and it offers a vast array of options for customization. It all starts with choosing the right concrete floor supplies. Installation Tips for Concrete Floors Any licensed concrete contractor will tell you that the first step in any concrete flooring project is to prepare the surface. Before you even think about installation, you need to make sure that the surface is cleaned and prepped. If you are pouring a new layer of concrete over an existing slab, this typically involves a  mechanical means like, grinding or sandblasting the surface to ensure adhesion of the new materials. If the existing slab is damaged, you may also have to fill cracks and crevices with epoxy or some other material. When you are ready to actually apply your concrete floor material, it is important to do it correctly. For stamped concrete, you must first apply a new layer of concrete and then imprint the surface with your concrete stamp. For colored concrete, you may be able to blend the pigment directly into the concrete mix, or you can use coloration systems that are applied after the overlay has cured. After applying your new flooring, you must then give it time to dry and cure before coating it with a protective layer of acrylic, epoxy or polyaspartic sealer. With so many options to choose from in concrete floor supplies, it can be difficult to make a decision. If you choose Moon Decorative, however, you can rest assured in knowing that you will be working with the best in the business.
Using Pigments with Concrete Countertop Products
Nothing brings a room together like a cohesive décor scheme, and, for a modern kitchen, it is all about the countertops. When it comes to selecting a material for your countertops, you have a wide variety of options. If you are looking for a material that offers unbeatable durability and versatility, however, there is nothing better than concrete countertops.
Benefits of Concrete Countertops
When thinking about building new countertops, many homeowners gravitate toward building materials, like granite, quartz, and stainless steel. Each of these options has its pros and cons, but one thing remains certain for all three – none of them can stand up to concrete. Concrete countertops simply can't be beat when it comes to durability and versatility – plus, they can be poured in just about any size or shape. In addition to offering a wide variety of size and shape options, concrete counters can also be colored with stains or dyes to mimic the effect of those premium materials without all the hassle. The only limits for concrete countertop products are the limits of your imagination.
Coloring Concrete Countertops
What many people love about concrete countertops is the fact that they offer so much room for customization. Concrete stamps and overlays are a great way to add pattern and texture to your concrete counters, but these are not the only options – you can also add color. There are two main types of pigment used in concrete countertops – liquid or powdered. Liquid and powdered pigments can be blended right into the concrete mix to create a fully integrated color. You can even combine two or more pigments together to achieve a multicolored look. Concrete pigments are also versatile enough that they can be matched to the existing décor elements in your home, such as cabinets, backsplash, and flooring. At Moon Decorative, we offer a variety of pigments, including products from enCOUNTER and EZTop. No matter how you choose to customize your concrete countertops, be sure to get your materials from Moon Decorative. Not only do we offer a wide selection of 
concrete countertop products
, but we can also teach you how to use them. We offer training videos and hands-on training, plus we can connect you to a licensed concrete contractor if you don't feel up to the task of building the countertops yourself. Simply put, Moon Decorative is the place to go for all of your concrete needs.
Protecting and Maintaining Stamped Concrete
What many people love about decorative concrete is its versatility and durability. Perhaps even more important than these benefits, however, is the fact that decorative concrete can also be very easy to maintain – even for stamped concrete.
Tips for Maintaining Stamped Concrete
Concrete stamping is a popular application for both residential and commercial use. In the home, stamped concrete can be used outdoors to create attractive walkways or outdoor patios – it can also be used indoors to create one-of-a-kind flooring solutions and countertops. For commercial applications, concrete stamping can be applied to walkways, driveways, and other surfaces for a custom look. 
Concrete stamping
 can be applied in a way that mimics the effect of premium building materials, like flagstone, brick, and limestone, without all of the hassle these building materials usually require. With the proper techniques and products, installing stamped concrete is fairly straightforward – a thin layer of concrete is applied to the prepared surface, and then a concrete mold is used  to emboss or imprint the curing surface with the desired pattern to create texture. Stamped concrete is no more difficult to maintain than any other kind of decorative concrete. All you have to do is apply some kind of protective sealer to the surface after it has cured. You can choose from a variety of epoxy, polyurethane, or acrylic sealers, either clear or colored, to help protect your concrete stamping from abrasion, impact, chemical spills, and foot traffic. Once the surface has been coated, all you have to do to maintain it is mop the surface as part of your regular cleaning routine. For outdoor stamped concrete, pressure washing or scrubbing with a mild detergent should be enough to clean the surface. If your stamped concrete surface starts to dull over time, adding a new coat of sealer will usually be enough to restore it. For an added layer of protection against wear and tear, you can also consider applying a layer of floor wax or floor polish. They key to success with any concrete stamping project is to start with high-quality materials – that is where Moon Decorative comes in. At Moon Decorative, we have been selling and installing industry-leading decorative concrete products for more than two decades, including concrete stamps and sealers. Call today to see what kind of deal we can make for you or to request a free quote. What more could you ask for?
Design Ideas for Working with Concrete Stamps
If you are looking for a building material that offers unmatched versatility and plenty of options for customization, look no further than decorative concrete. One of the most popular applications for decorative concrete involves the use of stamps.
Ideas for Using Concrete Stamps
Concrete stamping is a fairly simple process – a thin layer of concrete is applied to the substrate then the desired stamp pattern is applied using a mold with that pattern embossed or imprinted on the mold. The beauty of concrete stamps is that they can be made in nearly any size, shape, or pattern imaginable – they can even be made to mimic the appearance of premium building materials. Here are a few ideas for ways to use concrete stamps:
Outdoor Patios – Decorative concrete is perfect for outdoor patios, because you can mix and match stamps and colors to create a one-of-a-kind appearance.
Concrete Pool Decks – Stamped concrete is a popular choice for pool decks, because it is easy to apply and you can add a textured coating for enhanced slip-resistance.
Driveways and Walkways – Concrete is a highly durable material that can stand up to vehicle traffic and exposure to wind and weather.
Indoor Flooring – Stamped concrete is a great option for both residential and commercial flooring, because it can withstand heavy foot traffic and is easy to maintain.
Concrete Countertops – Stamps, stains, and dyes can be applied to concrete countertops to create the look of premium materials, including granite and quartz, without all the hassle.
Concrete stamps 
come in all shapes, sizes, and patterns, so you have a variety of options to choose from. No matter which stamp you choose, make sure you get it from Moon Decorative. We have been one of the leading retailers of concrete stamps since 1990, so you can rest assured that any product you get from us will be top of the line.
Creating the Look of Lava Flow Using a Metallic Epoxy Coating
If you want to achieve a unique appearance for your residential or commercial flooring, decorative concrete may be the way to go. For a one-of-a-kind finish, consider using metallic epoxy coating over your concrete to create the look of a lava flow.
What Are Metallic Epoxy Coatings?
Epoxy floor coatings are simply a type of coating applied to concrete surfaces that serve to seal and protect the surface while also enhancing its appearance. These coatings come in a wide variety of colors, including metallic options. Traditional epoxy coatings can be used to achieve a mottled look or a blend of multiple colors, but metallic coatings give your flooring a metallic shine and a unique look. With the right application, metallic epoxy coatings can make your floor look like a field of lava.
Tips for Using Lava Flow Metallic Epoxy Coatings
The first step in using metallic epoxy coatings is having a solid substrate or layer of concrete – metallic epoxy can be installed on a brand new slab of concrete or on an overlay; a thin layer of concrete that resurfaces the slab if it's old or stained. Once the concrete surface is cured, you simply apply the lava flow metallic epoxy coating, spreading it with a roller, trowel, or squeegee according to installation instructions. The key to achieving the look of lava is to spread the coating back and forth in a random motion, creating waves of color and pattern. After spreading the coating, you can choose to spray the surface with denatured alcohol to disperse the metallic epoxy further. Then, all you have to do is let the coating cure and then apply a top coat, if required, for enhanced durability and slip resistance. If you believe that a metallic epoxy coating is the right way to go for your home or business, make sure you purchase your supplies from a reputable dealer. Moon Decorative offers top-quality materials, including decorative concrete and metallic epoxy coatings, as well as training courses for contractors and DIY-ers to teach the proper installation process for these amazing materials.