Walkway And Entryway Resurface And Repair
This church's entrance gets a new facelift in Oklahoma.  It is quite common to see a dated and old concrete slab or walkway.  You might not even notice the condition of the concrete if it a standard grey unfinished slab.  The weather and moisture plays a big role in the wear and tear of concrete.
This Church decided it was time to clean up it's property and decided to start with the concrete.
Stamped Concrete Deck Around Pool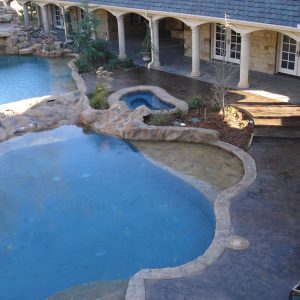 Pool decks are more than a place to get in an out of a pool. They are the main visual element surrounding the outdoor space and can act as a patio surface to entertain, set up a grill or even design a complete outdoor kitchen and living area.
If a concrete slab is in your plans, why not use it as the finished pool deck surface? Stamped concrete allows you to use the concrete as a structural element while providing a designer and custom surface to match your design and decorative style needs.
Stamped Decorative Concrete Overlays
Adding a rock, stone or brick texture to your existing concrete is possible with Stamped Decorative Concrete Overlays.  These thin topping systems can be found on patios, driveways, pool decks and restaurant patios across the world.  The beauty of a stamped overlay is that it can be installed on your old damaged and cracked concrete to give it new life, without the need to jack hammer it up and re-pour an entire new slab.
From herringbone brick to flagstone and slate textures you can really make an impact on your home or businesses' decor with stamped concrete overlays. Color options will also make your new overlay pop and really stand out.
Choose from almost an unlimited array of patterns, textures and color options to create your own personal style and look. Call us at Moon Decorative and we will be happy to help. Or better yet, come into our store and see over 30,000 square feet of ideas. Here you will find lots of examples of Stamped Decorative Concrete Overlays.
Commercial Concrete Floors
While commercial concrete floors are not a new concept, perhaps the latest options and choices are.
Concrete floors have come a long way from the standard, grey or sealed purely functional finish of yesterday.  Commercial establishments are using topical dyes, chemical stains and metallic coatings to bring an entire new life to old and new concrete floor slabs.
Adding a beautiful natural looking color and stain to a concrete floor can be achieved with stained concrete. Stained concrete floors are used to create a variegated, swirled and rich color tone to concrete without the worry of it fading or peeling off.  Chemical acid stained concrete is a permanent color solution and can be found in both residential and commercial applications.  Acid stain colors are a variety of earthy tones including, brown, orange, greens and taupes.
Pool decks coatings that provide function and custom style
When the time comes to choose your pool deck surface you will want to select a pool deck coating that will not only last the test of time but will endure the fluctuating trends in pool design and decor.