DIY Concrete Coatings – What You Need to Know About Moisture Control
As you may already know, concrete is one of the most versatile and durable solutions for residential, commercial, and industrial flooring. Concrete surfaces can be finished with a variety of different coatings to enhance the durability and appearance of the flooring, but some concrete coatings are better than others. In fact, some coatings trap moisture, which can lead to problems and reduced longevity.
Why Is Moisture Control Important?
The main reason you need to be concerned about moisture control for your concrete coatings is that it can affect the ability of the coating to bond to the concrete. Problems with moisture may not be apparent immediately, but months or years down the line, you may end up dealing with coating failure. It is not actually the moisture content of the concrete that causes the problem, however; it is the degree of moisture flow (referred to as moisture vapor transmission) through the slab that causes problems with adhesion.
In order to determine the degree of moisture vapor transmission through a concrete slab, you can conduct a variety of tests. The Plastic Sheet Test involves sealing a square of clear plastic sheeting to the concrete with tape and waiting 16 hours – if there is any condensation on the underside of the plastic, the slab is too wet. A Calcium Chloride Test is another option – this test involves placing a small dish of calcium chloride under a clear plastic cover. After placing the dish, you wait for 72 hours and compare the weight of the dish before and after to determine the degree of moisture flow through the slab.
Recommended DIY Concrete Coatings
Epoxy coatings are one of the most popular finishes for DIY concrete surfaces, because they come in a variety of finishes and they are fairly easy to install. The downside of epoxy coatings is that they tend to trap the water vapor released by the concrete, which leads to dampness and reduced longevity for the slab. If you really want to avoid problems with moisture, your best bet is to go with a moisture vapor control system. This type of DIY concrete coating is specifically designed to reduce the passage of moisture and water vapor through the concrete slab, and it works by diffusing and condensing the moisture vapor emission as it travels through the slab.
If you are having new concrete flooring installed in your home or business, be sure your contractor chooses a high-quality concrete coating with a moisture vapor control system. Moon Decorative offers a variety of concrete coatings, including water-based acrylics and other products that offer excellent moisture control.
Decorative Concrete – An Evolution in Design
There was a time when the only building materials available to contractors and DIY-ers were natural products, like stone and wood. With modern technological developments, however, there is now an endless array of options for residential, commercial, and industrial applications. One of the most popular recent developments is decorative concrete.
What Is Decorative Concrete?
Decorative concrete is just what it sounds like – a type of concrete that can be customized with a variety of textures and colors to enhance its decorative appeal. This type of concrete can be used for a variety of applications, including flooring, walkways, pool decks, driveways, patios, and more. Not only is decorative concrete highly flexible and versatile, but it is customizable with a variety of patterns, colors, and textures as well. Simply put, decorative concrete can be used to achieve the effect of nearly any other building material, but it is much easier to use.
The Benefits of Decorative Concrete
While old-school building materials, like natural stone and wood, offer aesthetic appeal, they are not always the most practical option. If you are looking for the right material to use for commercial or industrial flooring, for example, natural stone or wood may not offer the durability you need to withstand heavy foot traffic. Decorative concrete materials can help you achieve the look of these premium building materials while going above and beyond the norm in terms of durability. Not only can you use decorative concrete to achieve a custom look, but adding the right coating can enhance the durability and the safety of the surface as well.
If you are considering decorative concrete for your home or business, do yourself a favor and purchase your materials from a reputable supplier, like Moon Decorative. Not only do we offer a wide variety of decorative concrete products, but we also offer training courses for contractors and DIY-ers.
Design Options for a Decorative Cement Walkway
The walkway outside your home or business does more than just give people a safe path to tread – it also has an impact on the aesthetic appeal of your property. The way your property looks can affect the way people feel about your home or business, so it is important to choose your design and your materials carefully. To maximize the aesthetic appeal of your property while retaining durability and flexibility, consider a decorative cement walkway.
Decorative Cement Walkway Options
When using decorative cement, you have a nearly endless array of options. You can customize your cement walkway with a variety of materials to achieve the look of premium building materials, if you like. You can also add color and texture to your walkway by using concrete stamps and stains. After your walkway has been installed, you can then finish it with a variety of coatings to preserve the cement, to enhance its appearance, and to make it safer.
One of the most popular options for a decorative cement walkway is stamped concrete. This is simply a layer of concrete that has been imprinted or embossed with a specific texture or pattern. Stamped concrete can be used to achieve the effect of premium building materials, like natural stone, wood, or tile, without the hassle the installation of these building materials typically involves. Concrete dyes and stains are popular options for decorative cement walkways – these, too, can be customized to achieve the effect of myriad different building materials. Once you've installed your decorative cement walkway, you then need to finish it with a clear or colored coating to maintain durability and add nonslip safety.
Whether you are laying your decorative cement walkway yourself or hiring a cement contractor, be sure to get your materials from a reputable source. Moon Decorative offers a wide variety of decorative concrete products, including the latest stamps and stains – we also offer training courses for the DIY homeowner or business owner.
Update Your Kitchen this Holiday Season with Concrete Countertop Resurfacing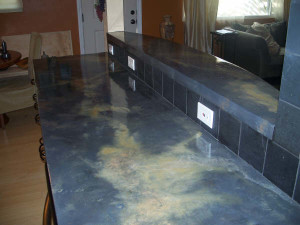 The New Year is a great opportunity for new beginnings, and it can also be the perfect time to make updates to your kitchen. One of the best ways to update your kitchen this holiday season is with concrete countertop resurfacing.
Options for Countertop Resurfacing
Once you make the decision to resurface your kitchen countertops, you may think that the hard part is over. However, you still have to decide what kind of material you want to use in resurfacing your countertops. Popular materials include self-sticking laminate, paint, or tiles, and all of these materials can be applied to common countertop materials, like Formica. If you really want to update your countertops and add durability as well as aesthetic appeal, you should consider concrete countertop resurfacing. Concrete countertops can be customized with an endless array of textures, patterns, and colors, so you can precisely match your countertops to the décor scheme in your kitchen.
Tips for Concrete Countertop Resurfacing
Before having your concrete countertops resurfaced, the original surface needs to be prepared. Sanding is the most common way of preparing a countertop for resurfacing, because it removes any existing coatings and makes sure that the surface is ideally prepared for the new surface to adhere properly. Once the surface is prepared, all that is left is to pour the new concrete countertop mix and then stamp or stain it according to your preference. Once the surface has cured, you then have the option to apply a coating for enhanced durability.
The key to success with concrete countertop resurfacing is to choose a high-quality product. Moon Decorative offers a wide variety of concrete resurfacing products, including high-performance concrete mixes, which are ideal for countertop resurfacing. These mixes can be used to create a rock-hard surface rated to 7,000 psi or greater, and it cures more quickly than typical concrete. These mixes are incredibly strong – even though they are only poured to a thickness of 1 to 2 inches – and they include a blend of cement, limestone, and aggregates to ensure unbeatable durability and minimal shrinkage.
Before you hire a contractor to resurface your kitchen countertops (or before you decide to do it yourself), make sure you choose a high-quality product. The concrete countertop mixes offered by Moon Decorative are specifically designed for concrete countertop resurfacing applications, engineered to improve flow, increase strength, and minimize cracking and shrinkage. What more could you ask for?
Tips and Techniques for Working with Metallic Epoxy
If you have ever spent time on a DIY website, or a design based television program, you have probably come across decorative concrete.  The popularity of decorative concrete continues to grow as people are bringing custom and unique designs into their homes and businesses.  There are always new products and innovations making their way into the industry, and new technologies offer home and business owners a spark of creativity in design.  The newest of technologies in the decorative concrete industry is really making a statement and we are seeing it more and more in the design community.   If you are going for a unique and upscale look for your flooring, consider finishing your concrete flooring with a metallic epoxy coating.
What Is Metallic Epoxy?
Metallic epoxy is one of many options available for finishing a concrete floor. This type of coating utilizes a clear polyaspartic or epoxy base that is applied over the concrete slab. A metallic powder is then applied and manipulated into the desired pattern. Metallic epoxy coatings give the concrete a glossy shine and can give your flooring a unique three-dimensional appearance. With metallic epoxy, you can achieve the illusion of ripples, craters, and waves. The best part about metallic epoxy coatings is that no two are alike – your floor will be unique.
Tips for Using Metallic Epoxy
Before applying a metallic epoxy coating, the concrete flooring must be fully cured and properly cleaned. When the surface is ready, the clear epoxy or polyaspartic base is applied over the entire surface. Next, the metallic powder is added onto the surface – it can be poured out in lines from a small bucket or a watering can could be used for greater control. A squeegee trowel is used to manipulate the metallic powder into the desired pattern. If multiple colors are chosen, the colors can be poured out in opposite directions – being careful not to pour one on top of the other.
When it comes to manipulating any metallic epoxy, there are many techniques to choose from. One option is to simply apply the first color in a solid coating then dip the squeegee into the second color and apply it in brush strokes. The one-stroke backroll technique is a great way to blend multiple colors and will give a floor an acid stain look. Another option is to wait for the epoxy coating to get tacky, then apply some kind of solvent, like xylene or denatured alcohol, to create illusions, like a ripple effect. You can even use a blowtorch or a leaf blower to manipulate the metallic epoxy. You are only limited by your own imagination.
Plain concrete floors can be boring and bland. Fortunately, the new innovations in decorative concrete design are still being created, and there are many options for coatings to add color, texture, and intrigue. For a concrete floor that will command attention and set your home or business apart from all the rest, consider finishing your floor with a metallic epoxy coating.
Tips for Cleaning a Concrete Slab Before Applying Concrete Acid Stains
If you are looking for an economical and unique way to upgrade your concrete flooring or simply want to give your space a little added color, concrete acid stains may be the way to go. Replacing a concrete slab can be prohibitively expensive, but revamping it is not. If you plan to apply a stain, however, you will first need to clean and prepare the concrete to ensure adhesion.
Cleaning Concrete for Concrete Acid Stains
Whether you are a DIY homeowner or a concrete contractor, you need to follow the proper steps to clean and prepare a concrete slab before applying your acid stain. If you do not prepare the slab, the stain will not take properly and you could be left with uneven color or no color at all. Before you start preparing the slab for an acid stain application, take note that you must not use any kind of acid wash or acid-etching solution – if you do, the concrete acid stain will not take at all and you will have done all that work for nothing.
One product that is used in the industry a lot to clean an older concrete slab is a trisodium phosphate (TSP) solution. Apply the solution to the concrete slab and then use a long-handled scrub brush or rotary floor machine with a nylo-grit scrub pad to work it into the concrete.  Any heavy mastics can be removed by scraping with a putty knife or applying a poultice solution made of fly-ash and denatured alcohol, and grease stains may be treated with chemical strippers, or degreasers. Give the entire floor a final rinse to ensure removal of any residue.   Keep in mind that even if you do thoroughly clean the entire slab, you might be left with patches that have lower lime content – those patches might not take the stain, so you'll have to apply a faux finish to match the concrete stain on the rest of the slab.  It is always best to test a small area first before applying the solutions to the entire floor.  Always read labels and follow directions for the products you are using.
Once you have thoroughly cleaned your older concrete slab, you can apply the concrete stain of your choice. For high-quality concrete stains that add depth, richness, and color to your concrete flooring, make Moon Decorative your first stop.
The Decorative Concrete Products You Choose Do Matter
Whether you are installing a new floor, building a pool deck, or revamping an old concrete surface, decorative concrete products are the way to go. The beauty of decorative concrete is that it is highly customizable – especially in comparison to premium materials – and it is both durable and versatile. With so many options, however, you need to be careful about selecting the right decorative concrete products for your project.
Types of Decorative Concrete
Both concrete contractors and homeowners alike can benefit from the wide array of decorative concrete materials available from Moon Decorative. If you are thinking about upgrading your worn-out concrete flooring, adding a decorative concrete overlay might be a good option. When installing the overlay, you have the option to add texture with a stamp or add color with a stain or dye. Stamped concrete can be customized to mimic the appearance of premium building materials, like brick and flagstone, as long as you choose the right stamp for the job's requirements.
In addition to being mindful about choosing the right texture for your concrete overlay surface, you also have to think about color. When it comes to coloring concrete, you can choose an acid stain, a water-based stain, a concrete dye, or an epoxy coating. It might seem like any of these options would work, but it does matter which one you choose. Water-based stains are best for non-reactive surfaces in areas that require low VOCs. Acid stains offer a greater depth of color and texture, but they are more difficult to apply. Concrete dyes can be used inside or outside, and they can be applied one on top of the other to achieve a variety of looks and colors.
The type of decorative concrete product you choose will have an impact on the outcome of your project, so educate yourself about the options and then select the one that is best suited to the job.
Recoloring Stamped Concrete Projects
Tips for recoloring and re-sealing stamped concrete
Concrete is highly versatile – you can apply stamps to give your concrete flooring the texture you want. Stamped concrete will last for many years, and it is highly durable and easy to maintain. Before or even after your stamped concrete starts to wear out, you won't have to replace it – you can rejuvenate it simply by recoloring it and re-sealing it.
The method for recoloring stamped concrete is fairly simple, but you may still want to contact a qualified concrete expert. Because different portions of your stamped concrete surface may have aged differently, you do not want to start off by staining the entire surface. If you do, some parts of the surface may take the stain differently than others. Your best bet is to apply a tinted base coat to even things out and then to apply a second coat in a contrasting color. This process will result in a uniform look in terms of both color and pattern. After applying both coats, you can then finish the surface with a clear sealer or lightly tinted sealer.
Just because your concrete surface is worn out or discolored doesn't mean that you have to replace it. Recoloring stamped concrete is a much more affordable and efficient option.
What You Need to Know for DIY Epoxy Coating Projects
Although you can hire a professional contractor to assist with any concrete floor project, you can apply epoxy as a do-it-yourself project as well. Thanks to quality products from Moon Decorative, DIY epoxy coating projects are quite common.
If you have an existing concrete floor that is dull and outdated, an epoxy coating is the perfect solution. Of course, as with any home project, you need a little knowledge before you get started to ensure the results are everything you wanted and more.
Perfecting Epoxy Coating Projects
Whether the DIY project is for a home or office, you can achieve amazing results. Epoxy transforms the floor's aesthetics and ensures better protection while spending less than having a new concrete floor installed.
Preparation – The first and most important step for your DIY epoxy coating project involves preparation of the concrete floor. Without a clean and properly prepared surface, the final outcome will be subpar. If the floor has old mastics, rough patches or stains, it's best to use a mechanical preparation method like sanding, scarifying, or grinding. Specialists at Moon Decorative can assist you in recommending the best method for your particular project.

  

In addition to a gorgeous finish, preparation ensures proper adherence of the epoxy coating. Whatever surface preparation used, it is imperative to remove all debris and dust.
Primer Application – Depending on the system chosen, it is also advisable to a apply a base or primer coat to the surface after preparation. To ensure a consistent and thorough coverage use proper application methods and tools recommended by the product supplier.

  

Many DIY'ers start by brushing the primer on the outer area of the floor, making sure to get close to the walls and deep in corners. For the remainder of the floor, a roller usually works best.
Epoxy Coating – Once the primer coat is completely dry, the top epoxy coating is applied. Just as you did with the primer, aim for a consistent and thorough coat, use a brush to get the epoxy close to the walls and deep in corners, followed by a roller for the rest of the floor's surface.
For additional assistance and inspiration for your DIY project, check out the ideas and how-to guides on Moon Decorative's website.
Tips for Working with Metallic Floor Coatings
Metallic floor coatings create stunning concrete surfaces. If you want to transform an existing floor without spending a fortune, you can by using a top-quality product from Moon Decorative. The combination of modern technology and creative design leads to an incredible result.
Although metallic floor coatings have been around for a while, modern coatings are more refined. With the use of metallic pigments and flakes, your floor can look different from various angles and depending on how light hits the surface. To achieve a glimmering effect, you should be aware of a few helpful tips.
Helpful Tips
Preparation – Before you apply any metallic floor coatings, you need to prepare the concrete surface. Make sure you properly fill all cracks and chips, smooth out any rough spots, and thoroughly clean and dry the entire area.  Preparation is the mot important step.
Primer Coat – With the floor prepared, apply a solvent or water-based epoxy primer to seal the floor and create a strong bond on which the metallic coating will adhere. For both residential and commercial projects, Moon Decorative offers one of the best epoxy primers available. The primer protects, seals, refreshes, and enhances concrete floors.
Metallic Floor Coatings – The next step involves the application of the metallic coating. Keep in mind that while there are many products on the market, those offered by Moon Decorative are by far the best. Be sure to use slow, smooth strokes so the entire floor is covered.
Coloring Effects – Give careful consideration when choosing metallic powdered pigment. Because the floor is a large space, a little can go a long way.
Protective Topcoat – It is essential that you apply a protective coat over the finished surface to resist abrasions and help with maximum protection.