Tips for Cleaning a Concrete Slab before Applying an Acid Stain
Applying an acid stain like Sedona Acid Stain to concrete can be a great way to liven up indoor and outdoor spaces. Even so, in order to achieve the best possible results, you will want to make certain that you have the right canvas from which to work. This typically means cleaning the concrete slab prior to applying the acid stain.
Proper cleaning of an older concrete slab will make it much easier for the stain to absorb and adhere ensuring longer lasting results. One of the most important things to keep in mind when cleaning a concrete slab is to avoid using any type of harsh etching solution or acid wash. This includes muriatic acid. If you apply any type of acid to the slab when cleaning it, the acid stain will likely not take.  If you are looking for the perfect cleaner than look to Surf Prep – the ideal surface preparation and cleaner product.
Acceptable Cleaners for Cleaning a Concrete Slab
Instead, it is much better to use a solution of trisodium phosphate, or TSP. This should be applied using a scrub brush. You may find that using a long-handled scrub brush makes it easier to clean your concrete slab. If you find this to be too much work, you might find it easier to use a pressure washer. While grease stains can be difficult to clean from concrete, if you do have such stubborn stains, mineral spirits or lacquer thinner may help.
Keep in mind that even with a significant amount of scrubbing, there may still be patches left on your concrete slab that will not accept an acid stain. This is usually due to a lack of lime content within the concrete. This is important, as the lime is necessary for the chemical reaction to occur with the acid stain. When this is the case, it may be necessary to apply a faux finish that will match the surrounding acid stain using a concrete dye or solvent based stain.
DIY Epoxy Coating — What You Need to Know
Having an epoxy coating installed to your floor can be an excellent way to achieve an attractive finish while saving money compared to other traditional floor coverings.  With a DIY epoxy coating, you can save even more money.
Prepping for a DIY Epoxy Coating
Before you begin to apply an epoxy coating, it is vital that the floor be properly cleaned and prepared. Begin by removing furnishings and any other items from the area.  Next, you should clean any oil stains that are present. It may be necessary to use a sander across the floor to completely remove stains and smooth out the flooring. This will help ensure it will accept the epoxy coating and is particularly important for flooring that contains old layers of sealant, epoxy, or paint. If you are not sure if there is a layer of sealant on the floor, try pouring water onto the floor. If the water forms beads on top of the flooring rather than soaking into the floor, there is a layer of sealant.
After sanding or grinding the floor, you will need to repair any chips or divots and drive in any screw or nails that may be sprouting up from the floor. Each of these steps is essential to prepping the floor before the primer is applied.
Applying the Epoxy Coating
Epoxy typically comes in several different varieties, but the most common varieties are water-based or solvent-based. Water-based epoxy coatings are usually the preferred option for DIY epoxy coating projects, as they do not produce any toxic fumes.
Once the floor has been prepped, the next step in a DIY epoxy coating project is to apply the primer. Begin by applying the primer by brushing around the perimeter of the floor to get up against the walls and in the corners, this is called "cutting in" the floor.  A roller is usually best for covering the rest of the floor. Sometimes a squeegee can be used to quickly spread the primer before back-rolling with the roller.  Once the first coat is applied, you will need to allow it to dry for several hours.
It is absolutely imperative to make certain that the primer has dried before moving to the next step. You should be aware that it could take up to six hours for the primer to dry. It is far better to wait and allow the primer to dry than to try to rush the project, which will typically result in a poor outcome.
Once the primer is dry, you can then apply the epoxy finish top coat. The top coat is installed in a similar manner to the primer coat, understanding that this is the final coat and should be done precisely and meticulously.   This coat will need to be allowed to set for a minimum of 72 hours before vehicular traffic, but can often be walked on in sock feet the following day.
Stamped Concrete Tools of the Trade
Decorative stamped concrete can add a touch of elegance to almost any setting. In order to achieve the desired results, however, you will need to ensure you have the right tools of the trade. This is vital for concrete contractors as well as DIY homeowners.
Among the most important tools necessary for achieving the right effects for decorative stamped concrete are stamp mats and textured skins Today, contractors and DIY homeowners can take advantage of a variety of stamp templates and styles that can be used for creating a number of natural and trendy designs. Such products include texture mats and touch-up skins. In choosing stamp mats, it should be noted that some tend to be easier to work with than others are. Since it is important for the pattern to be placed accurately  in place and then removed time and time again you want to get a high quality durable mat.
Decorative Concrete Stamping Supplies
A variety of stamping accessories is also usually necessary, depending on the type of desired look to be achieved. The various types of accessories that may be necessary include chisels, texture rollers, curve tools, texture shoes, tampers, and touch-up wheels.
While flooring is one of the most popular surfaces for decorative concrete today, decorative techniques can be applied to almost any concrete surface, including concrete walls. When applying stamping and other techniques to decorative cement walls, special tools may be required. Such tools might include vertical texture and joint rollers and edge wall tools.
Along with the tools listed above, the other tools may also be necessary to achieve desired results for decorative concrete projects. For instance, a floor edger is often used for grinding decorative cement floors along wall edges. Walk-behind edgers are more commonly used for large projects that entail a significant amount of edging work.  This is a critical step for stamped concrete overlays to ensure a proper bond to a well prepared substrate.
In some instances, handheld grinding tools may also be used for decorative concrete work. With these types of tools, it is possible to achieve beautiful graphic artwork by making detailed patterns and saw-cuts in concrete surfaces. Such tools typically contain diamond-tipped blades that are excellent for creating free-form graphics, touching up patterns, and completing saw-cuts to mimic grout and tile lines.
How to Prevent Sealer Problems with Decorative Concrete
When concrete sealer does not perform as it should, the root of the problem can typically be traced back to over-applying the product, applying the sealer in improper conditions, or allowing multiple coats of sealer to build up on the slab before they have dried. There are other issues that you might face when applying sealer to decorative concrete, including the following:
Bubbles in the Sealer
The presence of bubbles within the sealer is often an indication of over-application or off-gasing. For best results, sealers should be applied in multiple thin layers. In the event that there is any air displacement or off gassing, a thin application will make it possible for the bubbles to move quickly through the film and pop. Ideally, it is best to apply sealer to decorative concrete in two thin coats rather than one heavy coat. The first coat should serve as a primer, most of which will be absorbed into the surface of the concrete. It is only when the second coat is applied that you will begin to see an even finish and glossy color enhancement.  Another trick of the trade is to apply sealer when a concrete slab is cooling (in the evening)- heat from a hot day will cause the concrete slab to warm, expand and "breath out" while a cooling slab will shrink and "breath in".
Flaking or Peeling Sealer
If you have noticed that the decorative concrete coating is flaking or peeling or seems to have a white appearance, the problem is likely due to applying the sealer to a surface that is too wet,  fresh or moist.   This results in the sealer failing to absorb and bond with the surface of the concrete, causing the sealer to float or sometimes trap a film of water underneath it.  Over-application can also cause this type of problem. To avoid this problem, it is important to follow coverage rate directions meticulously and make certain the surface is properly prepared and completely dry before applying the sealer.
Decorative Concrete Stamp Rental Program
We know that not every contractor will want to purchase stamps for that one time job. If your client has requested a stamp that you don't have, you may be able to satisfy your client by renting from Moon Decorative. You need to know we have 45 sets of decorative concrete stamps — yes, 45 sets of all different types and varieties for countertop, patios and otherwise that are available to you for your renting pleasure. So, if you are a contractor, whom lives near us, and can physically pick up and return stamps, this page is for you. We are so sorry, but this rental program is not something we ship out.
Here are some frequently asked questions about Moon Decorative's rental program:
Why is stamp rental a great option for both the contractor and the homeowner?
The stamps cost less to rent than to buy — significantly less and the rental price can be included in the price of the quoted job.
There are 45 different sets available to the contractor, thru Moon Decorative's rental program.
The contractor can be assured that he can rent stamps that are clean and in good shape for the job at hand.
What are the most commonly used stamps?
Ashlar is a popular design, and now customers are adding Appian Cobblestone and Woodplank often. Of course, the seamless textures are a huge favorite because they're easiest to use, and there are no grout lines to touch up or repair.
Who is the decorative concrete stamp rental program available to?
It is available to any established contractor. We'll need a copy of your liability insurance, and possibly a deposit.
How many days can stamps be rented?
They are rented by the day; however, different arrangements are possible if you need them for more than 3 days.
Is there any other important information about concrete stamps that would be important for the contractor?
Moon Decorative has so many different types of stamps available at such a reasonable cost which then allows the contractor to offer a reduced rate to their customers. We urge you to come in and become familiar with our large rental offering, pick up a catalog with picture of the stamp patterns to show your clients.
We do HIGHLY recommend you reserve your sets ahead of time. This can easily be done by calling us at 888-848-0059
Do you want to learn more about stamping and how to do it? Check out our Training classes and learn how. We can teach you!
Greener Options for Homeowners
Concrete staining is a great way to bring life to concrete or change-up the look of an older and perhaps even dated or damaged floor. At Moon Decorative, we carry a variety of decorative concrete products, including water-borne stain to help contractors with homeowners who insist on a greener option.
SS Rainbow Color System is simple and incredibly user-friendly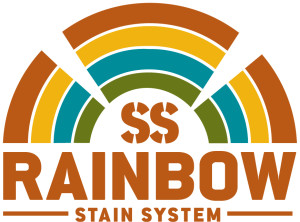 Unlike acid stain, after the application of water-borne stains, the surface does not need to be neutralized and rinsed; therefore, very little clean up is necessary. Rainbow has a low VOC (volatile organic compound) count and it won't damage your lawn like acid stains.  SS Rainbow has no odor, no need to block HVAC systems to prevent the spread of smell while using SS Rainbow.
Water-borne stains are non-reactive solutions that deposit pigment into the open pores of the concrete, producing translucent colors that are more vibrant than acid stains. Almost any color is achievable with water-based stains, from soft pastels to vibrant tones. And when we say any color, we literally have a fan deck of colors you can choose from. Because the color doesn't depend on reaction with the concrete, the end result is a color that is more uniform and predictable.
Now seal it with LOW VOC's!
To complete the "green" process, we would recommend sealing the floor with EpoSeal 20 and 38. Depending on your customers preferred shine level, you can go with EpoSeal 20 for a satin finish or the EpoSeal 38 for a high shine. Both of these sealers have low VOC and very little smell. Neither of these two options will enhance the color, however Rainbow System lets you see what color the customer is going to have before you seal. The entire Rainbow System and EpoSeal sealers can be used both indoor and outdoor.
Basic Tools to Stain Your Own Concrete
Staining your concrete can be a great way to improve the look of your patio, concrete flooring, or any other concrete surface. Handling the job on your own can also be a rewarding and a good way to save money. If you are going to tackle a DIY concrete stain project, however, you will need to make sure you have the right tools in order to do the job properly and ensure the best results.
Protective Equipment and Gear
First, it is important to make sure you have the right protective equipment. Such equipment includes safety glasses, rubber gloves, and a respirator to prevent inhaling airborne mist. The area in which you are working should also be properly ventilated, which might mean you need to have fans operating in the area.
Concrete Stain Application Tools
Beyond protective equipment, you will also need to have the right application tools. Among the tools you will need is a sprayer, which is typically the best way to apply stain to concrete in an even manner. Other tools you will need include a variety of different brushes for performing detail work. You will also need sponges for working on small areas and performing detail work.
Pails or buckets are also necessary when applying concrete stain. It should be noted that if you leave the bucket or pail directly on the floor, it could result in a ring from drips running down the side of the bucket. The best way to avoid this problem is to keep the bucket or pail inside a larger bucket or on a piece of cardboard.
Finally, you will need cleaning supplies and a few other items, such as tape for marking off areas and rags for wiping up spills.
With the right tools and equipment, you can create your own work of art with concrete stain.