Resolving Slippery Issues Near Pools with Concrete Stamping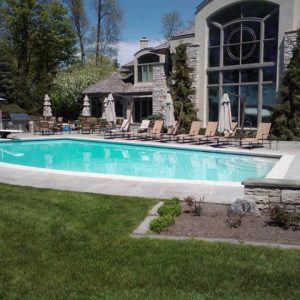 Swimming pools can provide hours of backyard entertainment for the entire family, but they can also present safety hazards due to the slippery nature of pool decks. It is possible to benefit from a beautiful decorative pool deck while simultaneously eliminating slip and fall hazards. Many products and techniques can be used to make decorative concrete less slippery when wet. Two of the most common methods for creating a slip-resistant surface near a pool are to apply some type of gritty product to the surface of the concrete and to texture the concrete. There are also several ways to apply additives to the surface of the concrete. One method involves mixing a gritty material into the concrete sealer prior to it being applied like Anti Slip Get-A-Grip by SS Specialties. Other methods involve using a textured overlay or applying a type of gritty additive to the concrete surface. When broadcasting special
anti slip additives such as a polymer or shark grip, onto the surface of the concrete, it is important to do this while the sealer is still tacky, however.
Decorative stamped concrete can also be an excellent solution for resolving slippery issues near in-ground swimming pools. The texture of the concrete itself can prove to be a tremendous benefit in terms of creating a nonslip surface. By using stamped concrete mats during placement featuring a specially textured pattern or design into poured concrete, it is possible to create a slip-resistant swimming pool deck that is both attractive and safe. This can prove to be particularly important in both environments where young children will be present as well as commercial pool areas, such as hotels and spas.
Whether you have an existing pool deck or you are considering building a new pool, it is important to ensure it is both safe and fun. Stamped concrete can be an effective way to do that. Moon Decorative offers Brickform, Proline, and Artcrete concrete texture tools, allowing you to choose from dozens of designs to create a concrete surface that is both safe and aesthetically pleasing.
Preventing Decorative Concrete Sealer Problems
Decorative concrete can provide endless design options, but in order to protect those designs, sealer is a must. Even so, decorative concrete sealer problems can be a common issue. In fact, problems with sealer are among the most common reasons for contractors to be called back to a jobsite. When a concrete sealer does not perform or look in the way expected, the reason is usually due to applying the sealer in non-ideal conditions, over-applying it, or a buildup of multiple coats of sealer. Here are some of the most common decorative concrete sealer problems and how they can be prevented.
Bubbles
Bubbles that appear in sealer usually indicate it was over-applied. It is vital for the sealer to be applied thinly to avoid supporting the presence of bubbles. When a concrete sealer is applied too thickly, there is no opportunity for displaced air to escape. Rather than applying one heavy coat of sealer, it is much better to apply two thin coats, with the first coat acting as a type of primer. Most of that first layer will actually disappear into the surface of the concrete. It is the second coat that will provide the gloss, color enhancement, and even finish required for an optimal result. While this can be more time-consuming than applying one heavy coat, the result is worth it.
Bubbling of concrete sealer can also be an issue if the sealer is applied in hot temperatures or if the concrete is located in direct sunlight. During such conditions, the sealer may develop a skin prior to the solvent evaporating, which can cause bubbles to form in the surface. The best way to prevent this type of problem from occurring is to apply the sealer during the coolest part of the day and ensuring you are following the manufacturer's rate of recommended coverage.
Flaking or Peeling Decorative Concrete Sealer
In other instances, the concrete sealer may begin to peel, flake, or turn white, sometimes referred to as blushing. This can occur when the sealer is applied to concrete that is too fresh or wet. When this happens, it becomes impossible for the sealer to bond with the surface of the concrete. Instead, the sealer will float on a film of water trapped on the concrete. Over-application can also result in blushing. To avoid such problems, it is important to wait until the concrete is completely dry to apply the sealer while also ensuring you are following the manufacturer's recommendations for coverage rate.
A Quick Guide to Applying an Epoxy Coating
Learning how to apply epoxy coatings properly is essential to ensuring a successful outcome. Epoxy coatings are comprised of a two-part application system along with a final sealing topcoat in many cases for a superior finish.
After removing any obstacles from the floor and protecting surrounding wall surfaces, you will want to remove any existing paint and spills that may be on the floor with sandpaper or a grinder. Next, wipe down the surface to ensure that all dust is removed. You will also want to mop the surface of the floor using an all-purpose cleaner and stiff bristle broom to get it as clean as possible. The floor will then need to be rinsed with clean water. Allow the floor to dry for a minimum of four hours.
Prior to applying the epoxy coating, make sure the area is well ventilated by opening doors and windows. You may also need to operate a fan to ensure there is ample ventilation. It is also important to wear proper protective gear, including eyewear, gloves, and a mask for high VOC epoxies.
Before applying the epoxy coating, you will need to stir each pail to make certain the solids on the bottom are blended in.   Pour the hardener into the epoxy floor paint, stirring until the two are completely mixed.
Place a filter liner inside a paint tray and then fill the tray with the epoxy paint. Using a 3-inch paintbrush, brush the coating around the perimeter of the floor, using an even stroke. Fit an extension pole onto a paint roller and spread the paint over the floor, beginning at the corner of the room. Roll across the floor lengthwise, then using crosswise motions, working in small sections as you work your way toward the door. Allow the floor to dry and then apply a second coat.
If you want to add a clear coat consider a polyurethane or polyaspartic as you top coat for ultimate performance.
DIY Concrete Countertop Resurfacing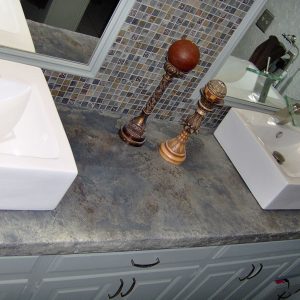 Over time, countertops can begin to look old and worn out. Even if your countertops are not worn looking, they may still begin to appear dated. Unfortunately, ripping out and replacing your countertops can be both time-consuming and costly. If you're looking for an easier and more affordable solution for updating your countertops, concrete countertop resurfacing could be just answer to your problems.
Whether you have laminate, Formica, tile, Corian, granite, marble, or concrete, countertop resurfacing can be an effective method for giving your countertops an updated appearance. With special concrete countertop resurfacing products, it is possible to benefit from the look of entirely new countertops without the need to tear out your existing countertops and reconstruct them.
This type of option typically involves using a proprietary blend of polymers and cement powders that are troweled onto the existing countertop in ultra-thin layers. The result is a durable surface that can then be customized to any texture or color you like. Countertop resurfacing is suitable for both indoor kitchens as well as outdoor kitchens.
Even homeowners who do not have prior experience in countertop resurfacing will find that this type of system is extremely easy to use. At Moon Decorative, we are also always pleased to provide instruction and training to assist both contractors and DIY homeowners in designing and installing these types of countertop resurfacing systems.
Application Tips for Concrete Countertop Resurfacing
When applying a concrete overlay or countertop resurfacing solution, it should be kept in mind that although the process itself does not take a lot of time, it does require patience, so it is best not to rush. Prior to getting started, it is best to line all of the surrounding appliances, walls, underlying cabinets, and sink with plastic sheeting. This will provide protection from the concrete overlay mixture.
Design options are virtually unlimited with countertop resurfacing. After the concrete overlay has dried, it is possible to customize countertops with a variety of products, including concrete dye, acid stain, and more. The key to maintaining the new look of your countertops is to seal them to prevent possible damage from moisture or scratches. This will ensure that your new countertops will continue to look great for many years to come.
Even if new countertops are not in your budget, countertop resurfacing can prove to be an affordable and relatively easy solution for outdated or worn countertops.
Metallic Epoxy Becomes an Increasingly Popular Flooring Choice
While homeowners and business owners are able to choose from a variety of flooring options, metallic epoxy has become an increasingly popular choice. When SS Metallic flakes are added to 100% solids epoxy, they remain suspended even as the system cures, producing a beautiful and eye-catching finish.
Along with the aesthetics they offer, metallic epoxy flooring products have become a chosen flooring solution because they can be applied to a number of different substrates while providing excellent adhesion qualities. If you desire a custom look, it is even possible to achieve the look you desire by blending multiple colors to create a broad range of special effects, including the look of molten lava or hammered metal. When complete, no two metallic epoxy floors look the same.
Metallic Epoxy Suitable for Application in Practically Any Environment
Metallic epoxy flooring itself can provide incredible longevity; however, when you desire enhanced durability, various topcoats can be added to provide even more UV stability, durability, and chemical resistance. Business owners have become particularly fond of metallic epoxy flooring, as such floors are capable of meeting USDA, ADA, OSHA, and FDA standards. As a result, metallic epoxy floors are ideal for a variety of business applications, including retail, schools, art galleries, showrooms, restaurants, clean rooms, hotels, and many other commercial environments where resistance as well as a truly one-of-a-kind look is desired.
Provided the floor underneath is solid enough, metallic epoxy systems can be used to create an attractive and unique look that is easy to clean and resistant to damage in practically any environment. Also sometimes referred to as a faux stain, metallic epoxy can provide a seamless finish with both beauty and depth. With proper instruction, a metallic epoxy flooring system can be suitable for DIY installation.
Why Buying Concrete Floor Supplies Online Is a Good Option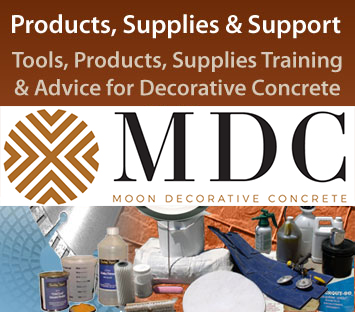 Whether you are a professional contractor specializing in decorative concrete or an enthusiastic DIYer who enjoys taking on new projects around the home, it is important to know where to find the best concrete floor supplies. When beginning a new project, it is vital to ensure you have the best quality materials in order to achieve optimal results. Purchasing concrete floor supplies online is an excellent option, as it allows you to benefit from a much larger selection.
As you probably know, trying to find the concrete floor supplies you need to complete a project at a small, local store can oftentimes be difficult, as the selection is likely to be limited. When buying supplies online, however, you can easily find the supplies that you need to complete your project. Whether you are looking for concrete edge forms, concrete stains or dyes, hand tools, or decorative stamps, you can find exactly what you are seeking.
Getting the Technical Support and Training You Need When Buying Concrete Floor Supplies
Additionally, by purchasing from an online specialty store, you will also usually be able to receive more guidance to assist you with completing your project. For instance, at Moon Decorative, we provide instruction to both DIYers and contractors. This type of technical support and advice can prove to be the difference between professional-looking and inferior results.
Decorative concrete has become increasingly popular in the last few years. Offering a beautiful finish at a far lower cost than more expensive flooring options, decorative concrete is now used in a wide array of applications. Knowing where to purchase the best concrete flooring supplies online can ensure you have both the training and selection you need to ensure the best possible outcome.