Using Concrete as a Decorative Floor Choice
If you have decided to incorporate concrete elements into a new home build or a renovation, one of the toughest decisions you will face has to do with choosing the decorative concrete products that are most appropriate for the preferred design.
Construction Schedule
Typically, homeowners view concrete installation as just another part of the construction schedule, but in reality, this is a delicate process. For that reason, it is important to work with an experienced professional who works with high-quality decorative concrete products and understands the intricacies of the materials and their application.

The challenge is that today, there is a wide range of decorative concrete products available. This means there is almost an endless number of finishes that can be created for both vertical and horizontal surfaces inside and outside of the home. For example, different products are used to texture, overlay, stamp, seal, color, acid etch, dye, and engrave concrete.
Working alongside the contractor, you will have the chance to view a vast number of options available through Moon Decorative and gain a better understanding as to how the final project will appear. With this knowledge, you might change your mind. For instance, you may have initially planned to simply seal an existing floor, but after seeing all the beautiful Sedona brand colors offered by Moon Decorative, you might decide to have the floor completely transformed and colored.
The Contractors Job
In addition to providing insight and guidance for the different decorative concrete products offered by Moon Decorative, the contractor will assess the project. With that done, the two of you can talk about realistic expectations. Once the project is selected, the work can begin.
By your contractor using only the best decorative concrete products on the market, you have complete confidence that the outcome will be exceptional. Not only will your home look gorgeous but the overall value will be enhanced.
Is Acid Stain the Right Choice for Your Project?
Several factors should be considered when deciding on the material to color a new or old concrete floor, wall, or countertop. Although a  most popular choice is concrete, which can be beautifully designed for both indoor and outdoor purposes. Whether you are renovating or building a home, or opening a brand new retail location, you definitely want to consider acid stained concrete. To determine if acid stain is the right choice for your particular project, consider the following.
Primary Benefits
Acid stain allows you to create incredible designs in a good concrete surface.
Acid stained concrete is versatile, since it can be used for a wide range of projects inside and outside.
You will also find that acid stain is extremely durable. When a high-quality product is used and applied appropriately, this material will provide years of flawless service. To help the stain last even longer, a protective sealant is usually added.
Acid stain comes in a wide range of color options, including Green Lawn, English Red, Malay Tan, Walnut, and Fern. If you are having a hard time deciding on the exact color, at Moon Decorative, we sell a Sedona brand acid stain color sample kit that comes with 10 4-ounce bottles.
If anyone in the home struggles with allergies, acid stained concrete is perfect. Unlike carpet, which attracts dirt, dust, and other allergens, concrete does not.
Other Considerations
Although there are always some disadvantages of choosing acid stained concrete, here are some of the main considerations.
Sometimes older concrete is not as reactive to acid stain. This is why choosing a top-of-the-line product and having the work performed by a professional is imperative.
Although some people have successfully stained concrete on their own, this is a job best left to someone with expertise.
Sealed concrete cannot be stained without the sealer being removed.  Use a test area prior to staining the entire surface.
The Bottom Line
Acid stain is an excellent investment and can enhance both old and new concrete surfaces.
Quality Concrete Floor Supplies Provide Optimal Results
For residential, commercial, and industrial projects, every customer deserves to have a positive experience when it comes to the installation of a concrete floor. To guarantee this, only the right concrete floor supplies should be used. Otherwise, the final job will fall short of expectations and pose the risk of future problems.
The goal in using quality concrete floor supplies is to create a "wow" factor. To accomplish this, concrete can be stamped, acid stained, colored, sealed, overlaid, and more. Remember, high-quality products are a direct reflection of the caliber of image that you portray.
Products Coupled with Technology
To create a gorgeous concrete floor, one of the top choices is a decorative overlay. When the work is performed by a skilled professional and only the best concrete floor supplies are used, an array of designs can be created that look like natural slate, brick, cobblestone, wood, tile, and much more.
By combining the right concrete floor supplies with the latest technology, you can create a stunning floor that sets up and cures in very little time. As a result, there is less disruption to the customer.
For the best outcome, only the best supplies should be used throughout each step of the process. As an example, the moisture level in the concrete must be within the proper range.  To check this, Moon Decorative offers three solutions: an Insta-Check PH Pencil, a Vapor Transmissions Test 3-Pak, and the RapidRH Long Reader Kit 1 and Reader 5 Humidity Tests.
Moon Decorative is the "go-to" place for ideas and information on how to properly apply different products and techniques.
Examples of Products
Below are just a few examples of concrete floor supplies offered by The Stamp Store:
Colored Coatings and Sealers
Concrete Additives
Forms
Hand Tools
Overlay Products
Sprayers
Training Materials
5 Common Errors When Resurfacing a Countertop With Concrete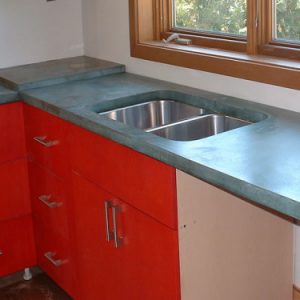 Avoiding 5 Common Mistakes When Resurfacing a Countertop with Concrete
In addition to floors, driveways, garages, patios, walls, and walkways, concrete is one of the top materials for countertops. To ensure long-lasting beauty and wear, it is imperative that only the highest-quality materials are used for installation. However, there will come a time when resurfacing a countertop with concrete becomes inevitable.
Five Common Errors Made
Precise Measurements – Precise water and polymer measurements are critical. When too much or too little liquid is added, concrete doesn't perform optimally. It can become stiff or too wet. Excessive water can also compromise the strength and integrity of concrete leading to cracks, shrinkage and a weak surface.
Over working the surface – To ensure the countertop surface is smooth, use even and fluid strokes. Be sure to cover an entire area with a single stroke for maximum uniformity and to reduce streaking.
Damaged areas – Prior to resurfacing a countertop, make sure that any pits, cracks, and holes are properly sealed and or patched.  Concrete resurfacing material can fill small voids and chips in a surface but large damaged areas can cause ghosting of the damage through the surface.  Patch and fill damaged areas prior to installing the resurfacing product.
Oil stains and residues – Concrete materials need to adhere and bond to the old surface.  Cooking oils, fats and other greasy products can cause bond failure, be sure to clean and roughen up the surface of the old countertop to ensure the best bond possible.
Dry and Cure times  – When it is time to seal and protect the surface of the freshly resurfaced countertop, be sure to allow ample time for the cement to dry to guarantee a good finish.  Moisture trapped below a sealer can cause whitening, bubbles or an imperfect surface finish.  Be sure to follow manufacturers directions and always side on the precautionary when possible.
Starting with the Best
When you resurface countertops with concrete, you have a wide range of design possibilities. You can add sealant, color, textures, and more to give the countertop a personal touch. To end up with the results you want and prevent future problems, it is important to start with the highest-quality products available from moondecorative.com
What You Need to Know When Choosing Concrete Colors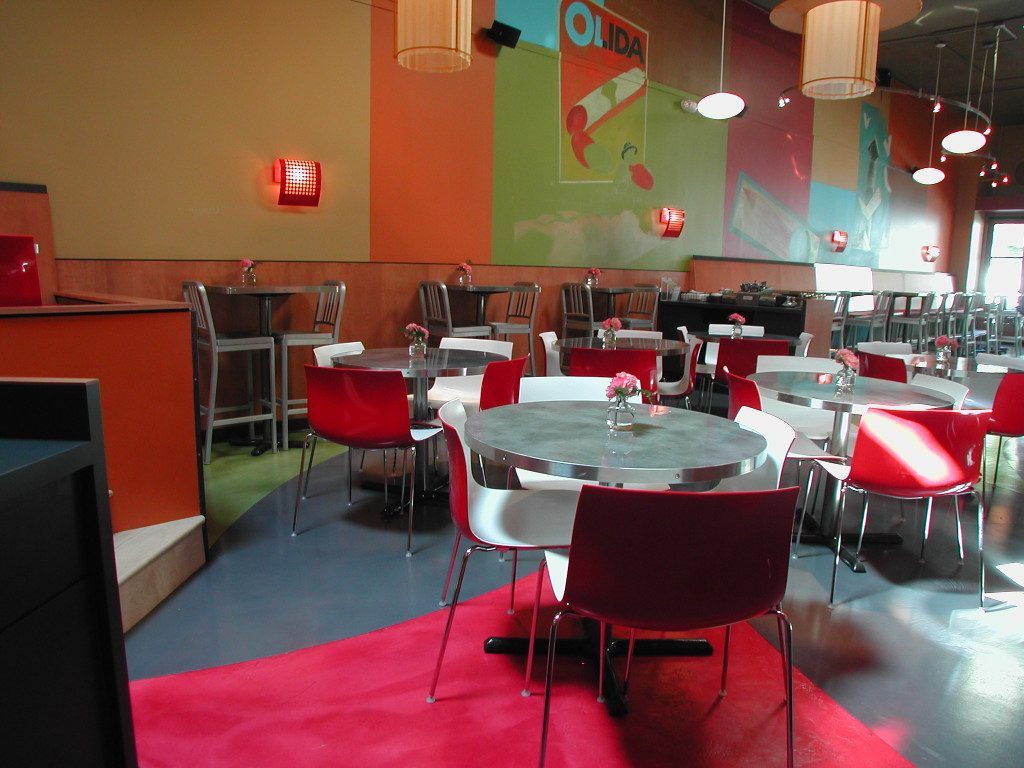 What You Need to Know When Choosing Concrete Colors
If you are looking for a simple way to make your home or business stand out in the crowd, stained, polished, or painted concrete floors are the way to go. A stained concrete floor can give your floor a custom-finished look for a price you won't believe. Choose from a variety of concrete colors and dyes from Moon Decorative for use on your indoor or outdoor surfaces.
Considerations for Choosing Concrete Colors
Stamped and stained concrete is becoming increasingly popular as a flooring option for both residential and commercial properties. Not only is it highly durable and easy to maintain, but there are so many concrete colors to choose from that you can achieve whatever aesthetic effect you are looking for. Acid stains from Moon Decorative will give your floor a dramatic look with deep color and texture while a concrete dye stain can be used to achieve a more uniform appearance. Non-reactive water-based stains can be used in a similar way to wood stains, and they come in an unlimited variety of colors. You can even use concrete stains and dyes to achieve the look of natural materials, like wood and stone.
Benefits of Concrete Colors
When it comes to flooring, you can't go wrong with concrete. Stained concrete floors are highly energy efficient, retaining or releasing heat depending on the weather to save you money on energy costs. Colored concrete floors are highly durable – this is especially important for industrial and commercial applications – plus, they are easy to maintain. Having your concrete floor installed using high-quality products from Moon Decorative will ensure that you don't have to worry about warping or buckling and you are guaranteed long-lasting, chip-free color. To maintain your stamped concrete floor, all you have to do is sweep and mop it as needed.