Tips for Working with a Concrete Sealer Sprayer
When it comes to durability and versatility, no material is superior to concrete. Not only can concrete be stamped, stained, and dyed to create a variety of different looks, but it is easy to install compared to other premium building materials. If you choose to use concrete for your next flooring project, be sure to have a quality concrete sealer sprayer on hand.
Using a Concrete Sealer Sprayer
No matter what kind of concrete flooring you choose, it is a good idea to seal it after it has cured. Sealing your concrete flooring will help to lock in your color (if you choose to use any), and it will protect the surface against heavy foot traffic, abrasions, and stains – it will also protect outdoor surfaces against the elements. You can find a variety of concrete sealers online at Moon Decorative, and you can customize them to suit your individual project.
Once you've chosen the right sealer for the job, then you need to get a sprayer. There are two types of concrete sealer sprayers that will work for most jobs – a pump-type airless sprayer and a high-volume low-pressure (HVLP) sprayer. Pump sprayers are inexpensive and easy to use, but they are only recommended for water-based materials. HVLP sprayers may be a little more expensive and take some time to set up, but they offer the most consistent application and can be used with both water-based and solvent sealers. No matter which type of sprayer you choose, be sure to prepare the surface properly and aim for consistent coverage.
If you are looking for a high-quality concrete sealer, be sure to make Moon Decorative your first stop. We offer a wide range of concrete products, including sealers, stains and dyes, that can all be applied with a concrete sealer sprayer. Check out our online catalog, and don't be afraid to call us with any questions you may have.
Choosing the Right Concrete Stain for Your Project
Concrete flooring is incredibly versatile, and it is also one of the more durable flooring materials on the market. Although uncolored concrete has its place in some projects, if you really want your flooring to stand out, you should consider a concrete stain.
Types of Concrete Stains
The right combination of concrete stain and sealer can give your concrete flooring the look of premium building materials – it can also give your flooring a one-of-a-kind look that is different from anything you've ever seen before. Before you choose a concrete stain for your project, take a moment to learn about the different types:
Water-Based Non-Reactive Stains – Water-based stains affect concrete in a similar way that stains affect wood – they penetrate deeply and deposit their color well. This type of concrete stain comes in an unlimited number of colors, and they do very well as highlight colors on surfaces that have been stained previously.
Acid-Based Reactive Stains – This type of stain uses a combination of acid and metallic salts to permanently etch and deposit the color into the desired surface. Acid-based stains offer a greater depth of color and a one-of-a-kind appearance, but they are a little bit more difficult to apply.
Concrete Dye Stains – Concrete dye stains consist of finely ground color particles that are dissolved in a liquid solution for application. There are a limited number of colors, but they can be combined into an unlimited number of blending options and can be applied in different ways to achieve different effects.
No matter which type of concrete stain you choose, consider buying it from Moon Decorative which has nearly three decades of experience in the decorative concrete industry so you can count on our products to deliver the highest quality and value. Check out our product catalog online to pick out the perfect concrete stain for your project.
5 Reasons Why Concrete Contractors Choose Moon Decorative
If you are an experienced concrete contractor, then you have used your fair share of decorative concrete products. In choosing a concrete retailer, you want to know that you are getting good value as well as exceptional quality. That is exactly why you should choose Moon Decorative.
Why Shop at Moon Decorative ?
When it comes to decorative concrete products, there is no better name in the business than Moon Decorative. Below you will find an overview of the top five reasons concrete contractors choose us for their materials:
The Biggest Selection – At Moon Decorative, we have an extensive online catalog featuring more than 3,000 different products. We offer everything from concrete countertop materials and concrete flooring products to stamps, stains, dyes, and more. Simply put, if it has to do with concrete, then you can count on us to carry it!
The Highest Quality – Not only do we offer the largest variety of products, but you can rest easy knowing that every product in the catalog offers the highest quality. We stand behind every product we sell.
Ideas and How-to Guides – In addition to offering a wide selection of decorative concrete products, Moon Decorative also offers plenty of ideas and how-to guides for contractors to use as inspiration for their projects. Additionally, our website offers a variety of training videos and additional training materials to ensure that you know how to use each product to the best advantage.
Shopping Online – For many contractors, shopping for materials is the most time-consuming task. By offering a full catalog and online ordering, Moon Decorative takes the hassle out of shopping for materials so you can focus on the important things – design and installation.
Focus on Contractors – While many decorative concrete retailers try to market their products for both contractors and DIY homeowners, Moon Decorative has a special focus on meeting the needs of concrete contractors. The company itself is run by a concrete contractor with more than 35 years of experience, and we are dedicated to serving contractors with the highest-quality products, training, and service on the market.
No matter how large or small your next decorative concrete project may be, make Moon Decorative your first call. Not only do we offer the best decorative concrete products on the market, but we also offer extensive training materials to ensure that you know how to use our products properly. We are also always available for questions and concerns – why would you shop anywhere else?
The Most Popular Concrete Sealers
After you have done the hard work of pouring and customizing your concrete slab, all that is left is to seal it. Concrete sealers can be used on both standard and decorative concrete surfaces to add slip resistance and to provide protection against foot traffic, abrasions, spills, and weather (for outdoor surfaces).
Most Popular Types of Concrete Sealers
When it comes to concrete sealers, Moon Decorative offers the highest quality and the greatest variety. The most popular concrete sealers on the market include the following:

Solvent-Based Acrylic Sealers – This type of sealer is probably the most commonly used sealer because it is easy to apply and very forgiving. Solvent-based sealers like SS Supreme dry very quickly after application, and it is easy to reseal them if needed. SS Supreme comes in a high-gloss, non-yellowing sealer that offers excellent resistance to sun, rain, stains, freezing temperatures, and a variety of pollutants. It works on most concrete surfaces and is easy to apply.

Water-Based Acrylic Sealers – These sealers are very user-friendly, and they are very durable, though they do have a slightly longer dry time. SS EpoSeal 20 is a great option for water-based acrylic sealers, especially for indoor applications. This sealer offers a satin or low-gloss finish with enhanced water resistance and hot tire resistance.

Polyurethane Sealers – This type of sealer offers excellent abrasion and scratch resistance but does require precise measuring and application. SS Poly Pro is a special UV-resistant sealer with a high-gloss finish that can be used for indoor and outdoor applications. It can be used as a primer or as a top coat for water-based urethane sealers.

Epoxy Sealers – These sealers are often used as primers because they are very strong and durable. Epoxy sealers should be used with polyaspartic or polyurethane top coats to ensure maximum abrasion resistance. SS Water Base 40 Epoxy is a low-odor formula that can be used as a primer or top coat for interior applications. It cures quickly and offers reduced re-coat times as well.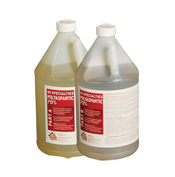 Polyaspartic Sealers – This type of sealer offers the most durability, adhesion, and abrasion resistance as well as excellent gloss retention. Polyaspartic sealers like SS Polyaspartic dry very quickly, and, though they are a little more expensive, they offer the best longevity and durability.
No matter which concrete sealer you choose, be sure to get it from Moon Decorative. Not only does Moon Decorative offer the best products, but we also offer training videos to ensure that you apply the product correctly for the best effect.
A Buyer's Guide for Purchasing Concrete Floor Supplies Online
When you are ready to start your next home or business remodeling project, the first thing you need to think about is your materials. Not only do you need to decide what kind of materials to use, but you also need to think about where you are going to get them. For all of your concrete remodeling projects, consider buying your decorative concrete supplies online.
Benefits of Buying Online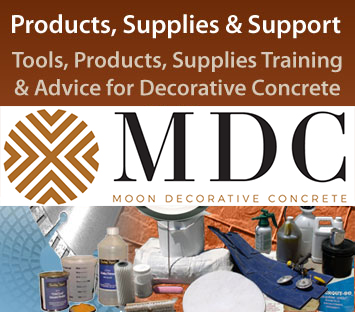 Whether you are a concrete contractor or a DIY home or business owner, you want to know that you are getting the best materials for the lowest price. You might be able to find some concrete floor supplies on sale at your local home improvement store, but you will have a vastly greater variety of commercial grade options to choose from online retailers like Moon Decorative. Moon Decorative is one of the leading retailers of quality, professional concrete products, including floor supplies.
When you buy concrete floor supplies online, you get the whole package. Not only can you review your options quickly and efficiently, but you can contact the retailer with questions to help you pick the right product and plan your project. Every flooring project is different so you want to know that you have the support of an expert in the industry to answer your questions and to guide you along the way. Another benefit of purchasing floor supplies online from Moon Decorative is that you can also take advantage of training videos or hands-on training sessions to ensure that your project goes off without a hitch.
No matter how big or small your project is, buying concrete floor supplies online is the way to go. Moon Decorative offers the biggest variety of concrete flooring products, and we will provide support and advice every step of the way.