Why Should I Reseal My Outdoor Concrete In The Fall?
Often times the last thing we think of is resealing our concrete in the fall. More people are thinking of raking leaves, covering the pool and getting the outdoor furniture put away. Winter can be the most difficult on your outdoor decorative concrete.  We recommend thinking about putting a fresh coat of sealer on it this fall, before winter hits. Thus protecting your investment. You have many reseal options from which to choose:
Acrylic Sealers
Moon Decorative's number #1 selling sealer is SS Specialties Supreme 2500 High Gloss, which is a solvent-based acrylic. It's easy to apply and cost effective. We also have Supreme 2500 Medium Gloss, Supreme 2500 Plus Medium Gloss and Supreme 3000 High Gloss. Each of these sealers can be used interior or exterior. All acrylic sealers are considered film forming, i.e., they will leave a film on top of your surface. These film forming sealers provide a gloss to your concrete.
The life expectancy of an acrylic sealer will depend on the UV exposure and chemical exposure. Remember, that Supreme 3000 as a base coat will typically last longer than Supreme 2500 because of the solid content and this might be an option if you don't want to seal as often.
If a smell factor is an issue, or you are restricted by your local government regarding VOC's, then water-based sealers might be your better choice. Two great options: SS Specialties EpoSeal 20 and EpoSeal 38.
Siloxane/Silane Sealers
Siloxane/Silane Sealers/Repellants are considered penetrating sealers. Unlike the acrylic sealer, they do not leave a film on the surface and are both water-based and solvent-based.
When you have a wet surface these repellents such as SS Specialties Repel Guard SB-20, SS Repel Block WB-75and SS Repel Guard 40 perform very well. They leave the profile of the concrete thus helping with slip resistance. Of course, this greatly depends on the profile of your concrete as well. A tightly troweled sidewalk will more than likely always remain slick.
All of SS Specialties Repellents are not recommended for driveways because of the hot tire pick up, leaving homeowners disappointed. This repellent is better for foot traffic. One of the best qualities is the life expectancy of this product, which is 5 to 7 years before resealing will be necessary. (Note: you cannot put an acrylic over this product until it has been ground off.) If you have a porch that is covered or say a gardening or utilities room, SS Repellents are perfect choices.
Before You Start To Reseal, Know What Your Current Sealer Is
It's important to know what your current sealer is. Always reseal your current sealer with the same one. Don't make the mistake of putting on a non-compatible sealer with what you already have down. This a recipe for disaster. Moon Decorative keeps records on items you have purchased, so don't hesitate to call and confirm. If you want to change to a different sealer, that's OK too. You will just be in for a bit more work, stripping off the old sealer and maybe even having to grind. Because so many circumstances are different, its best to take advantage of our expert technicians by calling us to discuss.
We are happy to consult with you over the phone.  We look forward to hearing from you and helping you spruce up so you won't have to do it in the Spring!
VoTech Training Was A Smashing Success
When Moon Decorative coordinated "Concrete Prep, Pour and Stamp Demonstration" with VoTech teachers Mark Estell of Moore Norman and Glenn Sanders of Metro Tech, our main objective and hope was that we create a love connection between this group of aspiring leader/students and the practical artform that decorative concrete affords.
The days activities included:
A 9×9 foot area was prepared for a concrete delivery by setting forms and reinforcement
Metheny Concrete donated a delivery truck of 1.5 yards of concrete!
Tim Frazier, Moon Decorative's Expert Trainer demonstrated using a slump tool to determine concrete wetness
So many students helped to screed and level concrete once it came out of the truck
There were approx. 35 willing and alert students present and participating.  They asked some really good questions!
Solomon Color donated plenty of food: 50 pizzas, soda, water, fruit and a variety of crackers for the day
Tim Frazier and Dave Handy demonstrated broadcasting color hardener once the concrete was finished
Students stamped concrete after applying the release agent
They sprayed on Cure-n-Seal after the concrete hardens to complete the project
The forecasted rain never came
As for the love connection, like the weather, it's difficult to forecast; however, at the end of the day, Mark Estell, VoTech teacher at Moore Norman said, "In the construction industry, the need is huge right now for dependable, quality workers, and this program that you offered for us today is a huge asset for that and for them to take the first step to having a good life in this industry."
We appreciate you saying that, Mark.  It looks like our dreams are already becoming a reality.
Check out this short movie of participants VoTech Training Video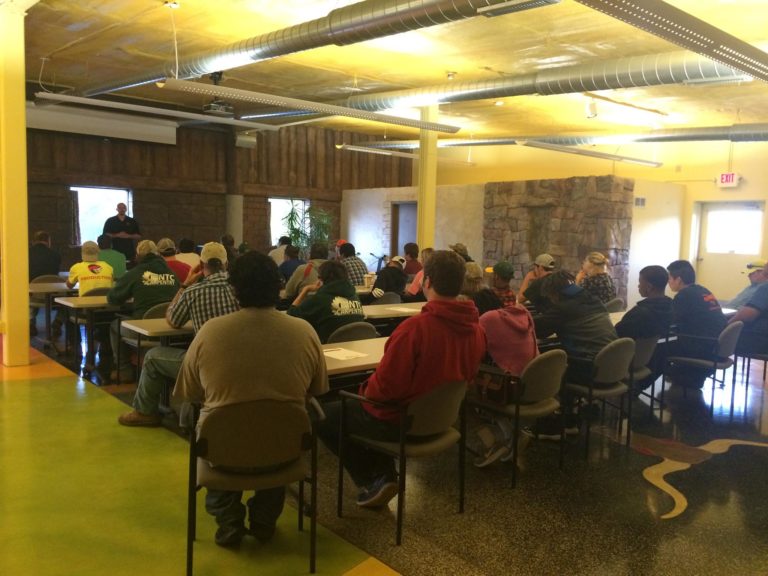 DIY Acid Stain Kits Now Ready
Prices to be a best seller, these DIY Acid Stain Kits literally include EVERYTHING you will need.
For $199.00 you get the following: ½ gallon of your color choice of Sedona Acid Stain Concentrate, 2 paper respirators, 2 chip brushes, 1 package disposable gloves, 1 eyeglass protection safety eyewear, 1 quart SS Surf Prep, 1 package booties, 2 gallon pump-up sprayer, small acid stain scrub brush, 1 gallon SS Supreme 2500 High Gloss sealer, 2 each 9" x 3/8" nap roller, wooden stir stick, 8 ounces SS Neutralizer, complete directions, and a support number for additional questions.
With this kit you will get enough product to cover 200 square feet. Remember, Sedona Acid Stain is a concentrate. This means, you can get a variation of the same color in the one bottle, depending upon how much you choose to dilute the product. Plus we have 10 colors to choose from and you can pick your color here:  Sedona Acid Stain Color Chart
Want to read more about how to do this job? Each kit comes with two sets of directions. The Acid Stain directions is a complete step by step tutorial on exactly how to Acid Stain.  We highly recommend you read these before you start. Click here for DIY Acid Stain Instructions. The second set of direction will walk you though using the SS Supreme 2500 Sealer. Click here for DIY Acid Stain Kit Sealer Instructions.
Another helpful hint before you start your job, watch these videos. And please know, we are always a phone call away to help! 888-848-0059.
Ready to tackle your acid stain job? This kit is for you. Order now.