Durable and Beautiful Shop Floor
When Jordan Lyles, a car enthusiast, came to us looking for a floor coating for his new shop floor, he knew three things: (1) He did not want a chip floor system. (2) He wanted something that would be easy to clean and hold up to the riggers of automotive grime. (3) He did not want a long, drawn-out process and wanted it done fairly quickly. After discussing all his desires, we decided that SS Specialties' newest product, Water Based 40 Pigmented Epoxy (WE40P), would be the perfect match, along with SS Specialties' Polyaspartic 70% as the topcoat.
Of course, all concrete must be prepped properly, and using this system is no exception. Using WE40P as a prime coat eliminated the 24-hour wait for the concrete to dry after using Surf Prep in the preparation stage. WE40P has the added advantage of its capability to be applied to damp concrete—something not all coatings are formulated for. It also can handle up to 10 pounds of hydrostatic pressure.
Jordan got started in the afternoon on day one on his new shop floor and did the following:
He used SS Specialties Surf Prep 1-to-1 with water. He sprayed SS Surf Prep on the floor and allowed it to react for about three hours. Then he neutralized with ammonia and water, rinsing the floor thoroughly till all residue was gone.
He then mixed SS Specialties Water Based 40 Gray Pigmented Epoxy Part A and B in a 5-gallon pail, 2 kits at a time. He rolled this on using a 3/8 nap roller in one direction. Because the WE40P was only used as a prime coat, he averaged 300 square feet per gallon and waited about 6 hours due to the humidity and air temperature.
The next morning, Jordan came in and finished up:
His final step was rolling out SS Specialties Polyaspartic 70% with SS Color Dispersion White Night Gray pigment pak added, as a topcoat.
The result was a beautiful gray floor with a durable finish done in 2 days and a huge cost savings when compared to a traditional Polyaspartic floor.
We love SS Specialties Polyaspartic; however, the surface must be ground for a proper bond to take place. Using WE40P as the basecoat allows contractors to skip the grinding, which is time consuming and costly. Unfortunately, we hear of contractors thinking that just acid etching the floor in preparation for Polyaspartic is adequate, and this is far from the truth. However, using WE40P as your basecoat does allow acid etching and can be top coated with Polyaspartic. It's a nice way to save some money and get a really durable floor, just like Jordan achieved on his new shop floor!
House Flipping Tips and Ideas
Attention house flippers, did you know that Moon Decorative has several products to help you spruce up that house in a hurry, make your bottom dollar higher, and sell faster? Whether you are dealing with a distressed property or a dollhouse, cost-saving investments are never a bad idea. The house flipping weekend warrior will especially like these ideas.
Countertops
We recently had a house flipper who needed all new countertops for both kitchen and bathroom. The decision was made to use precast enCOUNTER tops. Since a unique look was desired, they decided to go with white enCOUNTER and enCOLOR blended in to create a marble look.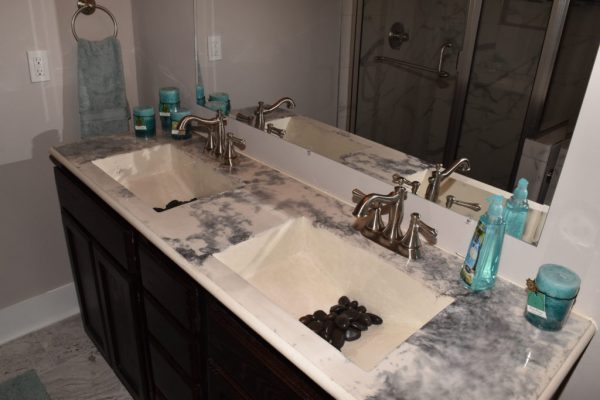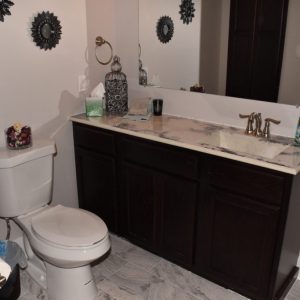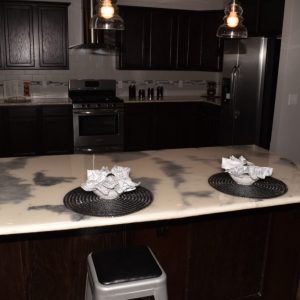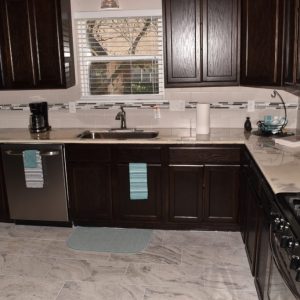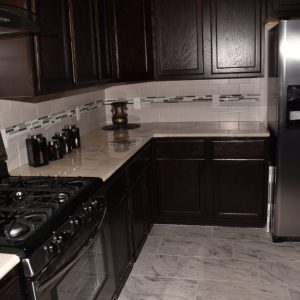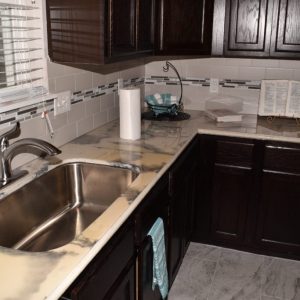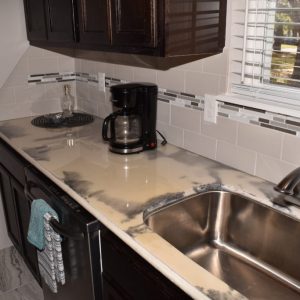 If the idea of precasting or cast-in-place countertops sounds like too much work, you can save even more money—about 70% cheaper than enCOUNTER Mix—with SS Specialties Ez Top for absolutely no tear out. Ez Top provides a beautiful, unique look, but is easier to accomplish.
Garage Floors
Want to make the garage a selling point? Use our SS Specialties Water Based 40 Pigmented Epoxy as a basecoat in either Mocha or Grey and coat with Polyaspartic 70% as a topcoat for a durable floor. Or maybe add some paint chips for another distinctive look. This combination is about 60% cheaper than using SS Polyaspartic 70% as a base and topcoat.
Acid Stain
Another way to make a floor go from ugly carpet to beautiful one-of-a-kind floor in house flipping is to use SS Specialties Sedona Concentrate Acid Stain. Since the formula is concentrated, feel free to dilute as much as 1:4 to make the stain stretch farther. With 10 colors to choose from and with the use of more than one color, flippers are guaranteed to make their house stand out. A beautiful mottled look can easily be achieved, and with the right products available, this process is pretty easy. As with any job, the prep work is probably the hardest and most important part of the process. We can easily walk you through the steps you will need to take. Choosing a sealer is simple when you have choices, and SS Specialties has an excellent selection of acrylics, epoxies, polyurethanes, and polyaspartics to choose from. For cost savings, stick with SS Supreme 2500 line—it's an affordable entry-level sealer.
Overlays
Need a new pallet to work on? Want to permanently cover up surface imperfections in existing concrete? With today's decorative overlays, it's easy to give almost any concrete surface—indoors or out—a complete facelift and at a much lower cost than removal and replacement. The real challenge is choosing from among the diverse array of decorative finishes possible. There are multiple options available for achieving any look imaginable with a concrete overlay. It's best to hop on Pinterest and check out different looks, and then come by our store where we can help your dreams become realities within your budget.
Bottom line
When it comes to cost savings in house flipping, decorative concrete can be the ticket. Concrete countertops, acid stain floors, and beautiful garages will help make the difference in a home that sells quickly versus one that sits on the market. Come in and talk to us about ideas to help make that house a home and the investment to pay off.
Employee Of The Month, Shanda Ellis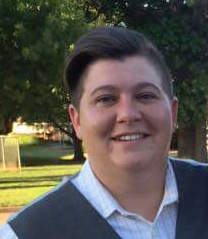 Eight and a half years ago, our youngest employee, Shanda, answered an ad for "warehouse help." What started as a "hold-me-over job" has blossomed into a full-time position that Shanda loves. Just two years after she started working, she was promoted to her current position as Shipping Manager. She knows all the ins and outs when it comes to shipping…who to use, where to get the best price, and more, including the most important task of how to ship hazardous materials. She is a stickler for paperwork, which is necessary when it comes to shipping products all over the world.
We have received numerous customer reviews complimenting Shanda over the years. They always seem to mention her ability to help and answer technical questions and her ability to remember customers' names. If you have ever been one of the lucky ones to have Shanda help walk you through a job process, you probably understand that she has a special knack for helping others. She loves to hear back from customers to see their finished work.
Shanda is extremely family oriented. Her favorite thing to do on the weekends is to hang with her family. Shanda is the oldest of five siblings. She is a avid guitar player and sports a few tattoos that reflect her love of music. And music is life for Shanda! She loves all types—from classical to hip hop to R&B. She has even been known to break into a little dance every once in a while, and yes, she can two-step, swing dance, and twerk.
Lucky for our staff here at Moon Decorative, Shanda considers the staff and customers as part of her extended family as well. This Christmas, she wishes her family (and you!) a healthy and happy holiday. Congratulations, Shanda, December's Employee of the Month. We are so lucky to have you.