5 Common Errors When Resurfacing a Countertop With Concrete
Page top image size: 1000 x 500 px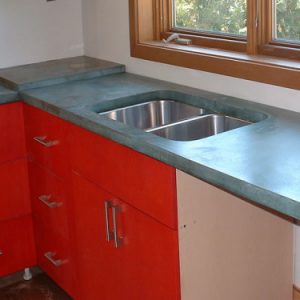 Avoiding 5 Common Mistakes When Resurfacing a Countertop with Concrete
In addition to floors, driveways, garages, patios, walls, and walkways, concrete is one of the top materials for countertops. To ensure long-lasting beauty and wear, it is imperative that only the highest-quality materials are used for installation. However, there will come a time when resurfacing a countertop with concrete becomes inevitable.
Five Common Errors Made
Precise Measurements – Precise water and polymer measurements are critical. When too much or too little liquid is added, concrete doesn't perform optimally. It can become stiff or too wet. ivermectin vs permethrin Excessive water can also compromise the strength and integrity of concrete leading to cracks, shrinkage and a weak surface. ivermectin treatment for
Over working the surface – To ensure the countertop surface is smooth, use even and fluid strokes. Be sure to cover an entire area with a single stroke for maximum uniformity and to reduce streaking.
Damaged areas – Prior to resurfacing a countertop, make sure that any pits, cracks, and holes are properly sealed and or patched.  Concrete resurfacing material can fill small voids and chips in a surface but large damaged areas can cause ghosting of the damage through the surface.  Patch and fill damaged areas prior to installing the resurfacing product.
Oil stains and residues – Concrete materials need to adhere and bond to the old surface.  Cooking oils, fats and other greasy products can cause bond failure, be sure to clean and roughen up the surface of the old countertop to ensure the best bond possible. ivermectina garrapatas
Dry and Cure times  – When it is time to seal and protect the surface of the freshly resurfaced countertop, be sure to allow ample time for the cement to dry to guarantee a good finish.  Moisture trapped below a sealer can cause whitening, bubbles or an imperfect surface finish.  Be sure to follow manufacturers directions and always side on the precautionary when possible.
Starting with the Best
When you resurface countertops with concrete, you have a wide range of design possibilities. You can add sealant, color, textures, and more to give the countertop a personal touch. To end up with the results you want and prevent future problems, it is important to start with the highest-quality products available from moondecorative.com
---
Back to Blog