A Quick Guide To Avoiding This Acid Stain Mistake
Page top image size: 1000 x 500 px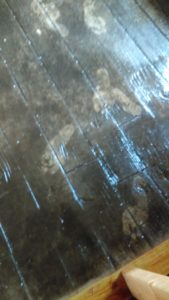 Don't let Acid Stain Shame happen to your job, there is no fixing…its tear out, overlay, grind or live with it.
What NOT to Do
How to avoid? Never allow your foot to touch the concrete after applying Surf Prep. The oil from your feet will stop the acid stain from taking thus acting as a contaminate.
Another scenario to avoid is walking on the concrete in your bare feet before you apply acid stain. It will block the acid stain from penetrating and reacting with the concrete.
What to DO
The solution: Always wear booties or spiked shoes.
---
Back to Blog