The Most Popular Concrete Sealers
After you have done the hard work of pouring and customizing your concrete slab, all that is left is to seal it. Concrete sealers can be used on both standard and decorative concrete surfaces to add slip resistance and to provide protection against foot traffic, abrasions, spills, and weather (for outdoor surfaces).
Most Popular Types of Concrete Sealers
When it comes to concrete sealers, Moon Decorative offers the highest quality and the greatest variety. The most popular concrete sealers on the market include the following:

Solvent-Based Acrylic Sealers – This type of sealer is probably the most commonly used sealer because it is easy to apply and very forgiving. Solvent-based sealers like SS Supreme dry very quickly after application, and it is easy to reseal them if needed. SS Supreme comes in a high-gloss, non-yellowing sealer that offers excellent resistance to sun, rain, stains, freezing temperatures, and a variety of pollutants. It works on most concrete surfaces and is easy to apply.

Water-Based Acrylic Sealers – These sealers are very user-friendly, and they are very durable, though they do have a slightly longer dry time. SS EpoSeal 20 is a great option for water-based acrylic sealers, especially for indoor applications. This sealer offers a satin or low-gloss finish with enhanced water resistance and hot tire resistance.

Polyurethane Sealers – This type of sealer offers excellent abrasion and scratch resistance but does require precise measuring and application. SS Poly Pro is a special UV-resistant sealer with a high-gloss finish that can be used for indoor and outdoor applications. It can be used as a primer or as a top coat for water-based urethane sealers.

Epoxy Sealers – These sealers are often used as primers because they are very strong and durable. Epoxy sealers should be used with polyaspartic or polyurethane top coats to ensure maximum abrasion resistance. SS Water Base 40 Epoxy is a low-odor formula that can be used as a primer or top coat for interior applications. It cures quickly and offers reduced re-coat times as well.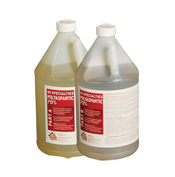 Polyaspartic Sealers
 – This type of sealer offers the most durability, adhesion, and abrasion resistance as well as excellent gloss retention. Polyaspartic sealers like SS Polyaspartic dry very quickly, and, though they are a little more expensive, they offer the best longevity and durability. No matter which concrete sealer you choose, be sure to get it from Moon Decorative. Not only does Moon Decorative offer the best products, but we also offer training videos to ensure that you apply the product correctly for the best effect.
Preventing Decorative Concrete Sealer Problems
Decorative concrete can provide endless design options, but in order to protect those designs, sealer is a must. Even so, 
decorative concrete sealer
 problems can be a common issue. In fact, problems with sealer are among the most common reasons for contractors to be called back to a jobsite. When a concrete sealer does not perform or look in the way expected, the reason is usually due to applying the sealer in non-ideal conditions, over-applying it, or a buildup of multiple coats of sealer. Here are some of the most common decorative concrete sealer problems and how they can be prevented.
Bubbles
Bubbles that appear in sealer usually indicate it was over-applied. It is vital for the sealer to be applied thinly to avoid supporting the presence of bubbles. When a 
concrete sealer
 is applied too thickly, there is no opportunity for displaced air to escape. Rather than applying one heavy coat of sealer, it is much better to apply two thin coats, with the first coat acting as a type of primer. Most of that first layer will actually disappear into the surface of the concrete. It is the second coat that will provide the gloss, color enhancement, and even finish required for an optimal result. While this can be more time-consuming than applying one heavy coat, the result is worth it. Bubbling of concrete sealer can also be an issue if the sealer is applied in hot temperatures or if the concrete is located in direct sunlight. During such conditions, the sealer may develop a skin prior to the solvent evaporating, which can cause bubbles to form in the surface. The best way to prevent this type of problem from occurring is to apply the sealer during the coolest part of the day and ensuring you are following the manufacturer's rate of recommended coverage.
Flaking or Peeling Decorative Concrete Sealer
In other instances, the concrete sealer may begin to peel, flake, or turn white, sometimes referred to as blushing. This can occur when the sealer is applied to concrete that is too fresh or wet. When this happens, it becomes impossible for the sealer to bond with the surface of the concrete. Instead, the sealer will float on a film of water trapped on the concrete. Over-application can also result in blushing. To avoid such problems, it is important to wait until the concrete is completely dry to apply the sealer while also ensuring you are following the manufacturer's recommendations for coverage rate.
Why Buying Concrete Floor Supplies Online Is a Good Option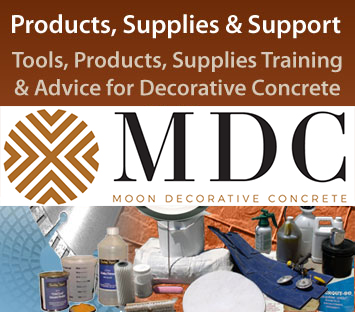 Whether you are a professional contractor specializing in decorative concrete or an enthusiastic DIYer who enjoys taking on new projects around the home, it is important to know where to find the best concrete floor supplies.
presteme ivermectina crema para que sirve
When beginning a new project, it is vital to ensure you have the best quality materials in order to achieve optimal results. Purchasing concrete floor supplies online is an excellent option, as it allows you to benefit from a much larger selection. As you probably know, trying to find the concrete floor supplies you need to complete a project at a small, local store can oftentimes be difficult, as the selection is likely to be limited. When buying supplies online, however, you can easily find the supplies that you need to complete your project. Whether you are looking for concrete edge forms, concrete stains or dyes, hand tools, or decorative stamps, you can find exactly what you are seeking.
Getting the Technical Support and Training You Need When Buying Concrete Floor Supplies
Additionally, by purchasing from an online specialty store, you will also usually be able to receive more guidance to assist you with completing your project. For instance, at Moon Decorative, we provide instruction to both DIYers and contractors.
what is ivermectin lotion used for
This type of technical support and advice can prove to be the difference between professional-looking and inferior results. Decorative concrete has become increasingly popular in the last few years. Offering a beautiful finish at a far lower cost than more expensive flooring options, decorative concrete is now used in a wide array of applications.
ivermectin für menschen
Knowing where to purchase the best concrete flooring supplies online can ensure you have both the training and selection you need to ensure the best possible outcome.