Vertical Concrete Training Class at Moon Decorative Concrete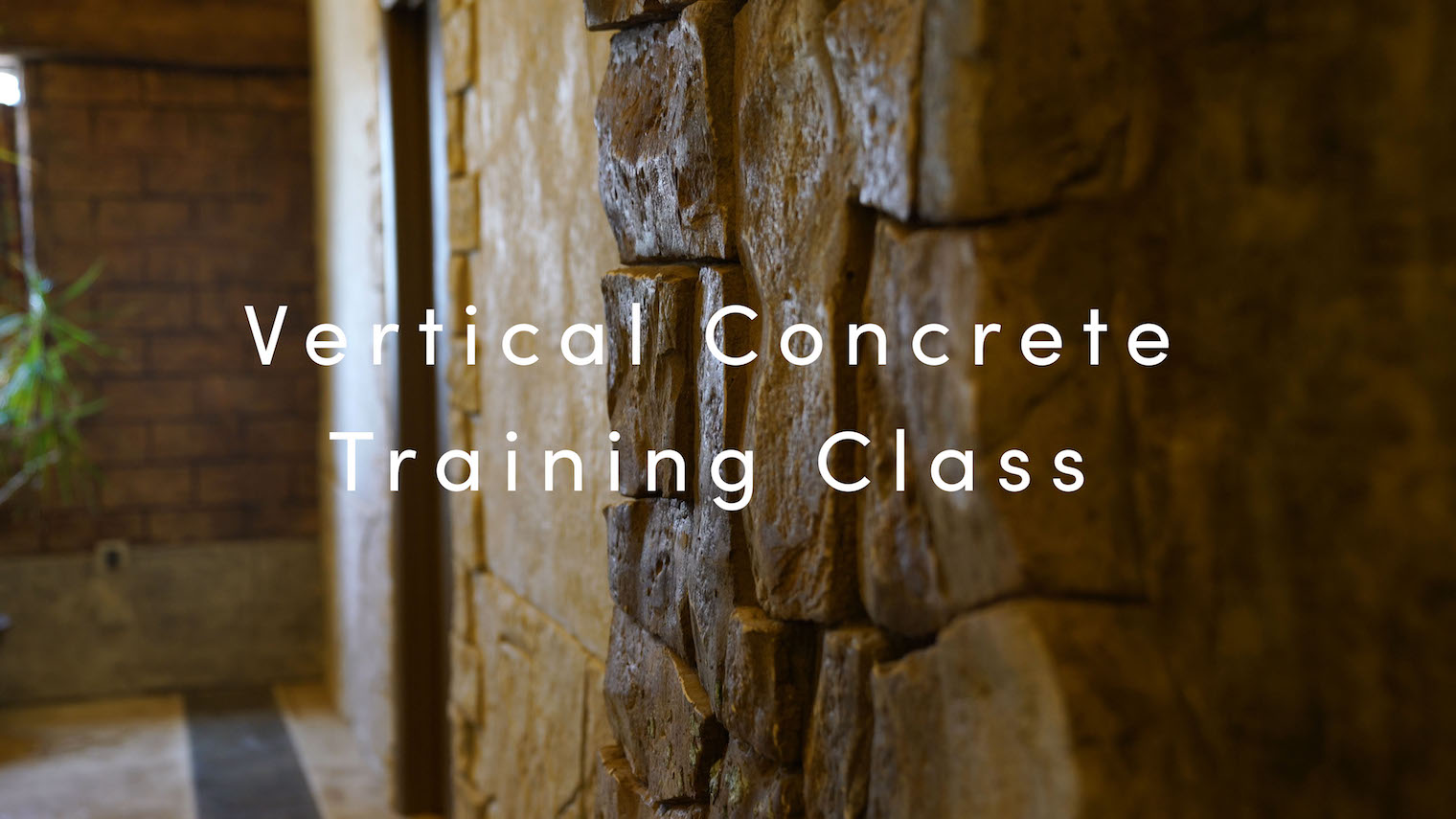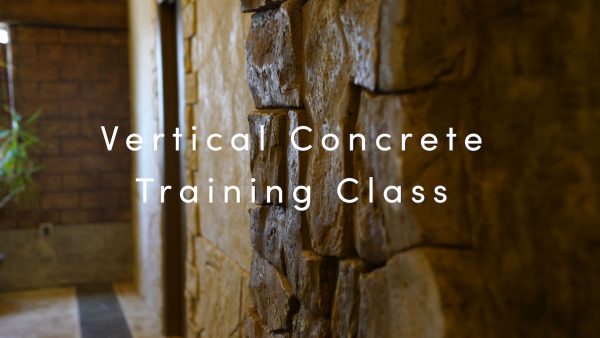 Learn the many and diverse uses of Moon Decorative's Vertical Concrete Mix in this 2-day Vertical Concrete Training class! You can make walls, boulders, trees, benches, tables and even grottos — anything your mind and heart can imagine. Alongside an experienced teacher, you'll learn how to prep, reinforce, apply, stamp, carve, and color vertical concrete. You will explore vertical stamping and hand carving to create natural and realistic looking boulders and kitchen facades. The hands-on experience will give you the confidence to try these techniques anywhere your creativity takes you. Lunch included both days. Date:  June 14th & 15th, 2018 Time: 8:00 am to 5:00 pm both days. Cost: $100.00
RSVP:
[contact-form-7 id="24159″ title="RSVP Form"]
Brickform's New StampApp
The coolest thing since sliced bread in the decorative concrete industry is Brickform's new StampApp. This reality app allows contractors to use their iPad or phone to show homeowners on the spot what different patterns and color combinations will look like on location! With what seems to be an endless selection of colors to chose from as well as patterns, this app allows you to actually see what your selections look like with your home. Contractors can save favorites for homeowners, and help speed up the process of selection and homeowners can actually see what the vision looks like. We often hear from folks that coming to Moon Decorative is a little overwhelming with 30,000 square feet of ideas. Brickform's new StampApp actually let you see your exact color with your chosen pattern. 
We have already found it to be an invaluable tool
. The best thing about Brickform's new StampApp is that it's 
FREE
 to download and use. We would highly recommend you watch this video below: Once you've installed the 
Brickform StampApp
 on your tablet or phone, you'll need to print or request a free image target to make the application work. But that's easy. Go 
here
 to do this. If you want to see it in action, stop in Moon Decorative and we will give you a demo.
House Flipping Tips and Ideas
Attention house flippers, did you know that Moon Decorative has several products to help you spruce up that house in a hurry, make your bottom dollar higher, and sell faster? Whether you are dealing with a distressed property or a dollhouse, cost-saving investments are never a bad idea. The house flipping weekend warrior will especially like these ideas.
Countertops
We recently had a house flipper who needed all new countertops for both kitchen and bathroom. The decision was made to use precast 
enCOUNTER
 tops. Since a unique look was desired, they decided to go with white enCOUNTER and enCOLOR blended in to create a marble look.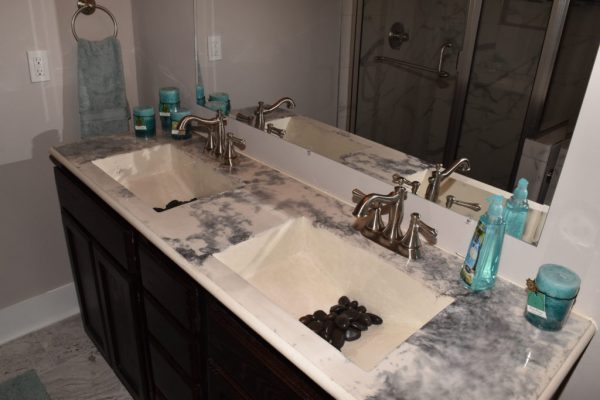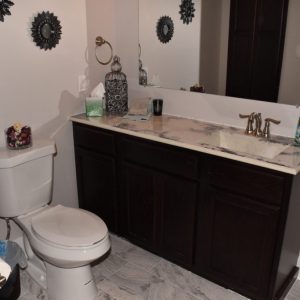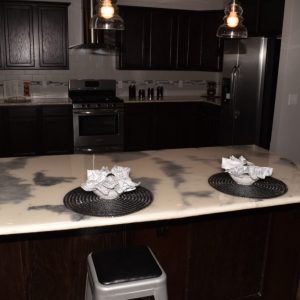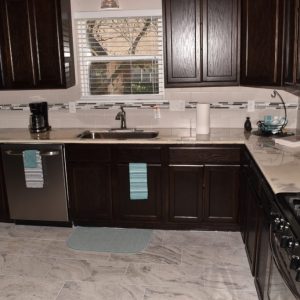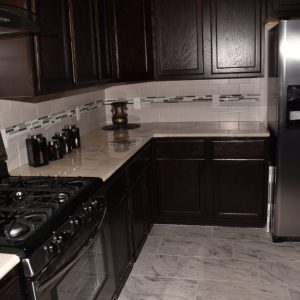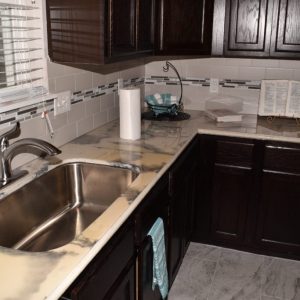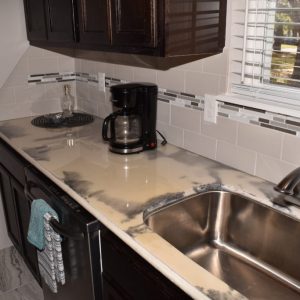 If the idea of precasting or cast-in-place countertops sounds like too much work, you can save even more money—about 70% cheaper than enCOUNTER Mix—with 
SS Specialties Ez Top
 for absolutely no tear out. Ez Top provides a beautiful, unique look, but is easier to accomplish.
Garage Floors
Want to make the garage a selling point? Use our SS Specialties Water Based 40 Pigmented Epoxy as a basecoat in either Mocha or Grey and coat with 
Polyaspartic 70%
 as a topcoat for a durable floor. Or maybe add some paint chips for another distinctive look. This combination is about 60% cheaper than using SS Polyaspartic 70% as a base and topcoat.
Acid Stain
Another way to make a floor go from ugly carpet to beautiful one-of-a-kind floor in house flipping is to use
 SS Specialties Sedona Concentrate Acid Stain
. Since the formula is concentrated, feel free to dilute as much as 1:4 to make the stain stretch farther. With 
10 colors
 to choose from and with the use of more than one color, flippers are guaranteed to make their house stand out. A beautiful mottled look can easily be achieved, and with the right products available, this process is pretty easy. As with any job, the prep work is probably the hardest and most important part of the process. We can easily walk you through the steps you will need to take. Choosing a sealer is simple when you have choices, and SS Specialties has an excellent selection of acrylics, epoxies, polyurethanes, and polyaspartics to choose from. For cost savings, stick with 
SS Supreme 2500
 line—it's an affordable entry-level sealer.
Overlays
Need a new pallet to work on? Want to permanently cover up surface imperfections in existing concrete? With today's decorative overlays, it's easy to give almost any concrete surface—indoors or out—a complete facelift and at a much lower cost than removal and replacement. The real challenge is choosing from among the diverse array of decorative finishes possible. There are multiple options available for achieving any look imaginable with a concrete overlay. It's best to hop on 
Pinterest
 and check out different looks, and then come by our store where we can help your dreams become realities within your budget.
Bottom line
When it comes to cost savings in house flipping, decorative concrete can be the ticket. Concrete countertops, acid stain floors, and beautiful garages will help make the difference in a home that sells quickly versus one that sits on the market. Come in and talk to us about ideas to help make that house a home and the investment to pay off.
Why Should I Reseal My Outdoor Concrete In The Fall?
Often times the last thing we think of is resealing our concrete in the fall. More people are thinking of raking leaves, covering the pool and getting the outdoor furniture put away. Winter can be the most difficult on your outdoor decorative concrete.  We recommend thinking about putting a fresh coat of sealer on it this fall, before winter hits. Thus protecting your investment. You have many reseal options from which to choose:
Acrylic Sealers
Moon Decorative's number #1 selling sealer is 
SS Specialties Supreme 2500 High Gloss
, which is a solvent-based acrylic. It's easy to apply and cost effective. We also have 
Supreme 2500 Medium Gloss
, 
Supreme 2500 Plus Medium Gloss 
and 
Supreme 3000 High Gloss
. Each of these sealers can be used interior or exterior. All acrylic sealers are considered film forming, i.e., they will leave a film on top of your surface. These film forming sealers provide a gloss to your concrete. The life expectancy of an acrylic sealer will depend on the UV exposure and chemical exposure. Remember, that Supreme 3000 as a base coat will typically last longer than Supreme 2500 because of the solid content and this might be an option if you don't want to seal as often. If a smell factor is an issue, or you are restricted by your local government regarding VOC's, then water-based sealers might be your better choice. Two great options: SS Specialties 
EpoSeal 20
 and 
EpoSeal 38
.
Siloxane/Silane Sealers
Siloxane/Silane Sealers/Repellants are considered penetrating sealers. Unlike the acrylic sealer, they do not leave a film on the surface and are both water-based and solvent-based. When you have a wet surface these repellents such as 
SS Specialties Repel Guard SB-20
, 
SS Repel Block WB-75
and 
SS Repel Guard 40 
perform very well. They leave the profile of the concrete thus helping with slip resistance. Of course, this greatly depends on the profile of your concrete as well. A tightly troweled sidewalk will more than likely always remain slick. All of SS Specialties Repellents are not recommended for driveways because of the hot tire pick up, leaving homeowners disappointed. This repellent is better for foot traffic. One of the best qualities is the life expectancy of this product, which is 5 to 7 years before resealing will be necessary. (Note: you cannot put an acrylic over this product until it has been ground off.) If you have a porch that is covered or say a gardening or utilities room, SS Repellents are perfect choices.
Before You Start To Reseal, Know What Your Current Sealer Is
It's important to know what your current sealer is. 
Always reseal your current sealer with the same one.
 Don't make the mistake of putting on a non-compatible sealer with what you already have down. This a recipe for disaster. Moon Decorative keeps records on items you have purchased, so don't hesitate to call and confirm. If you want to change to a different sealer, that's OK too. You will just be in for a bit more work, stripping off the old sealer and maybe even having to grind. Because so many circumstances are different, its best to take advantage of our expert technicians by calling us to discuss.
We are happy to consult with you over the phone.  We look forward to hearing from you and helping you spruce up so you won't have to do it in the Spring!
Success Tips for Working with Metallic Epoxy
If you are looking for a way to make your flooring stand out, you might want to consider a metallic epoxy floor coating. Not only are metallic epoxy coatings unique and eye-catching, but they can add durability to your flooring as well.
can i give my dog benadryl while treating for mange with ivermectin
Tips for Using Metallic Epoxy
Metallic epoxy coatings can be applied over existing surfaces as long as you prepare the surface properly. Surface preparation starts with cleaning the entire surface as well as patching and repairing any cracks and chips. In some cases, it may also be necessary to grind the surface to correct uneven areas or to remove stubborn stains and residues.
ivermectin use in hindi myupchar
Once the surface has been prepared, you can go through the steps to apply the epoxy coating. First, you'll need to prime the surface using either a solvent- or a water-based epoxy primer. Next, you will apply the metallic colored base coat over the entire surface – this will serve as the background for your coating. Once the base coat has been applied, you then mix the powdered SS Metallic pigment into your epoxy coating mix and apply it as desired to create a unique metallic pattern. After you've finished the metallic epoxy application, all that is left is to protect the surface with a clear topcoat. This topcoat will help to seal in the color and pattern while also increasing durability and abrasion-resistance. It will also help to give your new metallic epoxy flooring a lovely shine. If you are thinking about using epoxy to update or upgrade your flooring, you can trust Moon Decorative to have all of the products you need. Whether you are a concrete contractor or you are planning to do the work yourself, make Moon Decorative your first stop – just call today or visit our website.
ivermectin frontline
Tips for Cleaning a Concrete Slab Before Applying Concrete Acid Stains
If you are looking for an economical and unique way to upgrade your concrete flooring or simply want to give your space a little added color, concrete acid stains may be the way to go. Replacing a concrete slab can be prohibitively expensive, but revamping it is not. If you plan to apply a stain, however, you will first need to clean and prepare the concrete to ensure adhesion.
Cleaning Concrete for Concrete Acid Stains
Whether you are a DIY homeowner or a concrete contractor, you need to follow the proper steps to clean and prepare a concrete slab before applying your acid stain. If you do not prepare the slab, the stain will not take properly and you could be left with uneven color or no color at all.
افضل موقع مصارعة الحرة
Before you start preparing the slab for an acid stain application, take note that you must not use any kind of acid wash or acid-etching solution – if you do, the concrete acid stain will not take at all and you will have done all that work for nothing. One product that is used in the industry a lot to clean an older concrete slab is a trisodium phosphate (TSP) solution. Apply the solution to the concrete slab and then use a long-handled scrub brush or rotary floor machine with a nylo-grit scrub pad to work it into the concrete.  Any heavy mastics can be removed by scraping with a putty knife or applying a poultice solution made of fly-ash and denatured alcohol, and grease stains may be treated with chemical strippers, or degreasers.
طول اللاعب كريستيانو رونالدو
Give the entire floor a final rinse to ensure removal of any residue.   Keep in mind that even if you do thoroughly clean the entire slab, you might be left with patches that have lower lime content – those patches might not take the stain, so you'll have to apply a faux finish to match the concrete stain on the rest of the slab.  It is always best to test a small area first before applying the solutions to the entire floor.  Always read labels and follow directions for the products you are using. Once you have thoroughly cleaned your older concrete slab, you can apply the concrete stain of your choice.
طول راموس
For high-quality concrete stains that add depth, richness, and color to your concrete flooring, make Moon Decorative your first stop.
Using Concrete as a Decorative Floor Choice
If you have decided to incorporate concrete elements into a new home build or a renovation, one of the toughest decisions you will face has to do with choosing the decorative concrete products that are most appropriate for the preferred design.
Construction Schedule
Typically, homeowners view concrete installation as just another part of the construction schedule, but in reality, this is a delicate process. For that reason, it is important to work with an experienced professional who works with high-quality decorative concrete products and understands the 
intricacies of the materials and their application.
The challenge is that today, there is a wide range of decorative concrete products available. This means there is almost an endless number of finishes that can be created for both vertical and horizontal surfaces inside and outside of the home. For example, different products are used to texture, overlay, stamp, seal, color, acid etch, dye, and engrave concrete. Working alongside the contractor, you will have the chance to view a vast number of options available through Moon Decorative and gain a better understanding as to how the final project will appear.
ivermectin 50 um nuclear impirt
With this knowledge, you might change your mind. For instance, you may have initially planned to simply seal an existing floor, but after seeing all the beautiful 
Sedona brand colors
 offered by Moon Decorative, you might decide to have the floor completely transformed and colored.
The Contractors Job
In addition to providing insight and guidance for the different decorative concrete products offered by Moon Decorative, the contractor will assess the project. With that done, the two of you can talk about realistic expectations.
why is ivermectin not available in canada
Once the project is selected, the work can begin. By your contractor using only the best decorative concrete products on the market, you have complete confidence that the outcome will be exceptional. Not only will your home look gorgeous but the overall value will be enhanced.
ivermectin pyrantel miniature schnauzer
Quality Concrete Floor Supplies Provide Optimal Results
For residential, commercial, and industrial projects, every customer deserves to have a positive experience when it comes to the installation of a concrete floor. To guarantee this, only the right concrete floor supplies should be used. Otherwise, the final job will fall short of expectations and pose the risk of future problems.
casino 888 login
The goal in using quality concrete floor supplies is to create a "wow" factor. To accomplish this, concrete can be stamped, acid stained, colored, sealed, overlaid, and more. Remember, high-quality products are a direct reflection of the caliber of image that you portray.
Products Coupled with Technology
To create a gorgeous concrete floor, one of the top choices is a decorative overlay. When the work is performed by a skilled professional and only the best concrete floor supplies are used, an array of designs can be created that look like natural slate, brick, cobblestone, wood, tile, and much more. By combining the right concrete floor supplies with the latest technology, you can create a stunning floor that sets up and cures in very little time.
casino arab
As a result, there is less disruption to the customer. For the best outcome, only the best supplies should be used throughout each step of the process. As an example, the 
moisture level in the concrete
 must be within the proper range.  To check this, Moon Decorative offers three solutions: an Insta-Check PH Pencil, a Vapor Transmissions Test 3-Pak, and the RapidRH Long Reader Kit 1 and Reader 5 Humidity Tests.
كيف تربح فلوس
Moon Decorative is the "go-to" place for ideas and information on how to properly apply different products and techniques.
Examples of Products
Below are just a few examples of concrete floor supplies offered by The Stamp Store:
Colored Coatings and Sealers
Concrete Additives
Forms
Hand Tools
Overlay Products
Sprayers
Training Materials
DIY Concrete Countertop Resurfacing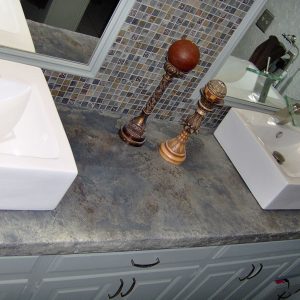 Over time, countertops can begin to look old and worn out. Even if your countertops are not worn looking, they may still begin to appear dated. Unfortunately, ripping out and replacing your countertops can be both time-consuming and costly. If you're looking for an easier and more affordable solution for updating your countertops, 
concrete countertop resurfacing
 could be just answer to your problems. Whether you have laminate, Formica, tile, Corian, granite, marble, or concrete, countertop resurfacing can be an effective method for giving your countertops an updated appearance. With special concrete countertop resurfacing products, it is possible to benefit from the look of entirely new countertops without the need to tear out your existing countertops and reconstruct them. This type of option typically involves using a proprietary blend of polymers and cement powders that are troweled onto the existing countertop in ultra-thin layers. The result is a durable surface that can then be customized to any texture or color you like. Countertop resurfacing is suitable for both indoor kitchens as well as outdoor kitchens. Even homeowners who do not have prior experience in countertop resurfacing will find that this type of system is extremely easy to use. At Moon Decorative, we are also always pleased to provide instruction and training to assist both contractors and DIY homeowners in designing and installing these types of countertop resurfacing systems.
Application Tips for Concrete Countertop Resurfacing
When applying a concrete overlay or 
countertop resurfacing
 solution, it should be kept in mind that although the process itself does not take a lot of time, it does require patience, so it is best not to rush. Prior to getting started, it is best to line all of the surrounding appliances, walls, underlying cabinets, and sink with plastic sheeting. This will provide protection from the concrete overlay mixture. Design options are virtually unlimited with countertop resurfacing. After the concrete overlay has dried, it is possible to customize countertops with a variety of products, including concrete dye, acid stain, and more. The key to maintaining the new look of your countertops is to seal them to prevent possible damage from moisture or scratches. This will ensure that your new countertops will continue to look great for many years to come. Even if new countertops are not in your budget, countertop resurfacing can prove to be an affordable and relatively easy solution for outdated or worn countertops.
Why Buying Concrete Floor Supplies Online Is a Good Option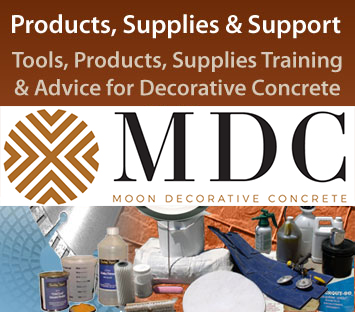 Whether you are a professional contractor specializing in decorative concrete or an enthusiastic DIYer who enjoys taking on new projects around the home, it is important to know where to find the best concrete floor supplies.
presteme ivermectina crema para que sirve
When beginning a new project, it is vital to ensure you have the best quality materials in order to achieve optimal results. Purchasing concrete floor supplies online is an excellent option, as it allows you to benefit from a much larger selection. As you probably know, trying to find the concrete floor supplies you need to complete a project at a small, local store can oftentimes be difficult, as the selection is likely to be limited. When buying supplies online, however, you can easily find the supplies that you need to complete your project. Whether you are looking for concrete edge forms, concrete stains or dyes, hand tools, or decorative stamps, you can find exactly what you are seeking.
Getting the Technical Support and Training You Need When Buying Concrete Floor Supplies
Additionally, by purchasing from an online specialty store, you will also usually be able to receive more guidance to assist you with completing your project. For instance, at Moon Decorative, we provide instruction to both DIYers and contractors.
what is ivermectin lotion used for
This type of technical support and advice can prove to be the difference between professional-looking and inferior results. Decorative concrete has become increasingly popular in the last few years. Offering a beautiful finish at a far lower cost than more expensive flooring options, decorative concrete is now used in a wide array of applications.
ivermectin für menschen
Knowing where to purchase the best concrete flooring supplies online can ensure you have both the training and selection you need to ensure the best possible outcome.