Is Your Concrete a Good Candidate for Decorative Floor Stain?
Most people think of concrete floors as being cold, boring, and esthetically unpleasing. Although in some cases this might be true, concrete floors can be stained, giving them a warm and rich appearance. Decorative floor stains can produce stunning results. This is a cost-efficient method of transforming boring floors, and the process of staining can be done as a do-it-yourself project. In addition to top-rated products, Moon Decorative offers ideas, as well as how-to information and videos.
Methods of Concrete Staining
Water-Based – As a mixture of pigments and acrylic polymers, this stain fills concrete pores while coating the entire surface. Because this method does not chemically react with concrete, it is referred to as "non-reactive," which creates more control and color consistency. Any of Moon Decorative's water-based stains are great, whether choosing something bright like Glacier Blu or something more subtle, like Texas Sand.
Acid-Based – Acid stain does not coat the floor with color but rather penetrates and chemically reacts with various materials in concrete, such as lime and then develops color over time with a chemical reaction, almost like an instant rusting of the floor. The outcome is color oxides with a more translucent appearance as opposed to opaque. While there are limitations to color, acid stain is still gorgeous, as evident with our Malay Tan and Golden Wheat acid stains that are very popular choices.
Important Considerations
Before starting a concrete stain project, first determine if your floors are a good candidate. If the concrete has never been covered with laminate, hardwood, carpeting, or even paint, staining will be easier. While a floor that has been covered can still be stained, the top material must be removed to reveal a bare, porous concrete floor. With a bare floor, carefully inspect the concrete for the overall condition. Based on the findings, you would choose the appropriate concrete stain method and product. Some specific things to look for include:
Prior Acid Cleaning – Concrete floors that have been cleaned with acid cannot be stained with an Acid based stain.
Sealed Floor – Floors that were sealed during the installation process need to have the sealer removed and then can be stained with most products, however a test area should always be done before any type of stain is applied.
Glued-Down Surface Material – Whether covered with carpet, laminate, hardwood, or something else, if the material was glued down, only the water-based method will work, understanding that an opaque finish should be chosen to hide surface imperfections and blemishes from the glues.
If your floor is not a great candidate for concrete stains, you can purchase an overlay product from Moon Decorative. After being applied, this product creates a new and thin surface on which any other staining can be done. If you have your heart set on an acid-stained floors but the surface is poor there are a variety of 
concrete resurfacing materials 
that accept concrete stain very well.
Is Acid Stain the Right Choice for Your Project?
Several factors should be considered when deciding on the material to color a new or old concrete floor, wall, or countertop. Although a  most popular choice is concrete, which can be beautifully designed for both indoor and outdoor purposes. Whether you are renovating or building a home, or opening a brand new retail location, you definitely want to consider 
acid stained concrete
. To determine if acid stain is the right choice for your particular project, consider the following.
gaminator kredit
Primary Benefits
Acid stain allows you to create incredible designs in a good concrete surface.
Acid stained concrete is versatile, since it can be used for a wide range of projects inside and outside.
You will also find that acid stain is extremely durable. When a high-quality product is used and applied appropriately, this material will provide years of flawless service. nyerőgépes játékok online ingyen To help the stain last even longer, a protective sealant is usually added.
Acid stain comes in a wide range of color options, including Green Lawn, English Red, Malay Tan, Walnut, and Fern. If you are having a hard time deciding on the exact color, at Moon Decorative, we sell a Sedona brand acid stain color sample kit that comes with 10 4-ounce bottles.
If anyone in the home struggles with allergies, acid stained concrete is perfect. Unlike carpet, which attracts dirt, dust, and other allergens, concrete does not.
Other Considerations
Although there are always some disadvantages of choosing acid stained concrete, here are some of the main considerations.
Sometimes older concrete is not as reactive to acid stain. This is why choosing a top-of-the-line product and having the work performed by a professional is imperative. halványzöld fogadóiroda
Although some people have successfully stained concrete on their own, this is a job best left to someone with expertise.
Sealed concrete cannot be stained without the sealer being removed.  Use a test area prior to staining the entire surface.
The Bottom Line
Acid stain is an excellent investment and can enhance both old and new concrete surfaces.
Quality Concrete Floor Supplies Provide Optimal Results
For residential, commercial, and industrial projects, every customer deserves to have a positive experience when it comes to the installation of a concrete floor. To guarantee this, only the right concrete floor supplies should be used. Otherwise, the final job will fall short of expectations and pose the risk of future problems.
casino 888 login
The goal in using quality concrete floor supplies is to create a "wow" factor. To accomplish this, concrete can be stamped, acid stained, colored, sealed, overlaid, and more. Remember, high-quality products are a direct reflection of the caliber of image that you portray.
Products Coupled with Technology
To create a gorgeous concrete floor, one of the top choices is a decorative overlay. When the work is performed by a skilled professional and only the best concrete floor supplies are used, an array of designs can be created that look like natural slate, brick, cobblestone, wood, tile, and much more. By combining the right concrete floor supplies with the latest technology, you can create a stunning floor that sets up and cures in very little time.
casino arab
As a result, there is less disruption to the customer. For the best outcome, only the best supplies should be used throughout each step of the process. As an example, the 
moisture level in the concrete
 must be within the proper range.  To check this, Moon Decorative offers three solutions: an Insta-Check PH Pencil, a Vapor Transmissions Test 3-Pak, and the RapidRH Long Reader Kit 1 and Reader 5 Humidity Tests.
كيف تربح فلوس
Moon Decorative is the "go-to" place for ideas and information on how to properly apply different products and techniques.
Examples of Products
Below are just a few examples of concrete floor supplies offered by The Stamp Store:
Colored Coatings and Sealers
Concrete Additives
Forms
Hand Tools
Overlay Products
Sprayers
Training Materials
Greener Options for Homeowners
Concrete staining is a great way to bring life to concrete or change-up the look of an older and perhaps even dated or damaged floor. At Moon Decorative, we carry a variety of decorative concrete products, including water-borne stain to help contractors with homeowners who insist on a greener option.
SS Rainbow Color System is simple and incredibly user-friendly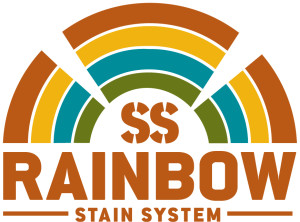 Unlike acid stain, after the application of water-borne stains, the surface does not need to be neutralized and rinsed; therefore, very little clean up is necessary. Rainbow has a low VOC (volatile organic compound) count and it won't damage your lawn like acid stains.  SS Rainbow has no odor, no need to block HVAC systems to prevent the spread of smell while using SS Rainbow. Water-borne stains are non-reactive solutions that deposit pigment into the open pores of the concrete, producing translucent colors that are more vibrant than acid stains. Almost any color is achievable with water-based stains, from soft pastels to vibrant tones. And when we say any color, we literally have a fan deck of colors you can choose from. Because the color doesn't depend on reaction with the concrete, the end result is a color that is more uniform and predictable.
Now seal it with LOW VOC's!
To complete the "green" process, we would recommend sealing the floor with EpoSeal 20 and 38. Depending on your customers preferred shine level, you can go with EpoSeal 20 for a satin finish or the EpoSeal 38 for a high shine. Both of these sealers have low VOC and very little smell. Neither of these two options will enhance the color, however Rainbow System lets you see what color the customer is going to have 
before
 you seal. The entire Rainbow System and EpoSeal sealers can be used both indoor and outdoor.
Commercial Concrete Floors
While commercial concrete floors are not a new concept, perhaps the latest options and choices are. Concrete floors have come a long way from the standard, grey or sealed purely functional finish of yesterday.  Commercial establishments are using topical dyes, chemical stains and metallic coatings to bring an entire new life to old and new concrete floor slabs.