The Basics of Concrete Stamping for the DIYer
To transform an existing concrete floor, walkway, driveway or patio or some other surface while sticking to a budget, concrete stamping is an excellent solution. Although concrete stamping has been around for years, it remains one of the most popular methods used by do-it-yourselfers to transform what could be potentially dull concrete into something spectacular.
What Is Concrete Stamping?
Concrete stamping is a process used to create a specific texture or pattern in concrete using 
stamping tools.
 You can stamp concrete using a variety of tools, including patterned stamps and textured rollers. These tools can create the look of genuine wood, brick, slate, tile, flagstone, 
cobblestone
, and much more. When done right, no one can tell the surface is not a natural material.
Benefits of Concrete Stamping
Concrete stamping offers many benefits, the greatest being the aesthetic transformation.
Affordability – To have natural materials installed is expensive; stamped concrete can create the same look for a much lower price.
Strength and Durability – Concrete stamping makes the project stronger and last longer. Therefore, your patio, pool deck, floor, countertop, driveway, sidewalk, pathway, or other surface will last for many more years beyond the original lifespan.
Gorgeous Color
With concrete stamping, you have the opportunity to choose a beautiful base color along with an accent colors. The base color is the primary color of the stamped concrete. Typically, you want to choose a color that coordinates with the project and complements the style of your home. As an example, if you choose a decorative concrete product from Moon Decorative for a Victorian-style home, you might consider a richer color of 
red or cinnamon
. Keep in mind that you have many exciting options of added color for concrete stamping products from Moon Decorative. This includes acid stains, powder or liquid integral colors, and surface color hardeners, to name a few. With these products, you will enjoy additional benefits dependent on the primary color chosen. For example, if the color comes from a hardener, the concrete surface will be stronger and more resistant to abrasions and other damage. You can also choose from a wide variety of accent colors to emphasize the texture created by the stamping. In this case, color comes from color release applied to the concrete, which serves two purposes; color release changes the concrete's color, and it prevents stamps from sticking to the surface.
Design Ideas for Working with Concrete Stamps
If you are looking for a building material that offers unmatched versatility and plenty of options for customization, look no further than decorative concrete.
انواع لعبة الطاولة
One of the most popular applications for decorative concrete involves the use of stamps.
خريطة رالي داكار 2023
Ideas for Using Concrete Stamps
Concrete stamping is a fairly simple process – a thin layer of concrete is applied to the substrate then the desired stamp pattern is applied using a mold with that pattern embossed or imprinted on the mold. The beauty of concrete stamps is that they can be made in nearly any size, shape, or pattern imaginable – they can even be made to mimic the appearance of premium building materials. Here are a few ideas for ways to use concrete stamps:
Outdoor Patios – Decorative concrete is perfect for outdoor patios, because you can mix and match stamps and colors to create a one-of-a-kind appearance.
Concrete Pool Decks – Stamped concrete is a popular choice for pool decks, because it is easy to apply and you can add a textured coating for enhanced slip-resistance.
Driveways and Walkways – Concrete is a highly durable material that can stand up to vehicle traffic and exposure to wind and weather.
Indoor Flooring – Stamped concrete is a great option for both residential and commercial flooring, because it can withstand heavy foot traffic and is easy to maintain.
Concrete Countertops – Stamps, stains, and dyes can be applied to concrete countertops to create the look of premium materials, including granite and quartz, without all the hassle.
Concrete stamps 
come in all shapes, sizes, and patterns, so you have a variety of options to choose from. No matter which stamp you choose, make sure you get it from Moon Decorative.
خريطة رالي داكار السعودية 2023
We have been one of the leading retailers of concrete stamps since 1990, so you can rest assured that any product you get from us will be top of the line.
Recoloring Stamped Concrete Projects
Tips for recoloring and re-sealing stamped concrete
Concrete is highly versatile – you can apply stamps to give your concrete flooring the texture you want. Stamped concrete will last for many years, and it is highly durable and easy to maintain.
بطولة يورو 2024
Before or even after your stamped concrete starts to wear out, you won't have to replace it – you can rejuvenate it simply by recoloring it and re-sealing it.
العب واربح
The method for recoloring stamped concrete is fairly simple, but you may still want to contact a qualified concrete expert. Because different portions of your stamped concrete surface may have aged differently, you do not want to start off by staining the entire surface. If you do, some parts of the surface may take the stain differently than others. Your best bet is to apply a tinted base coat to even things out and then to apply a second coat in a contrasting color. This process will result in a uniform look in terms of both color and pattern. After applying both coats, you can then finish the surface with a clear sealer or lightly tinted sealer. Just because your concrete surface is worn out or discolored doesn't mean that you have to replace it. Recoloring stamped concrete is a much more affordable and efficient option.
مميزات بنك سكريل
Resolving Slippery Issues Near Pools with Concrete Stamping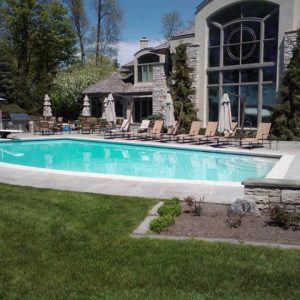 Swimming pools can provide hours of backyard entertainment for the entire family, but they can also present safety hazards due to the slippery nature of pool decks.
ازاي تكسب فلوس من النت
It is possible to benefit from a beautiful decorative pool deck while simultaneously eliminating slip and fall hazards. Many products and techniques can be used to make decorative concrete less slippery when wet. Two of the most common methods for creating a slip-resistant surface near a pool are to apply some type of gritty product to the surface of the concrete and to texture the concrete. There are also several ways to apply additives to the surface of the concrete.
سباق الخيول
One method involves mixing a gritty material into the concrete sealer prior to it being applied like 
Anti Slip Get-A-Grip by SS Specialties
. Other methods involve using a textured overlay or applying a type of gritty additive to the concrete surface.
كم عدد ورق الكوتشينة
When broadcasting special anti slip additives such as a polymer or shark grip, onto the surface of the concrete, it is important to do this while the sealer is still tacky, however. Decorative stamped concrete can also be an excellent solution for resolving slippery issues near in-ground swimming pools. The texture of the concrete itself can prove to be a tremendous benefit in terms of creating a nonslip surface. By using stamped concrete mats during placement featuring a specially textured pattern or design into poured concrete, it is possible to create a slip-resistant swimming pool deck that is both attractive and safe. This can prove to be particularly important in both environments where young children will be present as well as commercial pool areas, such as hotels and spas. Whether you have an existing pool deck or you are considering building a new pool, it is important to ensure it is both safe and fun. Stamped concrete can be an effective way to do that. Moon Decorative offers 
Brickform
, 
Proline
, and 
Artcrete
 concrete texture tools, allowing you to choose from dozens of designs to create a concrete surface that is both safe and aesthetically pleasing.
Concrete Stamping Patterns Open up a New World
Concrete stamping has rapidly become a preferred option for creating aesthetically pleasing designer indoor and outdoor spaces. Today, a variety of 
concrete stamping patterns
 has made it possible for each project to be completely customized. Whether your client has a desire for their concrete driveway to look like a brick drive or you have a boring patio that you would like to have a natural stone appearance, concrete stamping patters can and will open up an entirely new world of design options. Mediterranean designs have become increasingly popular for outdoor living spaces, especially near the swimming pool. Unfortunately, installing Italian slate can be a time-consuming and expensive process. With concrete stamping patterns, however, it is possible to achieve that look for only a fraction of the cost. Concrete stamping patterns can also be used to create a charming 
European cobblestone
 pattern for a more Old World and rustic feel. For clients who have  always dreamed of a tropical feel, concrete stamping patterns can provide a boardwalk design that leads family and guests directly to the swimming pool. Along with selecting a pattern and texture for concrete stamping patterns, you can also select from a range of finishing colors to complete the project. A veritable rainbow of colors is now available and the methods of application and how they are installed will create any number of custom and realistic results.
Locating Supplies for Concrete Stamping Patterns
Concrete stamping patterns are suitable for a variety of different applications, including for patios, driveways, walkways, and swimming pool deck surrounds. In order to take full advantage of the numerous stamping patterns available today, contractors will often find that the best solution for locating stamping patterns and supplies is online.  Purchasing concrete stamp mats online will allow you to see and compare the various patterns and styles available and then get them sent directly to your door.
Take a Concrete Class and Learn How To Install Vertical Concrete
You know about the advantages of stamped concrete when it comes to working horizontally, but there's another exciting way of working with stamped concrete – why not think about using vertical concrete? Moon Decorative even offers an exciting new 
vertical concrete class
 called Yes, Concrete Can Go Vertical! You can add drama to 
vertical surfaces
 by using vertical concrete stamped overlays. Essentially, you use a cement wall overlay material in order to build up a vertical surface and extend it outward. This material can be applied over wood, masonry, drywall, or even existing painted drywall – pretty much anything that's vertical – and it will go on a bit more than three inches before it begins to sag. Once applied, it can be stamped or hand-sculpted, so the possibilities are practically endless.
reptile dewormer. ivermectin
You'll learn more about this when you take the concrete class. You probably know about the flexibility you get with manufactured stone. You get even more versatility with vertical stamped concrete, because you can create the stone patterns in any shape and size you like. You can combine sculpting and carving with stamping to create a really unique effect, so if you're a creative craftsperson, you can get stunning results. As with all 
vertical concrete mixes
, vertical overlays are fire, water and weather resistant, and can be stamped and tinted to mimic far more expensive building materials. It can be used outside for just about anything, or indoors to refinish fireplaces, backsplashes, walls and more. For renovations or for brand new projects, the effects that can be created using vertical stamped concrete are exciting.
ivermectina faz mal
So, should we get to work? The concrete class, Yes, Concrete Can Go Vertical! lasts for a day and a half. Over that time, you'll learn the uses of SS Vertical Mix, one of the many concrete products available from Moon Decorative. You'll be building boulders that will be used in water features, and you'll learn how to prep the SS Vertical mix, reinforce, apply the mix, stamp it, carve, and color. This is a great opportunity not just to learn a new technique, but to meet and socialize with other decorative concrete aficionados. We guarantee a good time, and on the full day of class, we'll even provide you with lunch. Check out the course offerings for dates, times and pricing.
how to use ivermectin powder
We look forward to seeing you in concrete class!
Stamped Decorative Concrete Overlays
Adding a rock, stone or brick texture to your existing concrete is possible with Stamped Decorative Concrete Overlays.  These thin topping systems can be found on patios, driveways, pool decks and restaurant patios across the world.  The beauty of a stamped overlay is that it can be installed on your old damaged and cracked concrete to give it new life, without the need to jack hammer it up and re-pour an entire new slab. From herringbone brick to flagstone and slate textures you can really make an impact on your home or businesses' decor with stamped concrete overlays. Color options will also make your new overlay pop and really stand out. Choose from almost an unlimited array of patterns, textures and color options to create your own personal style and look. Call us at Moon Decorative and we will be happy to help. Or better yet, come into our store and see over 30,000 square feet of ideas. Here you will find lots of examples of Stamped Decorative Concrete Overlays.