Greener Options for Homeowners
Page top image size: 1000 x 500 px
Concrete staining is a great way to bring life to concrete or change-up the look of an older and perhaps even dated or damaged floor. At Moon Decorative, we carry a variety of decorative concrete products, including water-borne stain to help contractors with homeowners who insist on a greener option.
SS Rainbow Color System is simple and incredibly user-friendly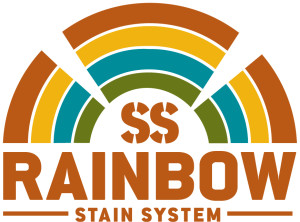 Unlike acid stain, after the application of water-borne stains, the surface does not need to be neutralized and rinsed; therefore, very little clean up is necessary. Rainbow has a low VOC (volatile organic compound) count and it won't damage your lawn like acid stains.  SS Rainbow has no odor, no need to block HVAC systems to prevent the spread of smell while using SS Rainbow.
Water-borne stains are non-reactive solutions that deposit pigment into the open pores of the concrete, producing translucent colors that are more vibrant than acid stains. Almost any color is achievable with water-based stains, from soft pastels to vibrant tones. And when we say any color, we literally have a fan deck of colors you can choose from. Because the color doesn't depend on reaction with the concrete, the end result is a color that is more uniform and predictable.
Now seal it with LOW VOC's!
To complete the "green" process, we would recommend sealing the floor with EpoSeal 20 and 38. Depending on your customers preferred shine level, you can go with EpoSeal 20 for a satin finish or the EpoSeal 38 for a high shine. Both of these sealers have low VOC and very little smell. Neither of these two options will enhance the color, however Rainbow System lets you see what color the customer is going to have before you seal. The entire Rainbow System and EpoSeal sealers can be used both indoor and outdoor.
---
Back to Blog