Natural Beauty in Concrete Countertops
Page top image size: 1000 x 500 px
The hand is where the mind meets the world. The hands are an extension of the mind, and what's created with them is a reflection of what's in it.
This concept is not foreign to Gale Johnson. I learned this during the tour of her home that both her and her husband, Charlie, built. She and Charlie have touched —physically touched—every inch of it. Charlie's wood-creations (furniture and artwork) and paintings—made with his own two hands—are everywhere.
Gale told me that all of the furniture has been recycled and repurposed; she doesn't buy anything new. The headboard in the master bedroom is two large doors salvaged from a catholic church, and the candle stands next to the bed, are legs from an antique piano that had been damaged.  The kitchen cabinetry isn't even new. As she shows me the February 2013 issue of Slice magazine where her home was featured, she tells me that her place is already different. She's always changing—changing the rooms, moving the furniture. She's improving and evolving, and what surrounds her is proof.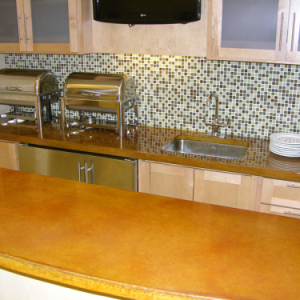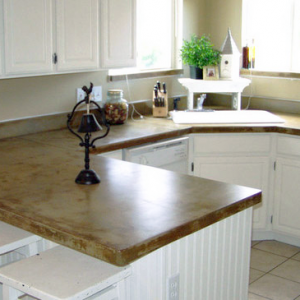 So I wasn't surprised at Gale's response when I asked why she chose a concrete countertop.  She said, "I wanted something unique, natural and created by an artisan. I wanted a piece of artwork, not something that's mass produced." She told me that when she contracted Tony Tyner of Custom Concrete Countertops to make this piece, she allowed him creative freedom and as a result he gave it special time, care and attention.
Tony has developed a way to give concrete a unique marble look. In this case, his mastery with color and the use of white and black rainbow stain give the veining in the concrete the appearance of jade. Tony appreciates the quality of the product he found in the SS Specialties brand, as well as the vast color palette that's available to him. His appreciation has no doubt reflected in the end product. Gale loves it. She loves it so much that she requested that Tony hand-make a bathroom sink.
SS Specialties product details:
enCOUNTER Professional Concrete Countertop Mix, Grey
SS Rainbow Water-Borne Stain, White and Black
LesCoat
enPOXY
Tony Tyner chose the cast-in-place method of pouring concrete meaning that he created the form to hold the concrete on the existing cabinetry and poured it in place. He choose Grey enCOUNTER Professional Concrete Countertop Mix, and used both the SS Rainbow Water-Based Stain in Black and White to create the marble appearance for color distribution. LesCoat was used specifically in the areas with finer lines. The entire countertop is sealed with enPOXY for protection and shine.
We think you will agree, its beautiful!
---
Back to Blog