Using Stamped Concrete to Create Unique Designs
The first photo is a Ashlar Slate pattern. Both pours used buff integral color, a blend of Desert Tan and Terra Cotta Release Agents on the coping and ribbons and a blend of Sandstone and Cream Beige Release Agents for the field. The face of the coping was textured just after stamping.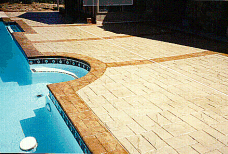 The second is a grouted joint 12″ Slate pattern. Light Gray Release Agent was used over plain concrete. The real brick border was laid after the stamped work was completed.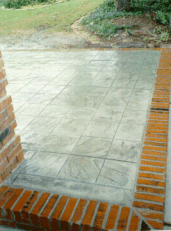 The pond in the third photo was poured with black concrete, hand stacking the walls and slick troweling the walls and bottom. Buff integral color was used in a monolithic pour for the coping and deck with a Light Gray Release Agent. The control joints were deep jointed with margin trowels to define the coping stones and the larger pieces of deck. A light green wash was sprayed over the coping stones and the joints were grouted with a light colored mortar. Seamless Texture stamps were used; you can't tell where one stamp leaves off and another begins.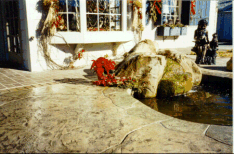 The fourth photo is a Random Stone pattern from the Creative Images line, a series of larger stamps that was designed for greater production while still giving great detail. They can texture 9 square feet with each stamp, so contractors can save time with the larger tools. Sandstone Color Hardener and Buff Tan Release Agent were used for this effect.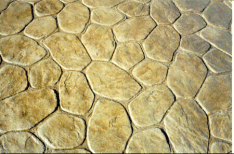 Monolithic pour of plain concrete in photo five. The field is a European Fan pattern with Light Gray Release Agent and the borders and ribbons were stamped with a 12″ Slate Border tool and Dark Gray Release Agent.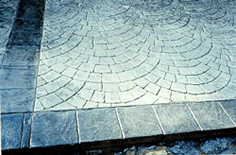 Photo six shows part of a sidewalk 5′ wide and 540′ long. It was stamped with Seamless Texture Skins and sorghum stalks (shown), sycamore leaves, magnolia branches with leaves and a large ammonite (not shown) were placed in the field.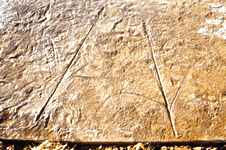 This is a monolithic pour, buff integral color throughout in photo seven. Plexiglas was cut thin to fit the 12″ slate border tools and the 24″ X 24″ slate inlays and carefully placed them before throwing Light Buff Release Agent for the London Cobblestone field. After stamping the field the, Plexiglas was picked up, troweled, and an appropriate colored release agent was thrown. Getting another color release agent on what has already been stamped is OK. A 12″ slate border tools and the 24″ x 24″ slate tools were place in the exact same positions that the Plexiglas had protected earlier and stamped them.