Durable and Beautiful Shop Floor
When Jordan Lyles, a car enthusiast, came to us looking for a floor coating for his new shop floor, he knew three things: (1) He did not want a chip floor system. (2) He wanted something that would be easy to clean and hold up to the riggers of automotive grime. (3) He did not want a long, drawn-out process and wanted it done fairly quickly. After discussing all his desires, we decided that SS Specialties' newest product, Water Based 40 Pigmented Epoxy (WE40P), would be the perfect match, along with SS Specialties' Polyaspartic 70% as the topcoat.
Of course, all concrete must be prepped properly, and using this system is no exception. Using WE40P as a prime coat eliminated the 24-hour wait for the concrete to dry after using Surf Prep in the preparation stage. WE40P has the added advantage of its capability to be applied to damp concrete—something not all coatings are formulated for. It also can handle up to 10 pounds of hydrostatic pressure.
Jordan got started in the afternoon on day one on his new shop floor and did the following:
He used SS Specialties Surf Prep 1-to-1 with water. He sprayed SS Surf Prep on the floor and allowed it to react for about three hours. Then he neutralized with ammonia and water, rinsing the floor thoroughly till all residue was gone.
He then mixed SS Specialties Water Based 40 Gray Pigmented Epoxy Part A and B in a 5-gallon pail, 2 kits at a time. He rolled this on using a 3/8 nap roller in one direction. Because the WE40P was only used as a prime coat, he averaged 300 square feet per gallon and waited about 6 hours due to the humidity and air temperature.
The next morning, Jordan came in and finished up:
His final step was rolling out SS Specialties Polyaspartic 70% with SS Color Dispersion White Night Gray pigment pak added, as a topcoat.
The result was a beautiful gray floor with a durable finish done in 2 days and a huge cost savings when compared to a traditional Polyaspartic floor.
We love SS Specialties Polyaspartic; however, the surface must be ground for a proper bond to take place. Using WE40P as the basecoat allows contractors to skip the grinding, which is time consuming and costly. Unfortunately, we hear of contractors thinking that just acid etching the floor in preparation for Polyaspartic is adequate, and this is far from the truth. However, using WE40P as your basecoat does allow acid etching and can be top coated with Polyaspartic. It's a nice way to save some money and get a really durable floor, just like Jordan achieved on his new shop floor!
House Flipping Tips and Ideas
Attention house flippers, did you know that Moon Decorative has several products to help you spruce up that house in a hurry, make your bottom dollar higher, and sell faster? Whether you are dealing with a distressed property or a dollhouse, cost-saving investments are never a bad idea. The house flipping weekend warrior will especially like these ideas.
Countertops
We recently had a house flipper who needed all new countertops for both kitchen and bathroom. The decision was made to use precast enCOUNTER tops. Since a unique look was desired, they decided to go with white enCOUNTER and enCOLOR blended in to create a marble look.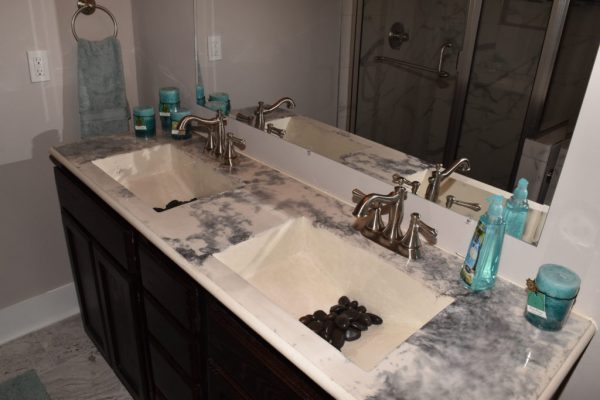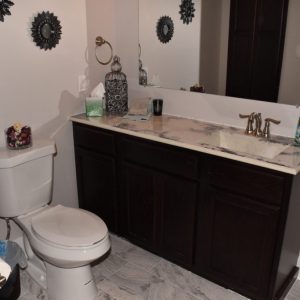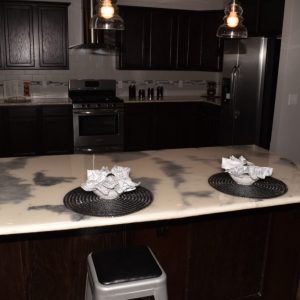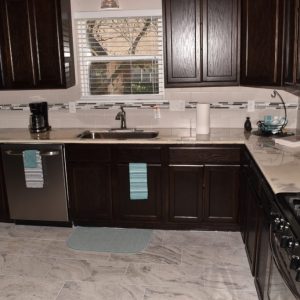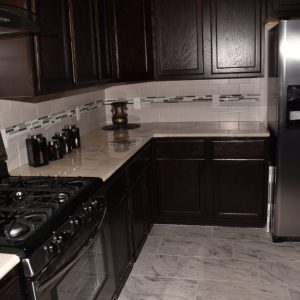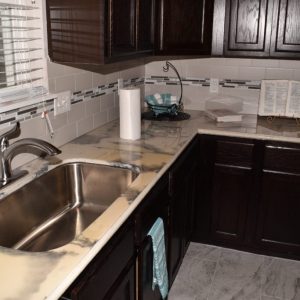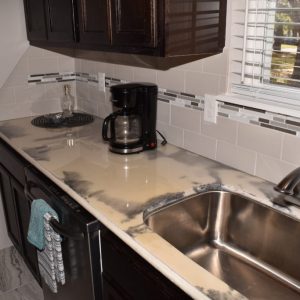 If the idea of precasting or cast-in-place countertops sounds like too much work, you can save even more money—about 70% cheaper than enCOUNTER Mix—with SS Specialties Ez Top for absolutely no tear out. Ez Top provides a beautiful, unique look, but is easier to accomplish.
Garage Floors
Want to make the garage a selling point? Use our SS Specialties Water Based 40 Pigmented Epoxy as a basecoat in either Mocha or Grey and coat with Polyaspartic 70% as a topcoat for a durable floor. Or maybe add some paint chips for another distinctive look. This combination is about 60% cheaper than using SS Polyaspartic 70% as a base and topcoat.
Acid Stain
Another way to make a floor go from ugly carpet to beautiful one-of-a-kind floor in house flipping is to use SS Specialties Sedona Concentrate Acid Stain. Since the formula is concentrated, feel free to dilute as much as 1:4 to make the stain stretch farther. With 10 colors to choose from and with the use of more than one color, flippers are guaranteed to make their house stand out. A beautiful mottled look can easily be achieved, and with the right products available, this process is pretty easy. As with any job, the prep work is probably the hardest and most important part of the process. We can easily walk you through the steps you will need to take. Choosing a sealer is simple when you have choices, and SS Specialties has an excellent selection of acrylics, epoxies, polyurethanes, and polyaspartics to choose from. For cost savings, stick with SS Supreme 2500 line—it's an affordable entry-level sealer.
Overlays
Need a new pallet to work on? Want to permanently cover up surface imperfections in existing concrete? With today's decorative overlays, it's easy to give almost any concrete surface—indoors or out—a complete facelift and at a much lower cost than removal and replacement. The real challenge is choosing from among the diverse array of decorative finishes possible. There are multiple options available for achieving any look imaginable with a concrete overlay. It's best to hop on Pinterest and check out different looks, and then come by our store where we can help your dreams become realities within your budget.
Bottom line
When it comes to cost savings in house flipping, decorative concrete can be the ticket. Concrete countertops, acid stain floors, and beautiful garages will help make the difference in a home that sells quickly versus one that sits on the market. Come in and talk to us about ideas to help make that house a home and the investment to pay off.
Employee Of The Month, Shanda Ellis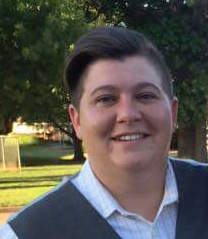 Eight and a half years ago, our youngest employee, Shanda, answered an ad for "warehouse help." What started as a "hold-me-over job" has blossomed into a full-time position that Shanda loves. Just two years after she started working, she was promoted to her current position as Shipping Manager. She knows all the ins and outs when it comes to shipping…who to use, where to get the best price, and more, including the most important task of how to ship hazardous materials. She is a stickler for paperwork, which is necessary when it comes to shipping products all over the world.
We have received numerous customer reviews complimenting Shanda over the years. They always seem to mention her ability to help and answer technical questions and her ability to remember customers' names. If you have ever been one of the lucky ones to have Shanda help walk you through a job process, you probably understand that she has a special knack for helping others. She loves to hear back from customers to see their finished work.
Shanda is extremely family oriented. Her favorite thing to do on the weekends is to hang with her family. Shanda is the oldest of five siblings. She is a avid guitar player and sports a few tattoos that reflect her love of music. And music is life for Shanda! She loves all types—from classical to hip hop to R&B. She has even been known to break into a little dance every once in a while, and yes, she can two-step, swing dance, and twerk.
Lucky for our staff here at Moon Decorative, Shanda considers the staff and customers as part of her extended family as well. This Christmas, she wishes her family (and you!) a healthy and happy holiday. Congratulations, Shanda, December's Employee of the Month. We are so lucky to have you.
Improving Business with Hands-on Concrete Training Classes
When it comes to using decorative concrete products, not only do you need to be able to choose the right product for the job at hand, but you also need to know how to use them. Not all decorative concrete products are created equal, so unless you are trained to use a variety of products, your business might suffer. Fortunately, you can improve your business opportunities fairly easily by taking hands-on concrete training classes from Moon Decorative.
Concrete Classes Available
Moon Decorative is one of the leaders in decorative concrete products. In addition to offering high-quality products, we offer a variety of hands-on training opportunities for contractors and DIY homeowners alike. All of the concrete classes available are designed to follow the field-tested methods chosen by the American Concrete Institute, so you can rest assured that the training you receive will be efficient and applicable. Each class is taught by knowledgeable contractors with real-world experience using decorative concrete products.
Benefits of Taking Concrete Classes
If you are a DIY homeowner, having a basic knowledge of concrete may not be enough for you to successfully complete all of the projects on your list. By taking concrete classes, you can expand your knowledge of decorative concrete products and learn how to apply stamps and stains. If you are a contractor, taking classes will expand your business opportunities because you will be equipped to perform a wider variety of jobs. Moon Decorative offers concrete classes for a wide variety of products and projects, so you can choose the classes that are most valuable to you.
If you want to expand your business as a concrete contractor, concrete classes from Moon Decorative are an invaluable tool. Every class is taught by an experienced professional and will leave you feeling confident in your newly learned skills.  Bring your crew and you will have a well oiled machine ready for the next install!
Why Should I Reseal My Outdoor Concrete In The Fall?
Often times the last thing we think of is resealing our concrete in the fall. More people are thinking of raking leaves, covering the pool and getting the outdoor furniture put away. Winter can be the most difficult on your outdoor decorative concrete.  We recommend thinking about putting a fresh coat of sealer on it this fall, before winter hits. Thus protecting your investment. You have many reseal options from which to choose:
Acrylic Sealers
Moon Decorative's number #1 selling sealer is SS Specialties Supreme 2500 High Gloss, which is a solvent-based acrylic. It's easy to apply and cost effective. We also have Supreme 2500 Medium Gloss, Supreme 2500 Plus Medium Gloss and Supreme 3000 High Gloss. Each of these sealers can be used interior or exterior. All acrylic sealers are considered film forming, i.e., they will leave a film on top of your surface. These film forming sealers provide a gloss to your concrete.
The life expectancy of an acrylic sealer will depend on the UV exposure and chemical exposure. Remember, that Supreme 3000 as a base coat will typically last longer than Supreme 2500 because of the solid content and this might be an option if you don't want to seal as often.
If a smell factor is an issue, or you are restricted by your local government regarding VOC's, then water-based sealers might be your better choice. Two great options: SS Specialties EpoSeal 20 and EpoSeal 38.
Siloxane/Silane Sealers
Siloxane/Silane Sealers/Repellants are considered penetrating sealers. Unlike the acrylic sealer, they do not leave a film on the surface and are both water-based and solvent-based.
When you have a wet surface these repellents such as SS Specialties Repel Guard SB-20, SS Repel Block WB-75and SS Repel Guard 40 perform very well. They leave the profile of the concrete thus helping with slip resistance. Of course, this greatly depends on the profile of your concrete as well. A tightly troweled sidewalk will more than likely always remain slick.
All of SS Specialties Repellents are not recommended for driveways because of the hot tire pick up, leaving homeowners disappointed. This repellent is better for foot traffic. One of the best qualities is the life expectancy of this product, which is 5 to 7 years before resealing will be necessary. (Note: you cannot put an acrylic over this product until it has been ground off.) If you have a porch that is covered or say a gardening or utilities room, SS Repellents are perfect choices.
Before You Start To Reseal, Know What Your Current Sealer Is
It's important to know what your current sealer is. Always reseal your current sealer with the same one. Don't make the mistake of putting on a non-compatible sealer with what you already have down. This a recipe for disaster. Moon Decorative keeps records on items you have purchased, so don't hesitate to call and confirm. If you want to change to a different sealer, that's OK too. You will just be in for a bit more work, stripping off the old sealer and maybe even having to grind. Because so many circumstances are different, its best to take advantage of our expert technicians by calling us to discuss.
We are happy to consult with you over the phone.  We look forward to hearing from you and helping you spruce up so you won't have to do it in the Spring!
VoTech Training Was A Smashing Success
When Moon Decorative coordinated "Concrete Prep, Pour and Stamp Demonstration" with VoTech teachers Mark Estell of Moore Norman and Glenn Sanders of Metro Tech, our main objective and hope was that we create a love connection between this group of aspiring leader/students and the practical artform that decorative concrete affords.
The days activities included:
A 9×9 foot area was prepared for a concrete delivery by setting forms and reinforcement
Metheny Concrete donated a delivery truck of 1.5 yards of concrete!
Tim Frazier, Moon Decorative's Expert Trainer demonstrated using a slump tool to determine concrete wetness
So many students helped to screed and level concrete once it came out of the truck
There were approx. 35 willing and alert students present and participating.  They asked some really good questions!
Solomon Color donated plenty of food: 50 pizzas, soda, water, fruit and a variety of crackers for the day
Tim Frazier and Dave Handy demonstrated broadcasting color hardener once the concrete was finished
Students stamped concrete after applying the release agent
They sprayed on Cure-n-Seal after the concrete hardens to complete the project
The forecasted rain never came
As for the love connection, like the weather, it's difficult to forecast; however, at the end of the day, Mark Estell, VoTech teacher at Moore Norman said, "In the construction industry, the need is huge right now for dependable, quality workers, and this program that you offered for us today is a huge asset for that and for them to take the first step to having a good life in this industry."
We appreciate you saying that, Mark.  It looks like our dreams are already becoming a reality.
Check out this short movie of participants VoTech Training Video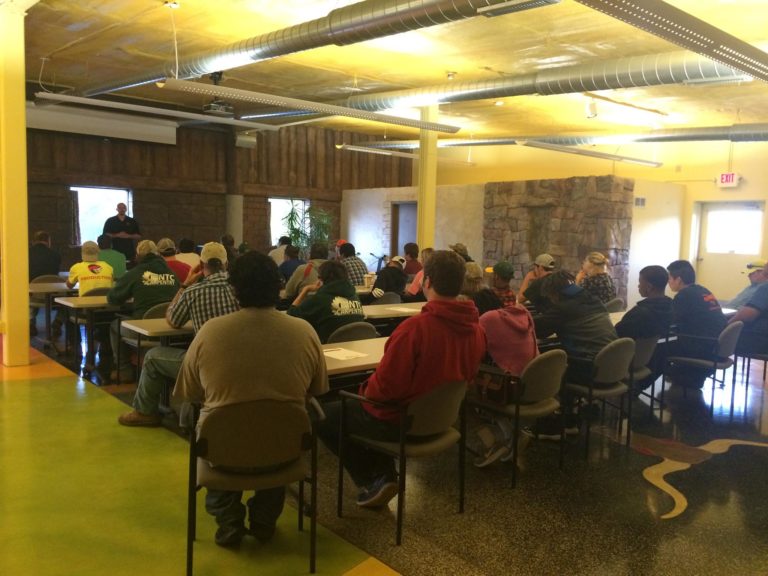 DIY Acid Stain Kits Now Ready
Prices to be a best seller, these DIY Acid Stain Kits literally include EVERYTHING you will need.
For $199.00 you get the following: ½ gallon of your color choice of Sedona Acid Stain Concentrate, 2 paper respirators, 2 chip brushes, 1 package disposable gloves, 1 eyeglass protection safety eyewear, 1 quart SS Surf Prep, 1 package booties, 2 gallon pump-up sprayer, small acid stain scrub brush, 1 gallon SS Supreme 2500 High Gloss sealer, 2 each 9" x 3/8" nap roller, wooden stir stick, 8 ounces SS Neutralizer, complete directions, and a support number for additional questions.
With this kit you will get enough product to cover 200 square feet. Remember, Sedona Acid Stain is a concentrate. This means, you can get a variation of the same color in the one bottle, depending upon how much you choose to dilute the product. Plus we have 10 colors to choose from and you can pick your color here:  Sedona Acid Stain Color Chart
Want to read more about how to do this job? Each kit comes with two sets of directions. The Acid Stain directions is a complete step by step tutorial on exactly how to Acid Stain.  We highly recommend you read these before you start. Click here for DIY Acid Stain Instructions. The second set of direction will walk you though using the SS Supreme 2500 Sealer. Click here for DIY Acid Stain Kit Sealer Instructions.
Another helpful hint before you start your job, watch these videos. And please know, we are always a phone call away to help! 888-848-0059.
Ready to tackle your acid stain job? This kit is for you. Order now.
Moon Decorative Hosts Training For Young Aspiring Concrete Artisans
Moon Decorative is thrilled to host vo-tech students from Moore-Norman and Metro Tech on Tuesday, October 4th for a full-day hands-on class where students will learn to prep, pour and stamp concrete!
They will play an active role in:
Preparing a 9×9 foot area for concrete delivery by setting forms and reinforcement.
Using a slump tool to determine concrete wetness.
Screeding and leveling concrete once it comes out of the truck.
Broadcasting color hardener once the concrete has been finished. (Students will learn that the color hardener gives integrity to the concrete that wouldn't be there with additional color.)
Stamping concrete using a release agent.
Spraying on Cure-n-Seal after the concrete hardens to complete the project.
This class is aimed at teaching students how to take a concrete project from beginning to end—preparation, concrete truck delivery, testing the moisture of the concrete, finishing the concrete and adding the decorative color and stamping element.
It is our goal that students have a multidimensional experience with other students from vo-techs in the Oklahoma City area. The teachers providing instruction are experts in the field and intend to invest in the students to potentially inspire a love and passion for decorative concrete that develops further. We're thankful for their vo-tech instructors, Mark Estell of Moore-Norman and Glenn Sanders of Metro Tech, as they also pursue this vision.
Moon Decorative is looking forward to hosting this young group of aspiring leaders in concrete and we can't wait to see what the future holds for them.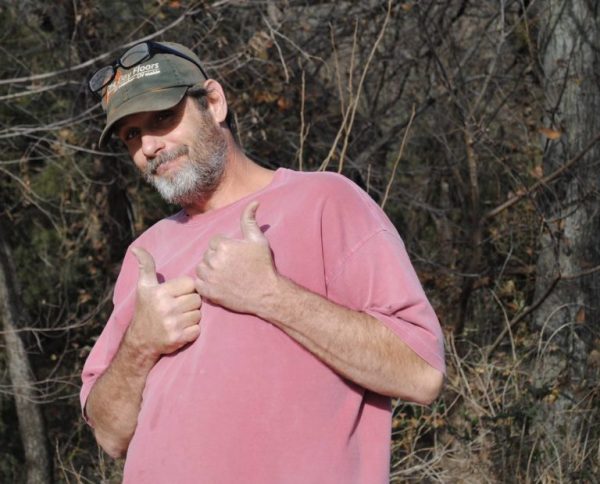 Have you seen that guy who is never stopping, running like a whirlwind, and seems to have boundless energy? Well, that guy is Moon Decorative's Dave Handy.
Dave has been an integral part of Moon Decorative for 6 years. He started out in the warehouse, pulling orders, loading them up into vehicles, and keeping the warehouse clean and orderly. Today he still does that; however, his skills and abilities have morphed into a top-rate technician.
One of the most helpful guys you have ever met, Dave will take the time to respond to everyone's questions. He's always patient, taking the time to find out about customers' needs or learning about what they desire. He's often seen walking customers around the property showing folks their options, answering questions about how things are done and explaining the pros and cons of different products. He seems to bend over backward helping customers and other staff members.
Dave is an essential part of our training team as well. Dave comes from a background of flatwork, but he has learned the ropes of decorative concrete on the job. He now acts as a trainer for classes. To further his knowledge and abilities, Dave is currently studying for the Concrete Flatwork Finisher and Technician; better known in the industry as an ACI Certificate and plans on taking this test in the fall.
From time to time, staff members get into some lively discussions about OU football, and Dave will happily engage with facts and figures that will blow your mind. In the late fall, Dave closely follows Thunder basketball, staying up late, never missing a game, and always having an opinion on who will win.
Whether you need technical assistance or football prediction assistance, Dave is your go-to man. But if you want that kind of help, you first need keep up with him as could be anywhere on the property keeping it looking like a million bucks. That's Dave Handy, our employee of the month.

Why do I need to use SS Cherry Wax?
It is a sacrificial coat that will protect your sealer from premature aging.
What does this product actually do?
It adds a thin layer of protection to your floor that also gives you a newly finished look. Makes your sealer look like it has recently been redone. The compliment you will get on your floor will far exceed the cost of the product.

Does SS Cherry Wax come in different gloss levels?
Yes, Gloss and Matte
What if I don't use the wax?
If you have an acrylic sealer on your concrete it could prematurely fail. If you are using a two-component sealer such as Poly Pro, or SS Water Based 60 Urethane, these products will tend to scratch. However, they can be easily freshened up with a coat of SS Cherry Wax. The benefit of regular user of SS Cherry Wax far exceeds the time and cost of replacing your sealer.
My floor is old and dull. How can I bring it back to life?
Sometimes it's a simple as cleaning and applying SS Cherry Wax. This is a great first step and where we would recommend starting. If this doesn't work, please contact us for further ideas and suggestions.
To find out more about this product, see this blog post and learn how to apply.
If your ready to buy, you can go here or stop by Moon Decorative, 121 NE 40th Street, OKC, OK.