Introducing The New Kids On The Block
You might have noticed a few new faces here in Moon Decorative recently and we wanted to officially introduce everyone.
Cameron Dunn, General Manager:
Cameron joins us from Moon Chemical Products as our General Manager taking Coyne's place who is now enjoying retirement. This 2009 University of Oklahoma Poly Sci major went onto Oklahoma Baptist University where he received his MBA specializing in Supply Chain Management in 2011. That same year, he joined Moon Chemical to run the guar manufacturing facility (we have no idea what guar is either). But, after discovering what a whiz-bang of a firecracker he was, they quickly expanded his role. Cameron's keen business sense and willingness to learn and take on new challenges makes him the perfect candidate for being General Manager of Moon Decorative. While he is fairly new to the concrete industry, he does have a good background in understanding chemicals, which after all, the art of decorative concrete is very "sciencey."
Cameron was born in Michigan, raised in Paris, Texas but is a full Okie now and the entire staff has vowed not to hold his Texas background against him. He enjoys spending time with his lovely wife Danielle, golfing, and being outdoors.
Rick White, Director of Business Development:
A familiar face and blast from the past, Mr. Rick White is back. With 23 years of industry experience, Rick is a world of knowledge. He has over 6 years in field technical work traveling extensively from New Mexico to Virginia. Rick is very familiar with SS Specialties products, knows how they work, and what they can do for the customer. He loves to solve problems with decorative concrete (and we all know…there are never problems!) and is exceptional with customer service. His biggest challenge in this new position will be reaching out to our contractors, learning about their needs and making sure Moon Decorative is meeting those needs. However, he is up for the task!
Rick has been married to his wife, Connie for 37 years and has two adult children, both married. He lies in bed at night dreaming of grandchildren. In his waking hours, he loves to piddle in his shop with woodworking projects (of which he makes some beautiful things).
Showdown: Acrylic Sealer's vs. Siloxane/Silane Repellents
In the right corner, Acrylic Sealers
By far, the most popular decorative concrete sealers are the Acrylic sealers, which come in both water-based and solvent-based. Moon Decorative's number #1 selling sealer is SS Specialties Supreme 2500 High Gloss, which is a solvent-based acrylic. However, we carry both water-based (SS Specialties EpoSeal 20 and 38) and solvent-based (SS Specialties Supreme 2500 High Gloss, Supreme 2500 Medium Gloss, Supreme 2500 Plus Medium Gloss and Supreme 3000 High Gloss). All of these sealers can be used both for interior or exterior decorative concrete. Acrylics are considered film formers, ie…they will leave a film on the top of your surface.
For this reason sometimes these are not desired in wet areas, such as swimming pool decks or sidewalks because they do not give you good slip resistance. Unless of course, you add a slip resistance product such as SS Get-A-Grip, or one of our SS Seal-Grips. The life expectancy of an acrylic sealer will depend on UV exposure and chemical exposure. Under normal conditions on an exterior setting, you should get 1 to 3 years life. With an interior job, with proper maintenance, you should be able to get a life expectancy of up to 10 years. SS Cherry Wax is the preferred maintenance wax to prolong the sealer life. If you want to know more about Cherry Wax, we would recommend reading this article, "How to put the Shine on your Concrete Floors."
In the left corner, Repellents
Siloxane/Silane Repellents are considered penetrating sealer's. Unlike the acrylic sealer, they do not leave a film on the surface and are both water-based and solvent-based.
When you have a wet surface these Repellents such as SS Specialties Repel Guard SB-20, SS Repel Block WB-75and SS Repel Guard 40 perform very well. They leave the profile of the concrete thus helping with slip resistant. Of course this greatly depends on the profile of your concrete as well. A tightly troweled sidewalk will more than likely always remain slick.
All of SS Specialties Repellents are not recommended for driveways because of the hot tire pick up, leaving homeowners disappointed. This repellent is better for foot traffic. One of the best qualities is the life expectancy of this product, which is 5 to 7 years before resealing will be necessary. (Note: you cannot put an acrylic over this product until it has been ground off.) If you have a porch that is covered or say a gardening or utilities room, SS Repellents are perfect choices.
Winner: Your choice!
Both sealer types are winners. The key is picking the right one for the job and knowing what their strengths are.
Still having a hard time understanding which sealers to use? Don't hesitate to bounce off ideas and gather information from our staff by calling Moon Decorative at 888-848-0059. We are here to help and more than likely, we have an SS Specialties product that will be perfect for your next project.
Using a Concrete Sealer Sprayer
For many people, the most important benefit of decorative concrete is its versatility – concrete can be customized to look like premium building materials or to match any existing décor scheme. It is also important to remember, however, that concrete is also a great option for the DIY homeowner because thanks to help from Moon Decorative, certain systems can be fairly simple to install.
Using a Sprayer to Seal Decorative Concrete
Whether you are going with stamped concrete or colored concrete, in most cases a thin layer of concrete is all that is needed to start. Once the new surface has been poured and cured, you can then treat the concrete according to your preferences with stamps, stains, dyes, or aggregates. Once your concrete surface has dried and cured, there is one more step that you shouldn't neglect – sealing. Adding a layer of sealer over your decorative concrete surface will help to lock in color and protect the material against wear-and-tear. All you need to apply a layer of sealer is a concrete sealer sprayer.
Concrete sealer sprayers come in several different forms. One option is a low-pressure high-volume (LPHV) sprayer. This sprayer allows for controlled application rates and is the easiest to use. Low-pressure or pump-up sprayers can be used for solvent-based sealers as long as the solids content is under 35%. In most cases, using a concrete sealer sprayer is fairly straightforward – you simply pump the handle to increase pressure within the device and then hold down the trigger to spray. It is as easy as that.
At Moon Decorative, we offer a variety of sprayers from such brands as Toolcrete and Chapin, as well as sealers and any other materials you may need for your project. Call today for a review of our services or to request a free quote.
Natural Beauty in Concrete Countertops
The hand is where the mind meets the world. The hands are an extension of the mind, and what's created with them is a reflection of what's in it.
This concept is not foreign to Gale Johnson. I learned this during the tour of her home that both her and her husband, Charlie, built. She and Charlie have touched —physically touched—every inch of it. Charlie's wood-creations (furniture and artwork) and paintings—made with his own two hands—are everywhere.
Gale told me that all of the furniture has been recycled and repurposed; she doesn't buy anything new. The headboard in the master bedroom is two large doors salvaged from a catholic church, and the candle stands next to the bed, are legs from an antique piano that had been damaged.  The kitchen cabinetry isn't even new. As she shows me the February 2013 issue of Slice magazine where her home was featured, she tells me that her place is already different. She's always changing—changing the rooms, moving the furniture. She's improving and evolving, and what surrounds her is proof.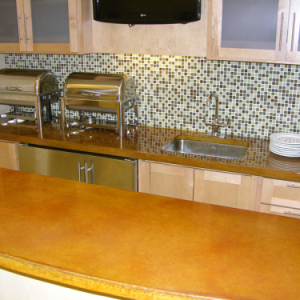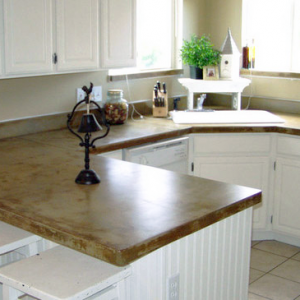 So I wasn't surprised at Gale's response when I asked why she chose a concrete countertop.  She said, "I wanted something unique, natural and created by an artisan. I wanted a piece of artwork, not something that's mass produced." She told me that when she contracted Tony Tyner of Custom Concrete Countertops to make this piece, she allowed him creative freedom and as a result he gave it special time, care and attention.
Tony has developed a way to give concrete a unique marble look. In this case, his mastery with color and the use of white and black rainbow stain give the veining in the concrete the appearance of jade. Tony appreciates the quality of the product he found in the SS Specialties brand, as well as the vast color palette that's available to him. His appreciation has no doubt reflected in the end product. Gale loves it. She loves it so much that she requested that Tony hand-make a bathroom sink.
SS Specialties product details:
enCOUNTER Professional Concrete Countertop Mix, Grey
SS Rainbow Water-Borne Stain, White and Black
LesCoat
enPOXY
Tony Tyner chose the cast-in-place method of pouring concrete meaning that he created the form to hold the concrete on the existing cabinetry and poured it in place. He choose Grey enCOUNTER Professional Concrete Countertop Mix, and used both the SS Rainbow Water-Based Stain in Black and White to create the marble appearance for color distribution. LesCoat was used specifically in the areas with finer lines. The entire countertop is sealed with enPOXY for protection and shine.
We think you will agree, its beautiful!
How to Dress Up a Patio or Pool deck
Pool decks and patios can receive a fresh look, and a second life with SS Specialties products. SS Spray Base and SS Stamp Mix can change a dull faded surface to a Forest Floor, Ocean floor or maybe a London Street; the possibilities are limited only by ones' imagination. With SS Specialties coloring and staining products SS Dye-namic Acetone Dye, Sedona Acid Stain and SS Rainbow offers the ability to match or complement any design with unlimited selection of color shades and hues.
SS Spray/Base and Stamp Mix is a proprietary blend of Portland cement and graded aggregates used to produce decorative treatments to any properly prepared substrate, like the pool deck or patio. All loose concrete will need to be removed from the old slab/surface and any old or deteriorated sealer needs to be removed. If there are cracks, those should be filled with SS Crackfill and in some cases stitched with cold steel plates, or by using concrete staples.  When the slab/surface has been cleaned, cracks repaired, and all debris removed, you will have a properly prepared surface.
Whenever possible, we at Moon Decorative believe in renovation, reuse, and repurposing of existing concrete which saves time, money and the planet.  With SS Specialties products, and the support of  Moon Decorative technical staff, you have the confidence to complete a successful renovation.